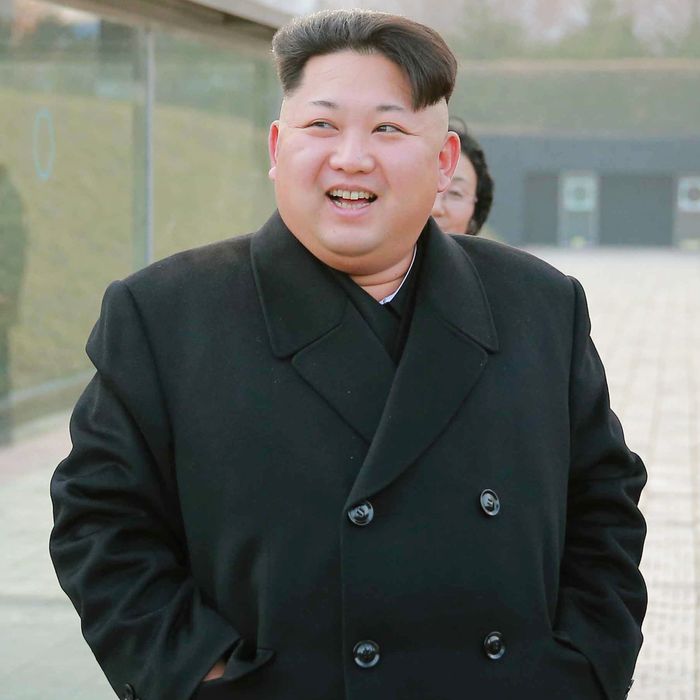 Kim Jong-un is probably pretty pleased with himself.
Photo: KCNA/Corbis
Good morning and welcome to Fresh Intelligence, our roundup of the stories, ideas, and memes you'll be talking about today. In this edition, North Korea opens fire again, Trump blames protesters for getting hit by his employees, and Scott Baio stays in character. Here's the rundown for Monday, March 21.
WEATHER
A winter storm could bring up to six inches of snow to parts of New England today and serious storms with possible tornadoes will hit the South and Midwest. Meanwhile, in New York, a snowy night will give way to a mostly sunny day with temperatures in the mid-50s. [Weather.com]
FRONT PAGE
North Korea Can't Stop, Won't Stop
Just days after the United Nations Security Council condemned North Korea for launching ballistic missiles, the nation fired five short-range projectiles in Japan's general direction. They flew about 125 miles, then landed in the ocean. North Korea is upset about the current South Korea–U.S. military drills, as it is every spring. [AP]
EARLY AND OFTEN
Mitch McConnell's Foot Is Down
Merrick Garland is good enough for President Obama, but he will never be good enough for Senate Majority Leader Mitch McConnell. McConnell said on Sunday that even if Republicans lose their majority and fail to gain the White House, he will not consider Obama's Supreme Court nominee, even if it means letting Clinton nominate a much more liberal judge. With shrewd political foresight like that, how could the Republicans possibly lose?

It Is Not Donald Trump's Fault That Donald Trump Hires Violent People, Encourages Them
More violence at Trump rallies over the weekend has Trump on the defensive — albeit a very aggressive defensive. First the campaign blamed an unidentified man for inciting violence. Then, when that man turned out to be a member of Trump's security detail, Trump responded to the incident by saying, "I give him credit for having spirit."

Cranky Cruz Not Invited on Big Spring-Break Trip
Presidential hopeful and star of the live-action biopic The Count is very displeased with the Obamas' historic trip to Cuba. Cruz, whose father is Cuban, said he would love to visit the island nation as president, but only if Fidel and Raúl Castro are no longer in power. [CNN]

Zapped! Star Endorses Trump
American icon and voice of a generation Scott Baio announced on Fox News yesterday that he will be voting for Donald Trump. The actor tellingly said he was supporting Trump because he's "done with the Republicans" and he wants Trump to go "into Washington and blow it up." We'll just let that sit there. [Fox]
THE STREET, THE VALLEY
Godfather II Theme Weddings Easier Than Ever
For the first time since 1959, a major American hotel chain has signed a deal with the Cuban government. As part of the multimillion-dollar deal, Starwood Hotels & Resorts Worldwide announced over the weekend that it will manage two properties in Havana and has plans to open a third. [Reuters]

Jerks Prepare for a Bidding War
Just when you thought it was safe to get drunk in public again, Google Glass is back. A vendor on eBay claiming to have a used Google Glass for sale has sparked suspicion that it might in fact be a rumored Google Glass Enterprise Edition: a kind of Google Glass created especially for industry use after the general public proved totally incapable of handling them without making fools of themselves. [CNet]

HBD Twitter #Birthdays
Twitter is ten years old today and the company celebrated by releasing a video of how far it's come, including the social-media platform's role in the Arab Spring, the uprising in Syria, and the Black Lives Matter movement. Not shown: drunk celebrities being racist and ten years of increasingly ridiculous rap beefs. [TheVerge]

Lockheed Martin: Not Just for Space Lasers Anymore
The defense company Lockheed Martin is making a big push into the energy market, gathering its various energy-related sections and subsidiaries under the umbrella of Lockheed Martin Energy. The group will focus on new and emerging electric-energy technology and then, we're guessing, will find some way to kill people with it. [USA Today]
MEDIA BUBBLE
NBC Universal Doubles Down on Branded Content
NBC Universal will begin producing branded content for customers that, for the first time, will run outside of the NBC family. An inevitable move following the success of NBC's advertising content on its networks and on its partner platforms like BuzzFeed and Vox. [AdWeek]

Jay Z Gets Desperate in Tidal Push
He's not a business man, he's a business, man — but business, it seems, is not so good. In a fairly transparent bid to drive traffic to his struggling streaming service Tidal, Jay Z has pulled his two most iconic albums off of iTunes and other streaming devices, and now offers them exclusively on Tidal. [Forbes]
Pope Joins Instagram, Pushes for Halo Filter
For everyone who has been clamoring to see what the Pope eats, the wait may be over. Pope Francis joined Instagram over the weekend and racked up more than one million followers in 12 hours. The pontiff still isn't following anyone back, not even Kanye. #blessed [BBC]
PHOTO OP
This Is Still Cuba
Just hours before the first family's iconic trip to Cuba, this was the scene on the street in the capital. To be fair, this is pretty much the scene on the street in America, too.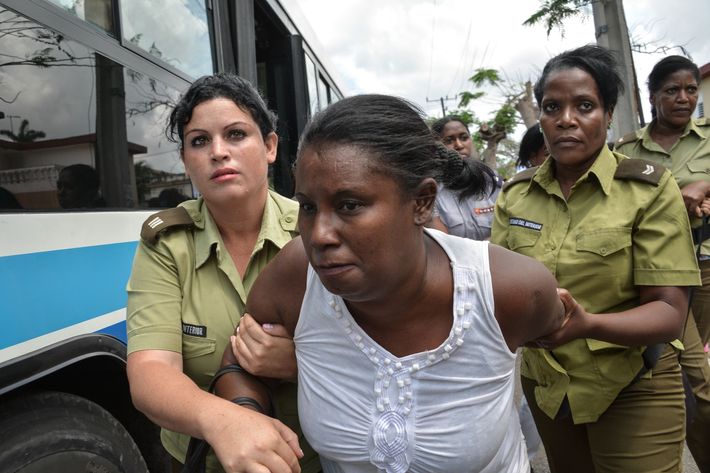 MORNING MEME
Wisconsin Win Leaves Murray Moody
Bill Murray wasn't happy about the March Madness upset, but surely it's nothing crashing a few strangers' parties can't fix.
OTHER LOCAL NEWS
Escaped Ape Still Stuck in Albuquerque
A siamang, a type of Southeast Asian ape, escaped from his pen at the Albuquerque zoo on Saturday. The ape didn't get far before deciding that even a life in a cage is better than a day out in Albuquerque, but the zoo was put on lockdown.  [KRQE]

In Other Escaped Exotic Animal News …
Less than a day before the Albuquerque ape escaped, two zebras were spotted running down a busy road in Oakland, California. The zebras were eventually returned to their captors, UniverSoul Circus. Earlier in the year, if you can believe it, UniverSoul Circus lost another pair of zebras, this time in West Philadelphia, where they led police on a chase that lasted nearly an hour. [SFGate]
HAPPENING TODAY
Jewish Groups Troubled by Trump for Some Reason
Donald Trump is set to speak to the annual meeting of the American Israel Public Affairs Committee tomorrow. Though Trump has been a long and outspoken ally of Israel, his increasingly divisive rhetoric and campaign violence is starting to alienate members of the lobby. Some influential religious leaders and Jewish groups are planning on protesting.

Apple Product Announcement: Worse Phones Cheaper
Apple will announce a new round of products today with most industry watchers in agreement that we can expect a smaller iPhone with a more affordable price tag. [LA Times]

Today's Non-Trump Harbinger of Doom
A bright green comet will pass near the Earth today, followed by another even closer one tomorrow. Sky-watchers in the southern hemisphere should be able to see the first, while northerners will be able to see the second with binoculars later in the month. The comets will come closer to earth than any other objects in the last 250 years, though scientists say we are in no danger — of course that's probably what they'd say if we were all going to die, too. [WTSP]