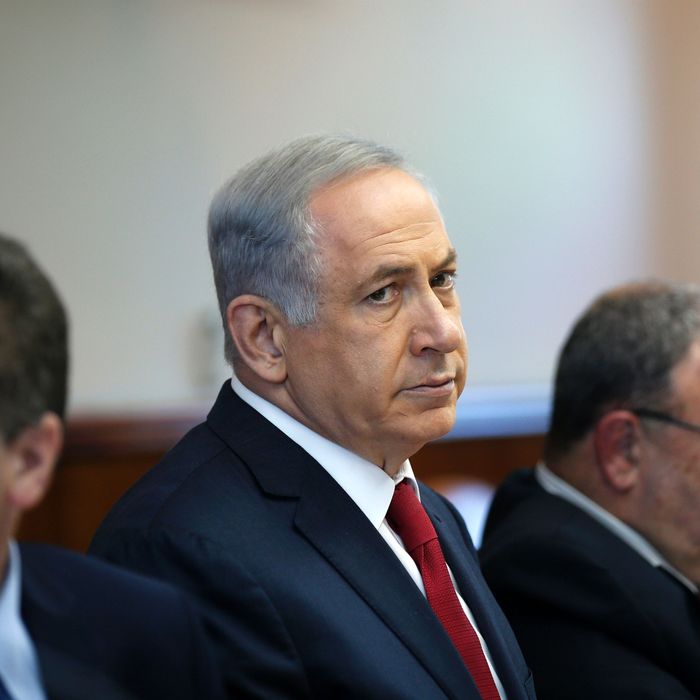 Israeli Prime Minister Benjamin Netanyahu.
Photo: Pool / Pool
Good morning and welcome to Fresh Intelligence, our roundup of the stories, ideas, and memes you'll be talking about today. In this edition, Netanyahu snubs Obama, Bloomberg chooses not to lose, and Apple has a rough day in court. Here's the rundown for Tuesday, March 8.
WEATHER
Severe storms with chances of flash flooding and even tornadoes are headed for the Southern and plains states as far west as Texas and New Mexico. In New York, today should stay overcast with temperatures in the mid-60s. [weather.com]
FRONT PAGE
Netanyahu Calls Off Washington Visit in Perceived White House Snub
Israeli prime minister Benjamin Netanyahu canceled a planned trip to the United States and a visit with President Obama at the last minute yesterday. The cancellation was reported in the Israeli newspaper Haaretz, which claimed that Netanyahu had not been offered a visit with the president. The White House disagreed, saying Netanyahu turned down the meeting and didn't inform the White House that he had canceled. Tensions between the two historic allies have been high since the U.S. reached a nuclear deal with Iran, a sworn enemy of the Israelis. [NYT]
EARLY AND OFTEN
Democrats Team Up Against Common Enemy: Fox News
Just one day after the last Democratic debate, Bernie Sanders and Hillary Clinton were back on TV, this time on Fox News, fielding a more conservative brand of questions from awkwardly high bar stools. They discussed abortion, Clinton's handling of Libya, universal health care, and whether white people can in fact be poor. [NYT]

Presidential Campaign Will Remain One-Oligarch Race
Michael Bloomberg, who was almost universally believed to have no chance at the presidency, announced yesterday that he will not run for president. His reason? His presence would potentially make it easier for Trump or Cruz to secure the White House, and that eventuality is "not a risk I can take in good conscience." He makes quitting before inevitably losing sound so heroic!

Canadians Can Be President, Just Not the Good Ones
Ted Cruz is having a good couple of days. First a New York court threw out a case claiming he was ineligible to run because he was born in Canada — which again, he totally was — and then he secured an endorsement from Mississippi governor Phil Bryant just in time for today's primary in that state. [CNN]

The Florida Sun Sentinel: The Paper That Reports What Everybody's Thinking
Capitulating to reality, the Florida Sun Sentinel has refused to endorse any candidate for the GOP nomination, saying that each of the candidates is not qualified to be president. They go into detail about each of the candidates' shortcomings, but don't offer any suggestions of how to handle this rising feeling of crippling desperation.
THE STREET, THE VALLEY
Justice Department Requests Rare Do-Over
Many experts felt a Brooklyn judge's recent finding that law enforcement can't compel Apple to unlock an iPhone, which is evidence in a drug case, would hurt the federal government's ongoing case against the tech giant. Now the Justice Department is taking the high road and respecting the wishes of the court by trying to get that ruling overturned on a technicality. [Reuters]

Supreme Court Declines Apple Case (Not That Apple Case)
In a legal defeat for Apple not related to their tacit support of terrorism, the Supreme Court has rejected Apple's appeal over a ruling that found the company broke federal antitrust laws by conspiring to fix the price of e-books. Apple must now pay out $450 million, mostly in micro-settlements to more than 23 million users who purchased overpriced e-books. [Gizmodo]
BuzzFeed Draws Company Ire in Uber Rape Story
A BuzzFeed story posted on Sunday featured screenshots of searches conducted on Uber's Zendesk customer-support platform that show more than 6,000 hits for sexual assault, and nearly 6,000 for rape. Uber has since responded to the story, saying the screenshots were misleading and did not reflect the actual number of complaints of sexual assault at the company. [CNet]

Verizon Shadiness Surprises No One
The Federal Communications Commission reached a deal with Verizon on Monday over its use of "supercookies" to track customers' movements online. The company must pay a fine of $1.35 million and change its policy so that customers must opt into being spied on by a faceless corporation. [CNet]
MEDIA BUBBLE
Gawker–Hulk Hogan Sex Tape Trial Is the Best Trial Ever
The much anticipated trial over Gawker Media publishing a sex tape featuring Hulk Hogan really started getting good yesterday with Terry Bollea (Hogan's legal name) taking the stand to explain the tape not only enraged Hulk but also hurt the feelings of mild-mannered Bollea. [CNN]

Erin Andrews Awarded $55 Million in Nude Video Lawsuit
Newscaster and Dancing With the Stars judge Erin Andrews was awarded $55 million in a widely watched lawsuit against her stalker, who posted nude videos of Andrews online after requesting a hotel room next to her and fashioning a peephole. The court found that both the stalker and the hotel companies must share responsibility for the video. [AP]

Trump Literally Lowers Country's Discourse
Donald Trump is such a class act that the Associated Press had to reexamine what words are appropriate to use while covering him. Thanks to the leader America deserves, and the rhetoric he inspires, the AP may now under certain circumstances use words like "pussy" and "batshit." Freedom reigns. [AP]
PHOTO OP
Sharapova's Shame
During a press conference in Los Angeles yesterday, tennis star and highest-paid woman in sports Maria Sharapova admitted that she tested positive for a banned drug at the Australian Open the day she lost to Serena Williams.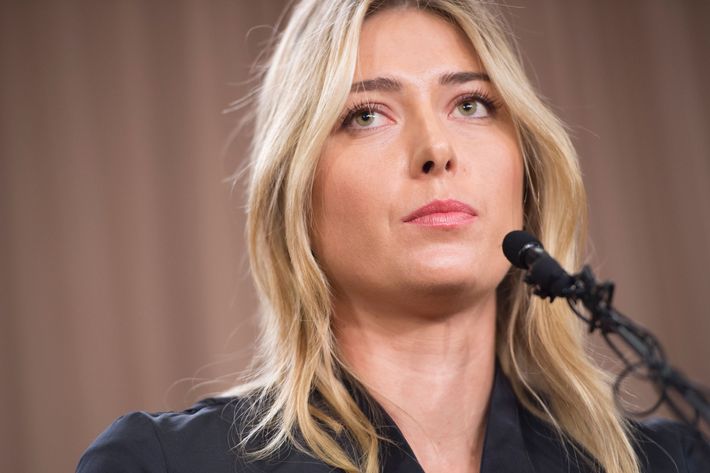 MORNING MEME
This bit of Game of Thrones fan art from snow artist Simon Beck really must be seen to be believed.

OTHER LOCAL NEWS
Houston's Naked Dancing Truck Crash: All Questions, No Answers
Here's everything we know: After a pedestrian was hit by a car in Harris County, Texas, this naked woman was seen climbing onto the roof of a stopped big rig and dancing before being taken into custody. This story could really use some more diligent reporting. [KTLA]

Orlando Worse Than Usual
Here's your daily reason to rejoice that you're not in Orlando, Florida. And, if you are in Orlando, consider this a warning to get out while you can. The World Clown Association's annual convention will be in Orlando all week, along with all of the horrors that inevitably accompany it. Run. [News 13]
HAPPENING TODAY
Election Angers Gods
There's a full solar eclipse this morning but unless you are on an island in the Pacific you probably won't be able to see it. Still, if you're set to be executed by some Stone Age civilization, you know, use it to your advantage. [The Guardian]
Free Pancakes — Not a Drill
Today is National Pancake Day, a straight-up publicity stunt that we are happy to endorse because if you do your research you can get free pancakes. News you can use. [Pix 11]

Republican Primaries Underway
It's no Super Tuesday, but today is still a very important Tuesday for the GOP, with voting taking place in Hawaii, Idaho, Michigan, and Mississippi. [GOP.com]