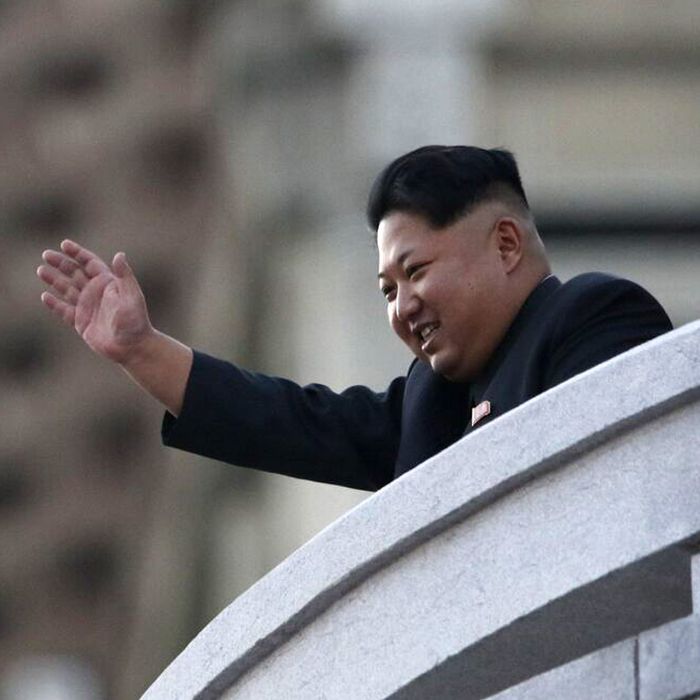 North Korea's leader Kim Jong-Un waving goodbye to his country's assets.
Photo: Liu Xingzhe/ChinaFotoPress
Good morning and welcome to Fresh Intelligence, our roundup of the stories, ideas, and memes you'll be talking about today. In this edition, North Korea gets a new punishment, Donald Trump promises riots, and Chinese iPhones get infected. Here's the rundown for Thursday, March 17.
WEATHER
We're in for a blessedly mild day in America after severe storms and flooding earlier in the week. Expect high temperatures across the South and on the West Coast as far north as San Francisco. Washington, D.C., should see temperatures as high as 70 today while New York can expect cloudy skies and temperatures in the mid-60s. [Weather.com]
FRONT PAGE
Obama Hits North Korea With New Sanctions
Following North Korea's repeated weapons tests and the incarceration of an American tourist earlier in the week, President Obama announced comprehensive new sanctions yesterday aimed at further isolating the volatile Stalinist state. In an executive order, the president halted all American exports to North Korea and froze North Korean assets held in the United States. The new sanctions also give the U.S. government the power to blacklist anyone — not just North Korean citizens — who does business with the country. [Reuters]
EARLY AND OFTEN
Obama Names Moderate Old White Man to Supreme Court, Offends Everyone
President Obama has named Merrick Garland as his pick for the Supreme Court. The 63-year-old D.C. appeals-court judge seems to be liked and respected by just about everyone who knows him, which won't stop half of them from publicly tearing him apart.

Tantrum Trump: Donald Pulls Out of Debate, Threatens Riots
Donald Trump clearly saw no reason to dial up his likability following wins in some major primaries. The GOP front-runner predicted there would be riots if the Republican Party tried to put forward another candidate at the convention. He also pulled out of Fox's debate on Monday, effectively canceling it. "I think it's enough," he said. In this case, we agree with him.

What Do Jihadi Terrorists, Chinese Expansionism, and Donald Trump Have in Common?
It looks like Trump is finally getting the serious recognition he is so desperately seeking. The Economist released its top-ten global-risk forecast and guess what was at number six between "The rising threat of jihadi terrorism destabilizes the global economy" and "Grexit is followed by a euro zone break-up"? That's right: "Donald Trump wins the U.S. presidential election." Congratulations, Mr. Trump, you are officially a really big deal. [The Economist]

South Carolina Governor Nikki Haley Misspoke, Actually Endorsed Cruz
Marco Rubio ending his campaign has left the few people who actually supported him scrambling. One of them, South Carolina governor Nikki Haley, wasted no time in switching her endorsement to Ted Cruz. Actually, she said, "My hope and my prayer is that Senator Cruz can pull through this," but she couldn't bring herself to offer a formal endorsement. [NYT]
THE STREET, THE VALLEY
News Flash! Federal Reserve Does Nothing
After a closely watched two-day meeting, the Federal Reserve ultimately decided to leave interest rates where they were and do nothing. The bank announced that it will only raise rates twice this year instead of the previously forecasted four times. [BBC]

America Brings Its C-Game
Consumer Reports just released its list of the year's worst-rated cars, and guess which country's vehicles snagged six of the ten places? That's right, America dominated as usual, especially Fiat Chrysler, which boasted four cars on the list. Luckily, terrible cars remain popular with American consumers so nobody in Detroit seems too nervous. [CNBC]

Chinese Malware Infects iPhones, Feds Intrigued
One of the first examples of malware to infect iPhones that haven't been jail-broken or otherwise modified has appeared in China. Called AceDeciever, the software can infect iPhones with factory settings through a user's PC. [CNet]

The Only Techie People Like Gives Charming AMA
Steve Wozniak, the widely beloved early personal-computing pioneer, sat down for a Reddit Ask Me Anything session in which he supported Apple in its legal battle with the federal government, disparaged expensive Apple Watch bands, and, most amazingly, extolled the many virtues of Outback Steakhouse. Worth a read. [The Verge]
MEDIA BUBBLE
Media Poisons Computers, Brains of the Young
It has just come to light that the New York Times, the BBC, AOL, and many other major news outlets inadvertently — we assume it was inadvertent, anyway — hosted ransomware over the weekend in some of their advertising that could then infect the computers of their readers, holding their data ransom until they paid off the hackers. [CNet]
In Ballsy Jerk, Modern Journalism Finds Its Mascot
Forbes is launching an investigation after an email came to light showing a freelance writer for the magazine offering to write an article pitched to him by a PR firm if they paid him an extra £300. If we need to explain why this is ethically dubious, you are probably also a young freelancer. [The Guardian]

CBS to Sell Radio Assets: Jack Benny Furious
CBS chairman-CEO Leslie Moonves has confirmed that CBS will shed its radio assets over the next year. As one of only a few broadcasting services, CBS pioneered radio entertainment starting in the 1920s. Maybe it's time they got into the moving-picture business. [Variety]

PHOTO OP
R.I.P. Young Blue Eyes
Frank Sinatra Jr., son of Frank Sinatra and a crooner in his own right, died yesterday doing what he loved: touring with the band. He was 72.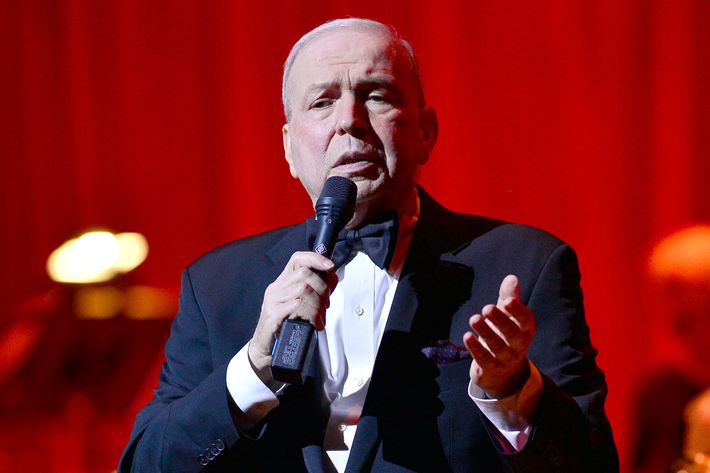 MORNING MEME
Yes, the audio is a little fuzzy, but this clip of First Lady Michelle Obama tearing it up singing Boyz II Men's "It's So Hard to Say Goodbye to Yesterday," is sure to be spring's hottest ringtone.
OTHER LOCAL NEWS
Cleveland Police Clash With Illiterate Panda Express Patron
This week's best police blotter comes out of South Euclid, Ohio, where a man was arrested after rear-ending a car in a Panda Express drive-thru line. Police became suspicious when the man refused to take a roadside sobriety test because he was unfamiliar with the alphabet. Also, there are drive-thru Panda Expresses. [Cleaveland.com]
When Is Florida's Gubernatorial Race? We Have an Idea
The most Floridian woman of all time, Mary Thorn of Lakeland, Florida, is fighting tooth-and-nail to keep her pet "motorcycle-riding alligator," Rambo. Do take the time to check out the picture: Rambo is wearing little alligator blue jeans and riding a four-wheeler. [PennLive]
HAPPENING TODAY
It's Still Better Than Santa Con
Today is St. Patrick's Day, so maybe stay off the subway and wear some shoes you don't mind getting ruined. Also there is a parade. You know what? Just stay home.

Government Drags Its Feet in Genocide Determination — What Could Go Wrong?
As expected, Secretary of State John Kerry will miss the deadline today to determine if ISIS's actions should be considered genocide. A State Department spokesperson has said he will make a decision soon. [NYT]

Youth Basketball Season Begins
The first round of the NCAA college-basketball tournament starts today. If you've noticed your co-workers' productivity decline precipitously, now you know why. [ESPN]