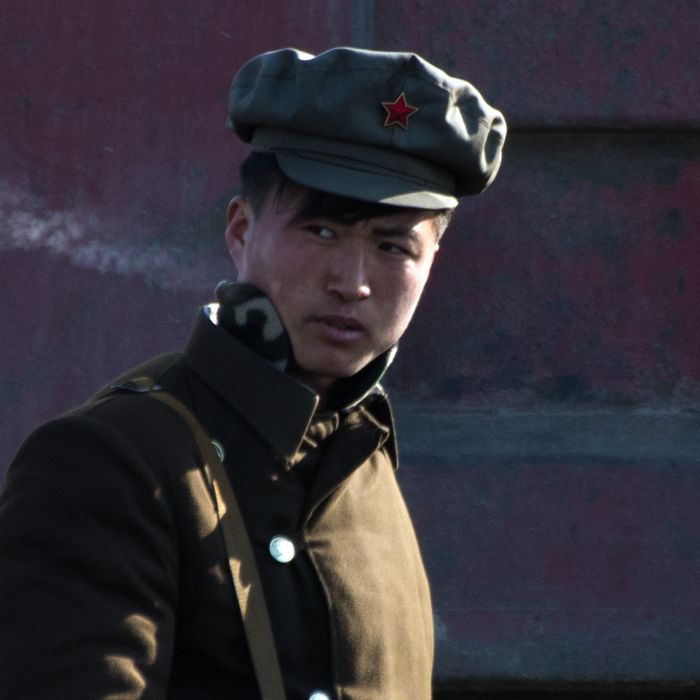 A North Korean soldier in the Chinese border town of Dandong on February 9, 2016.
Photo: JOHANNES EISELE / Staff
Good morning and welcome to Fresh Intelligence, our roundup of the stories, ideas, and memes you'll be talking about today. In this edition, North Korea launches missiles, Paul Ryan considers a contested convention, and Apple engineers threaten to quit. Here's the rundown for Friday, March 18.
WEATHER
Just in time for spring, winter is here. A last bit of cold and snow is sweeping through the East Coast tonight and over the weekend. New Yorkers can expect a chilly night, an even colder Saturday, and a snowy Sunday.
FRONT PAGE
North Korea Strikes Back
It was the North Koreans' turn yesterday to do something provocative in the back and forth between the Stalinist hermit state and the United States, and they rose to the occasion by launching two ballistic missiles off their east coast. Tensions between North Korea and the U.S.— and pretty much the whole world — are at an all-time high: North Korea has continued to engage in weapons tests and has imprisoned an American tourist; and the United States, along with the U.N., has leveled historic sanctions against them. [CNN]

EARLY AND OFTEN
Obama Holds Secret Meeting: No Bernies Allowed
President Obama is apparently going around telling Democratic donors to give up on Bernie Sanders and rally behind Hillary Clinton. While Obama won't publicly endorse Clinton just yet, let's just say his true feelings aren't very hard to ascertain. Poor Bernie, his feelings will be so hurt if he finds out!

Ted Cruz Consults Conspiracy Theorist
Just when you think there might be a day off from politicians being horrible, Ted Cruz comes along and names Frank Gaffney to his national-security advisory team. Haven't heard of him? That means you're probably a reasonable person. Google "Muslims infiltrate U.S. government" and see whose name comes up. Yep, that's Gaffney. Or, check out his think tank the Center for Security Policy — three other members of which round out Cruz's advisers.

Paul Ryan Mulls Riot Option
Despite Donald Trump's suggestion that millions of Americans will riot if he's denied the GOP presidential nomination, House Speaker Paul Ryan is openly considering the possibility that this summer's Republican convention will be contested. What do you think Trump will name his new party? [Reuters]

Sanders Reminds America He Lost Missouri
Yesterday, Bernie Sanders conceded that he lost the closely contested Missouri primary to Hillary Clinton, but said he won't request a recount because he wants to "save the taxpayers of Missouri some money." How very big of him.
THE STREET, THE VALLEY
Shady Company of the Day: Toshiba
Something suspicious is going on at Toshiba. The Japanese conglomerate announced yesterday that the U.S. Department of Justice and the Securities and Exchange Commission are investigating the accounting practices at several of its American units. This just when the company is said to be mulling a write-down for its Westinghouse nuclear-power unit. [Reuters]

Cloud Computing a Boon for Adobe
Adobe Systems surprised analysts by reporting higher-than-expected profits yesterday. The company has found new success in the popularity of its cloud-based services in core software like Photoshop and Acrobat Reader. [Bloomberg]

U.S. Gives Canada Gas
Not one to be discouraged over a little thing like the failed Keystone XL oil pipeline, massive Canadian pipeline company TransCanada is finding new ways of throwing its weight around — namely by buying Houston-based Columbia Pipeline for a full $10.2 billion, and with it, 15,000 miles of natural-gas pipelines in the United States. [CNBC]

Apple Engineers Flirt With Civil Disobedience
A report from the New York Times found that Apple may have an asset in its ongoing battle with the federal government that no one expected: human beings. Many Apple engineers have said they would sooner quit their jobs than help the government undermine the software they've helped design. [NYT]

MEDIA BUBBLE
Straight Outta Compton's Dumbed-Down Trailer for White People Totally Worked
During a talk at South by Southwest, reps from Universal Pictures and Facebook admitted that they worked together to create two trailers for the NWA biopic Straight Outta Compton: one for white people and one for black people — and no, this is not a joke. The white-oriented trailer took out most of the stuff about rap music, because white people don't really get hip-hop but they love Paul Giamatti. [The Verge]

Tribune Publishing to Buy Orange County Register
Tribune Publishing has come out on top of a three-way bidding war, winning the Orange County Register for $56 million. In a sign of the health of the newspaper industry, Tribune also got the Riverside Press-Enterprise thrown into the deal for free. [Poynter]
Twitter Now Super-Annoying
In a bid to get the new users it so desperately needs, Twitter has decided to alienate all of its old ones. As of yesterday, Twitter users worldwide must say good-bye to their old chronological timeline in favor of a new, more inscrutable model. [TNW]
PHOTO OP
St. Patrick's Gay Parade
Yesterday's St. Patrick's Day parade down Fifth Avenue was the first to allow openly gay LGBT groups to march (a small group of gay NBCUniversal employees participated last year). Thanks to the decision, Mayor Bill de Blasio ended his boycott of the parade.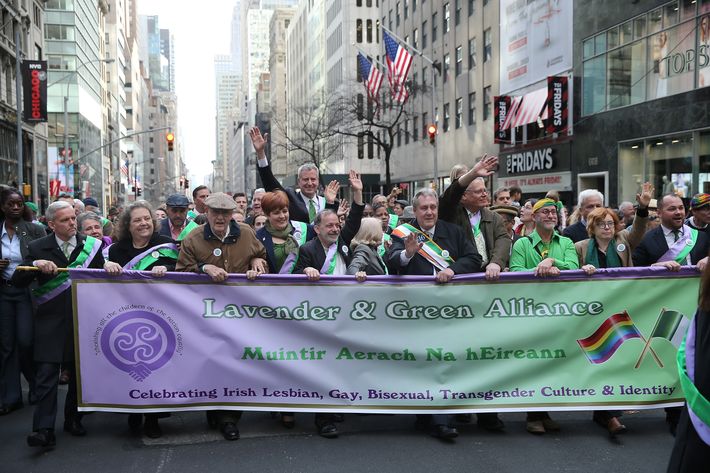 MORNING MEME
With the battle raging between Apple and the federal government, it's nice to look back at a simpler, happier time.
OTHER LOCAL NEWS
Myrtle Beach Investigates Brutal Pizza Murder
A bloody box labeled "human remains" turned out not exactly as advertised. The box was found in Myrtle Beach, California, early yesterday morning, but police say it only contained a tomato and an onion. What a delicious little mystery. [Myrtle Beach Online]
D.C. National Zoo: Beaver Explosion
First the whole Metro gets shut down, now this. Fire crews investigated a chemical explosion at the Smithsonian's National Zoo in Washington yesterday. The explosion occurred late in the morning near an exhibit featuring beavers and sea lions. No animals were harmed, thank God. [NY Daily News]

HAPPENING TODAY
Old Football People Meet
Colts owner Jim Irsay and quarterback Peyton Manning have announced they will host a mysterious joint press conference today. People who know about these things are guessing that the Colts are planning to retire Manning's number but who knows, it could be anything. That's the thing with mysterious press conferences. [NBC Sports]

Circus Goes West
The presidential candidates will take their own special brand of insanity west today. Trump is expected to make a stop in Utah, Ted Cruz will host a rally in Phoenix, and Bernie Sanders will stump in Tucson. [Fox]

Something Wonderful Is Coming to an End
Final arguments are expected today in the Gawker Media–Hulk Hogan sex-tape trail. Enjoy the remaining media gossip while you can. [USA Today]