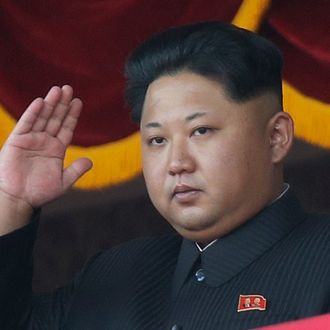 We have to admit, he has a way with words.
Photo: Maye-E Wong/© Corbis. All Rights Reserved.
Good morning and welcome to Fresh Intelligence, our roundup of the stories, ideas, and memes you'll be talking about today. In this edition, North Korea gets cranky, the Democrats debate in Flint, and the world mourns the inventor of email. Here's the rundown for Monday, March 7.
WEATHER
Drought-stricken California's prayers have been answered, with no end in sight for the heavy rains and snow in the Sierras. In New York, a warm and dry Monday will kick off a warm and dry week with temperatures in the high '60s. [Weather.com]

FRONT PAGE
North Korea Threatens to Nuke Us Again
In response to a new round of large-scale military drills between South Korea and the U.S., early this morning North Korea threatened to nuke both the United States and their neighbor to the south. Specifically they said they would launch a "pre-emptive nuclear strike of justice" and reduce all of America's bases to "to seas in flames and ashes in a moment," which is obviously terrible — but also sounds awesome. The drills between South Korea and the U.S. are the largest in the two countries' histories. [USA Today]
EARLY AND OFTEN
Democrat Debate Nastiest Yet, Not Nasty at All
Hillary Clinton and Bernie Sanders faced off in a debate in Flint, Michigan, yesterday, going head to head mostly on matters of domestic policy. They discussed the Flint water crisis at length, as well as fracking, gun control, and religion. Though it was civilized by Republican standards, it was by far the most contentious debate yet for the Democrats.

Like Will Holt, Bernie Sanders a Hit in Maine
Bernie Sanders had a relatively big win yesterday taking Maine's Sunday caucuses by nearly 30 points and picking up 15 delegates. Meanwhile, Hillary Clinton managed to add seven delegates to her considerable collection.

Sanders Snags Coveted Ex-Senator Endorsement
While Hillary is busy getting endorsed by current-day senators, Sanders has managed to pick up an endorsement from Donald W. Riegle Jr., who was also a senator once. The ex-Michigan senator conveyed his endorsement in a surprise news conference just before the Democratic debate in Flint. Riegle left the Senate in 1995 to work as a corporate lobbyist — you know, just your typical Bernie bro. [NYT]
Rubio Wins Puerto Rico, the Bellwether Territory
Poor Marco Rubio, even his victories feel somehow like defeats. Rubio won Puerto Rico's Sunday primary handily, but hardly seems on the cusp of turning his struggling campaign around.
THE STREET, THE VALLEY
Will United CEO's New Heart Lead to More Humane Flying Conditions?
Oscar Munoz, the CEO of United Continental Holdings Inc., is back at the job just two months after a heart transplant. His speedy recovery has shocked observers, as has his success in solving labor problems at United, and turning around a reputation for lateness that has dogged the airline for years. [Bloomberg]

World Mourns Ray Tomlinson: Inventor of Email, Ruiner of Weekends
Ray Tomlinson, the inventor of modern email and the first to use the "@" symbol, died yesterday at the age of 71. Tomlinson invented direct email messages in 1971 and is being remembered as a good and generous man by all who knew him and worked with him. [CNN]

Americans Given New Opportunities to Cave
Years of Mac-user smugness have come to an end. For the first time ever, Apple users have been hit by attacks of ransomware, the malware that holds a computer's data hostage unless the owner pays the hackers ransom. The ransomware was spread in an infected version of the application Transmission that became available for download over the weekend. For most infected users, the ransomware should go into effect today, so get ready for a potentially terrible Monday. [Reuters]

Schwarzenegger, Snapchat, and the State of American Democracy
Remember when Arnold Schwarzenegger, the weightlifter and star of the pioneering film Junior, as California's governor was the most ridiculous thing in American politics? Well now "the Governator" represents the more sensible segment of the Republican Party. Schwarzenegger used Snapchat to endorse John Kasich on Sunday. [The Verge]
MEDIA BUBBLE
Five Letters Across: Tax, Mail, Timothy Parker
A plagiarism scandal is rocking the professional crossword world, with puzzle fanatics using computers to parse out more than 60 examples of copied answers, clues, themes, and grids in the last 17 years. At the center of the scandal is crossword-puzzle editor Timothy Parker, who is accused of stealing from previously published New York Times puzzles. Parker is the latest in a string of people to learn that in the era of the internet, plagiarism is basically impossible. [FiveThirtyEight]

Love Is Blind: Hall and Murdoch Go Through With Nuptials
The famous actress, model, and one-time Mick Jagger wife Jerry Hall made good on her threats to marry Rupert Murdoch, the … let's just say divisive media mogul, on Saturday. Murdoch and Hall wed at St. Bride's church on Fleet Street in London, the spiritual home of  journalism in the U.K.[AP]

Obama Pens Peanuts Foreword
President Barack Obama, long time Peanuts cartoon fan, has written the foreword to the 25th volume of The Complete Peanuts, the most recent hardcover collection of the cartoon's iconic Sunday strips. In the foreword, Obama describes Peanuts as "an American treasure," and "our own daily safety blanket." [NYT]
PHOTO OP
Scientists have just released a picture of this frankly adorable new species of little white octopus they discovered in the very deep ocean off of Hawaii.
MORNING MEME
On the day after her death, we prefer to remember Nancy Reagan's lighter side and are thrilled to see this picture making the rounds on social media. What a time.
OTHER LOCAL NEWS
Boy Won't Let Mother Forget Her Mistake
In a refreshing twist on the usual sentimental Facebook fodder, an 18-year-old from Syracuse, New York, shared an unnecessarily honest photo explaining that he is looking for his biological father. So if you hooked up with a girl named Diana at K-Rockathon in 1996, you may want to check the web. [UPI]

A Very Bad Dog
A Mankato, Minnesota, golden retriever drove a semi-truck over a curb and crashed it into a tree while its usual driver left his truck idling and unattended. Click through to see one guilty-looking pooch. [Fox]
HAPPENING TODAY
Two Sports Legends Are (Probably) Retiring Today
Two big names in sports have announcements planned for today and people who know about these things are speculating they will both retire. First up is Peyton Manning, the legendary quarterback whose career has recently been marred by poor performances and a 20-year-old accusation of sexually inappropriate behavior. The Broncos announced his retirement on Sunday, and Manning will make things official at a press conference this afternoon. The other is tennis star Maria Sharapova, the former number-one ranked tennis star, who has been battling a series of injuries. Her announcement is scheduled for 3 p.m. PST.  [Mirror]

Clinton to Guest Star on Sanders Television Special
Hillary Clinton has belatedly agreed to appear on what was going to be a Bernie Sanders one-man show on Fox News tonight. The town hall–style television event comes just one day after the pair's debate in Flint, Michigan. [Fox]

World About to Get Terrible
The much reviled concept of a "Yelp for people" becomes a depressing reality as Peeple goes live today, allowing anybody to rate anybody else. It looks like something might actually beat Donald Trump to ruining society. [Inverse]