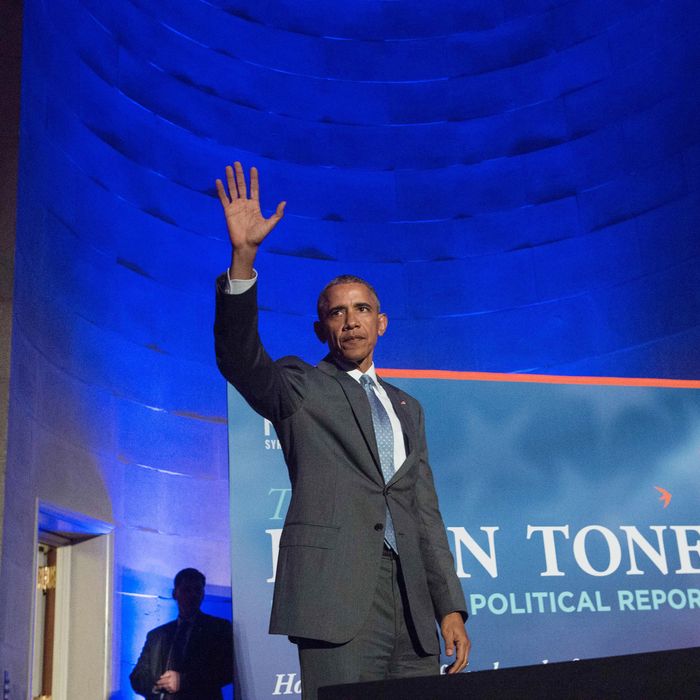 Listen up, hacks!
Photo: Nicholas Kamm/AFP/Getty Images
Good morning and welcome to Fresh Intelligence, our roundup of the stories, ideas, and memes you'll be talking about today. In this edition, Obama criticizes journalists in a speech to journalists, Republicans must convene unarmed, and Georgia's governor stands up for equality and money. Here's the rundown for Tuesday, March 29.
WEATHER
If you thought winter was over, you were wrong. A new multi-day winter storm is making its way across the Rockies and plains states. After a very windy night, today will be mild in New York. But don't get smug — the snow should get here by early April. [Weather.com]

FRONT PAGE
President Obama Says Journalists Partly at Fault for Ugly Campaign
Speaking at a journalism awards dinner last night, President Obama said that the media was party to blame for the ugly tone of the ongoing presidential race. ("I was going to call it a carnival atmosphere, but that implies fun," he said.) The president, who has something of a reputation for favoring nontraditional media outlets and being, let's say, less than transparent, then said that even though news organizations are strapped for cash, they should spend more money on substantive investigative political reporting and watch out for the pitfalls of false bias. We're sure everyone appreciated being told how to do their jobs. [Reuters]
EARLY AND OFTEN
North Carolina Anti-Transgender Law Challenged in Court
North Carolina's controversial new anti-transgender law, which would force people to use the public facilities that correspond to the sex on their birth certificate, is being challenged in federal court thanks to a suit filed yesterday by opponents of the law who say it is discriminatory and could put transgender people in danger.

Clinton Noncommittal on New York Debate, Doesn't Like Bernie's Tone
A representative from Hillary Clinton's campaign has said the presidential hopeful will not agree to Bernie Sanders's call for a debate in New York unless her opponent changes his tone. They are sounding more like a squabbling couple by the day, and we hope he fires back with, "What tone? I always talk like this." This being 2016, there is already a hashtag for this whole exchange: #tonedownforwhat.

What Do They Think This Is? A School?
The Secret Service has been forced to make a statement reminding attendees that guns will not be permitted at this year's Republican National Convention following a change.org petition to allow them, which got nearly 50,000 signatures. The Secret Service pointed out that the convention is not a bar or a school, thus carrying a gun there would be inappropriate. [Reuters]
Governor Takes Stand for What's Right Because Money
Georgia governor Nathan Deal announced yesterday that he would veto a controversial new bill that many feel would discriminate against the state's LGBT residents. The governor said, "I do not think we have to discriminate against anyone to protect the faith-based community in Georgia," and took pains to point out that his decision had nothing to do with cash cows like Disney and the NFL that threatened to boycott the state if he did not veto the legislation.

THE STREET, THE VALLEY
iPhones Apparently Pretty Easy to Hack
The battle between Apple and the federal government over encryption has come to an end, leaving everybody involved looking pretty silly. A third party was able to help the government access the information on the San Bernardino shooter's phone in just a week, so the Feds look incompetent, Apple's security seems weak, and none of the issues at the core of the court case were resolved. We're pretty sure this is the last time you'll be hearing about all of this. [NPR]
Pandora Co-Founder Returns As CEO
Tim Westergren, co-founder of streaming-music pioneer Pandora, has been named its CEO, replacing Brian McAndrews. Westergren previously ran Pandora from 2002 to 2004. Investors are less than impressed with the move; Pandora's stocks fell 10 percent after the announcement, but it's not like things were so rosy before: Shares in Pandora lost a third of their value over the last year. [BBC]
Is It Okay to Describe Theranos As Disgraced Yet?
More bad new for Theranos, the medical startup that promised to revolutionize blood tests. Theranos's credibility was badly damaged after a series of controversies, and now, the first independent study to look at the company has found its tests return irregular results more than traditional testing services — and 2 percent of the time, the Theranos tests didn't return results at all. [Bloomberg]
Starwood Bidding War Not Looking Good for Marriott
Chinese insurance company Anbang Insurance Group has offered $14 billion for the purchase of Starwood Hotels & Resorts Worldwide, intensifying an already-fraught bidding war with Marriott. Observers fear the offer might be too rich for Marriott, but questions remain over whether Anbang's offer would sit well with Americans or the Chinese government. If it went through, the purchase would be the largest acquisition of an American company by a Chinese corporation to date. [WSJ]

MEDIA BUBBLE
Jon Lovitz, Jessica Lowndes Stunt Makes Fools of Media, Themselves
A widely reported relationship between John Lovitz, the 58-year-old comedian, and Jessica Lowndes, a 27-year-old actress, has been exposed as a publicity stunt to drum up interest in Lowndes's new music video. The stunt, the perfect convergence of cynicism and desperation, is an apt metaphor for our times. [CBS]
A Tough Week for Vice Sees Ouster of Head Ad Man
Richard Beckman, the head of ad sales at Vice Media, is stepping down after a rough week for the company. His departure follows disappointing ratings for Vice's new television channel, Viceland, and an unexpected announcement that even online traffic has fallen by more than 17 percent in February. It's hard to see how that's totally the advertising department's fault. [The Drum]
Damn Freeloaders Always Trying to Stay Informed
The New York Times is testing ways to limit visits to its website from non-subscribers through Twitter and other social-media services. Previously, visitors to stories posted on social media effectively circumvented the paper's paywall, but now, readers referred from social-media platforms will be capped at ten stories a month just like everyone else — this has already been true of stories on Facebook for the past two months. [Re/Code]
PHOTO OP
Comedy Dream Team Remembers Garry Shandling
This photo, posted by Judd Apatow, will be both heartbreaking and extremely jealousy-inducing for comedy fans everywhere. Recently deceased comedian Garry Shandling was known for the pickup basketball games he hosted at his home in Los Angeles. Yesterday, his friends reconvened for one last game in Shandling's honor. There's a lot of comedy royalty here — see who you can pick out. If you get stumped, they have an annotated list at Slate.
MORNING MEME
Donald Trump Jr. is really putting the old adage "better late than never" to the test. He apologized today for calling Sanders supporter Portia Boulger either a Bernie Sanders plant or, at worst, a Nazi — a mistake he made two weeks ago. At least everyone is talking about it again. [Gawker]
OTHER LOCAL NEWS
Obvious Witchcraft Baffles Tennessee Police
Police in Medina, Tennessee, say they still can't figure out how a 56-year-old woman managed to drive up a telephone pole and get her car tangled in the wires — yes, there is a picture. The probably very-surprised driver was trapped in her dangling car for more than two hours before anybody was able to rescue her. Obviously there are a lot of questions here, among them: Just how strong are telephone wires? [WDBO]
Was Somebody Trying to Kill Cleopatra?
Two dead poisonous snakes were recently found in a package at a Washington, Pennsylvania, post office. Nobody knows if the snakes were originally alive when they were mailed, why the snakes were mailed, and if this was part of a plot to kill the recipient, which would make a great Elementary episode. [AP]
HAPPENING TODAY
Head of Capitalist Cabal Speaking in New York City Today
Federal Reserve chairwoman Janet Yellen will give a much-anticipated speech at the Economic Club of New York this afternoon, where she is expected to explain and stick to her recently announced decision to raise interest rates only twice this year. [MarketWatch]
Game Make or Break for U.S. World Cup Chances
Apologies for the soccer news, but a game between the U.S. and Guatemala today will have serious repercussions for the team's World Cup chances. If they lose, the United States most likely won't qualify for the global championship in 2018. Not that anyone here would notice. [NYT]