Good morning and welcome to Fresh Intelligence, our roundup of the stories, ideas, and memes you'll be talking about today. In this edition, the Malheur National Wildlife Refuge is a mess, the Sanders campaign gets litigious, and AI takes an inevitable Nazi turn. Here's the rundown for Friday, March 25.
WEATHER
Things are going from bad to worse in large swaths of the country as a massive winter storm continues unabated. Two people have been killed in Wisconsin, and more than 30 inches of snow fell in Colorado. Meanwhile, a separate series of thunderstorms is set to batter parts of the South. Today, New York will be warm but rainy before a sunny, if chilly, Saturday. [Weather.com]
FRONT PAGE
Oregon Militiamen Prove They Can't Take Care of Land
Federal officials have released photos taken at the Malheur National Wildlife Refuge after it was vacated by anti-government militia members earlier in the year. The photos show the bird sanctuary's facilities totally trashed, with refuse including liquor bottles scattered inside and out and holes kicked in the walls. The Fish and Wildlife Service has said it will take $4 million dollars to clean, repair, and upgrade the refuge. [NYT]
EARLY AND OFTEN
Whoopi Goldberg Would Make a Great GOP Debate Moderator
Ben Carson appeared on The View yesterday, and if he was expecting softball questions, he didn't get them. Whoopi — bless her — straight-up asked Carson how he, a black man, could support an outspoken racist like Donald Trump. In response, Carson pointed out that Trump allowed both black people and Jews into his clubs in Palm Beach, which we guess is where the bar is for racism now. [Politico]
Puerto Rico Desperate for Bailout, If Only They Made Cars or Something
Politicians are inching closer to a plan to help rescue Puerto Rico's crumbling economy. Puerto Rico has officially asked permission to declare bankruptcy, but its Washington overlords are in favor of economic reforms under the purview of a president-appointed board. Will it have to change its designation from territory to colony now? [NYT]

Sanders Sues DNC, Really Doesn't Want Anyone Thinking He's Establishment
The Bernie Sanders campaign has officially served the Democratic National Committee with the suit it filed back in December, when the DNC blocked Sanders from accessing the committee's voter data. Remember that old controversy?
New York Court Misses Chance to Save America
A New York appeals court went with a lower-court decision today that found Ted Cruz eligible for the presidency despite being born in Canada, a foreign country. Cruz is off the hook because the objectors filed their petition late. [Reuters]

THE STREET, THE VALLEY
Robot Gets Too Human Too Fast
A much-touted bot from Microsoft had to be taken offline in less than a day after it became an outspoken, dirty-mouthed, Nazi-sympathizing bigot. Tay was a chat bot developed by Microsoft to learn how to mimic human speech patterns by interacting with real people on Twitter, technology that would then be used for improving Microsoft's online customer-service bots. However, thanks to the cesspool that is the internet, Tay was talking like a horny, racist truther in no time. [AV Club]

Starbucks Meddles
After its massive success in addressing America's race issues, Starbucks is now going to fix everything else. The coffee company cum nation's conscience took out two full-page ads in the New York Times and Wall Street Journal asking people to resist the divisive rhetoric of the political season and remember how awesome America really is. Thanks, Starbucks! [Fox]
Sony Launches New Company
Sony is launching a new company under its umbrella to leverage PlayStation's success and to cash in on the booming gaming market. ForwardWorks will focus on developing games for smart devices, in part using games and characters developed for PlayStation. The company will officially open for business April 1. [CNet]
Netflix Knows What's Good for You
Netflix is taking heat after admitting that it intentionally limits its streaming rates for telecoms like AT&T and Verizon. The company has been capping its video streams at 600Kps for fear that if it streamed as fast as possible, the service would eat up too much data and consumers would resent it. So next time you're watching slow, grainy Arrested Development episodes on the bus, remember that it's for your own good. [The Verge]
MEDIA BUBBLE
Somebody Actually Wants to Buy Non-Nude, Mansionless Playboy
Insiders confirmed yesterday that Playboy is seriously investigating potential buyers. The company realized people were interested when the notorious Playboy Mansion was put up for sale, but multiple parties expressed interest in buying the whole company. Nearly half of Playboy's income comes from selling branded products in China, where the magazine has been banned. [NYT]
Apple's New Show Sounds Terrible
How long have viewers pined for an unscripted show about app developers, maybe with awesome music from will.i.am? Well, dreams do come true. Apple is actually making that show and will distribute it over its devices. Big names in TV, such as one of the producers behind Netflix's Marco Polo — Yes! Him! — are reportedly already onboard. This is going to be huge. [Tech Crunch]

Layoffs at International Business Times
Things are not looking good at the International Business Times, the politics, news, and culture website from the people who resurrected Newsweek. At least 15 people have been fired at its New York and California offices without warning. Employees were reportedly told they were fired over the phone at their desks and then given ten minutes to pack their things and go. [ReCode]

PHOTO OP
Activists Protest North Carolina's Anti-Transgender Law
People protested on the streets of Raleigh over the state's new radical anti-transgender legislation.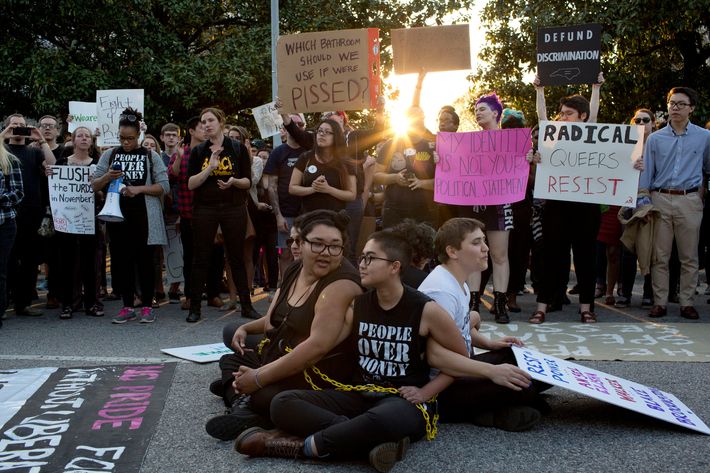 MORNING MEME
You know what? Screw it, we're onboard. The world may be watching, but lets just go full John-Wayne-meets-professional-wrestling. At least it's entertaining. [Gawker]
OTHER LOCAL NEWS
Somebody's About to Learn a Lesson
If you're going to rudely and arbitrarily kick out the only two black women in your bar, perhaps make sure they're not both ACLU attorneys first. That's just what happened at a karaoke bar in Fresno, California, earlier in the week, and something tells us the two women aren't just going to forget the whole thing ever happened. [Raw Story]
Wait, Isn't Drunk Driving Legal in Montana?
You know when you've got a good buzz on and just really want a frozen yogurt, so you drive to the frozen-yogurt place only to find it's hosting a "Coffee With a Cop" event? Charlene Kranitz of Great Falls, Montana, knows. [KXLH]
HAPPENING TODAY
What's So Good About It?
Today is Good Friday. The redundantly named holiday commemorates the crucifixion and death of Jesus Christ. So, you know, party. [Wikipedia]
John Kerry Is in Brussels
John Kerry is in Brussels today; he's the highest-ranking U.S. official to visit the city since the deadly terrorist bombings there on Tuesday. He is expected to offer condolences and reassure the E.U. of America's resolve in fighting extremism. [Politico]