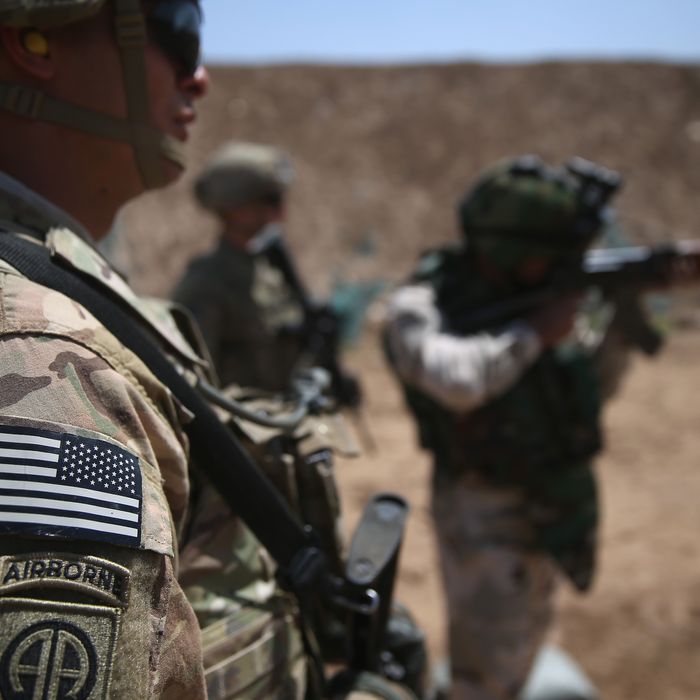 U.S. military in Iraq (still).
Photo: John Moore / Staff
Good morning and welcome to Fresh Intelligence, our roundup of the stories, ideas, and memes you'll be talking about today. In this edition, the U.S. acknowledges that it has a Marine base in Iraq, Obama's Cuban vacation has a downside, and Elon Musk's personal life is nuts. Here's the rundown for Tuesday, March 22.
WEATHER
A winter storm is powering through the middle of the country from Montana to Michigan. In New York, the worst we have to look forward to is some cloud cover and temperatures in the 50s. [Weather.com]
FRONT PAGE
Pentagon Confirms Marine Base in Iraq
Despite repeated assurances from the White House that the United States is no longer involved in a ground war in Iraq, yesterday the Pentagon was forced to confirm the existence of a military base in Northern Iraq, staffed exclusively by U.S. Marines. Officials were forced to make the disclosure after a rocket attack from ISIS militants killed one marine and wounded several more over the weekend. Between 100 and 200 troops are stationed at the base, which uses long-range cannons to provide support to the Iraqi military. The base was attacked again yesterday and marines killed at least two ISIS members in the fighting. [NYT]

EARLY AND OFTEN
Obama and Castro Hold Awkward Press Conference
In a closely watched press conference yesterday, President Obama subjected Raul Castro to a good old fashioned American press-grilling. Castro responded like a real American leader: pontificating, changing the subject, cherry-picking questions, and finally just lying. [Politico]
Democrats and Republicans Find Common Ground
A new New York Times/CBS News poll released yesterday found a majority of Republicans think Donald Trump is embarrassing and half said they would be scared if Trump became president. Republicans still differ with Democrats in that they will vote for him anyway. [NYT]
The Warren-Trump Twitter Beef You've Been Waiting For
Donald Trump is on the defensive after Massachusetts senator and progressive icon Elizabeth Warren called him a loser on Twitter. Trump responded by referencing a controversy in which Warren claimed to have Native American blood, repeatedly referring to Warren as an "Indian" and claiming she got her teaching position at Harvard because of affirmative action.

Hillary Wins Israel Pander-Off
Both Hillary Clinton and Donald Trump addressed the American Israel Public Affairs Committee's annual conference in D.C. yesterday. Hillary seemed to win over the crowd by presenting herself as a steady alternative to Trump. He stayed on script and got a better reception than expected, but the speech probably won't put an end to his problems with Jewish voters.
THE STREET, THE VALLEY
World's Least Cool Hacker to Help the Government
Today's planned hearing in the battle between Apple and the federal government over encryption has been postponed after the government said it may have found an outside player who can help unlock the phone used by one of the San Bernardino shooters. Everybody wins, everybody loses.

Silicon Valley Old Guard Andy Grove Dies
Andy Grove, the former CEO of Intel and a titan of the early Silicon Valley, has died. He was 79. Grove was Intel's very first hire in 1968, and under his leadership, the company switched its focus to processors and became the dominant force in the industry. His management book boasts an incredible title right out of the universe of Jack Donaghy: Only the Paranoid Survive. [Reuters]

Apple Debuts Smaller, Less Powerful iPhone, Really Hopes People Like Rose Gold
Apple debuted a new collection of products yesterday but the keynote probably won't make it into the Tim Cook biopic. Apple lovers get ready for a smaller, more affordable iPhone, a smaller iPad Pro, new nylon watch bands, and a slight price cut for the Apple Watch. [CNet]

Elon Musk Files for Divorce Twice From Talulah Riley, for Second Time
Billionaire inventor Elon Musk — he of Tesla fame — has filed for divorce from British actress Talulah Riley for the second time in what is their second marriage to each other — the third time in total. Confused? Imagine how he feels. [Reuters]
MEDIA BUBBLE
Sex Tapes Are Super Lucrative
Following a massive victory for Hulk Hogan, who sued Gawker Media over posting part of his sex tape online, a Florida jury found Gawker liable for further punitive damages of $15 million, and fined Gawker publisher Nick Denton personally for $10 million. That makes the total pay out to Hulk Hogan $135 million.
We Take Bath Salts in a Syrian Brothel: How Come Users Are Fleeing Vice?
Vice Media's web traffic dropped 17.4 percent in February, shedding more than 10 million viewers. The problem apparently isn't Vice's as much as Distractify.com's, a clickbait site under the Vice Media umbrella that everyone realized sucks. [Variety]

Another Day, Another Online-Video Platform
Matter, the popular long-form reporting web publication, is leaving its parent company, Medium, to become Matter Studios, which will offer a more diverse array of digital stories, podcasts, and videos. Matter Studios is positioning itself as the HBO of digital-media platforms, which we guess means it will produce reality shows about brothels. [PoliticoMedia]
PHOTO OP
Historic Cuba Visit Produces Historically Awkward Photo
Wow. This is really something. It's so hard to look away.
MORNING MEME
Star Wars Gets Hands-y
Incredible, and so much better than George Lucas's CGI. [Elite Geek]
OTHER LOCAL NEWS
Hero Crime Fighter Now Hero Chicken Vendor
In a job interview that really couldn't have gone any better, a teenager applying for a job at a New Orleans, Louisiana, Popeyes managed to foil a robbery and apprehend the thief mid-interview. And guess what? He got the job! [UPI]
Surreal Tragedy in Las Vegas
Kimberly Tripp died yesterday. The performer, better known as Mini Kim Kardashian from her show at the Beacher's Madhouse at the MGM Grand in Las Vegas, Nevada, was found by her boyfriend and stage partner Michael Rodriguez, also known as Mini Kanye West. [AP]
HAPPENING TODAY
Candidates Head West
Everyone's expecting a good day for Bernie Sanders today as Idaho and Utah turn out for their caucuses; the primary in Arizona will most likely go to Clinton. On the Republican side, Utah is expected to go to Cruz, but Arizona is anybody's guess.

Last Chance to Save Kindle From Obsolescence; Actual Books Already Doomed
Today is your last chance to update your early-generation Kindle e-readers or else they will lose the ability to connect to the cloud and you could lose all of your already-downloaded books. [Newsweek]

Bernie Hits the Talk-Show Circuit
Bernie Sanders will appear on Jimmy Kimmel Live! tonight even though he already has the demographic that watches it — young white people — totally sewn up. Not to be outdone, Clinton will appear on the show on Thursday. [AV Club]