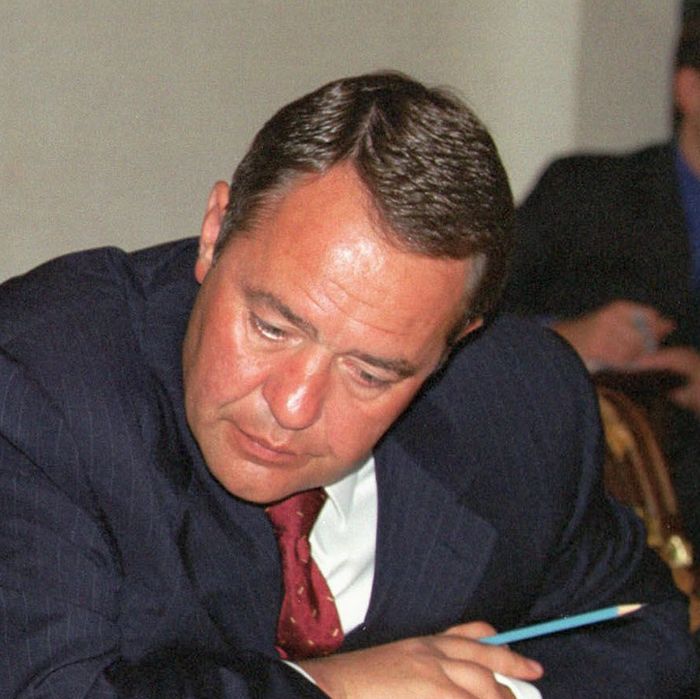 Telecommunication Minister Leonid Reiman (L) and Minister of Press, Television and Radio Broadcasting, Mikhail Lesin (R) meet in August 2000 at the Kremlin.
Photo: AFP/Getty Images
Good morning and welcome to Fresh Intelligence, our roundup of the stories, ideas, and memes you'll be talking about today. In this edition, a former Russian minister's death was far more grisly than initially reported, Ben Carson's still holding a grudge against Ted Cruz, and Amazon takes to the skies. Here's the rundown for Friday, March 11.
WEATHER
Heavy rains and flash flooding in Louisiana and other parts of the South have caused at least five deaths and forced 3,500 people to evacuate their homes. The thunderstorms centered over Louisiana are set to continue today, along with rain up and down the West Coast. New York will see yet another day of unseasonably nice weather with mostly sunny skies and a high of 63. [Weather.com]
FRONT PAGE
Russian Minister's Death Gets Considerably More Suspicious
When former Russian press minister Mikhail Lesin was found dead in a Washington hotel room in November, members of his family told RT that he had died of a heart attack. On Thursday, however, D.C. authorities said Lesin actually was killed by blunt-force injuries to the head and had injuries to the neck, torso, arms, and legs as well. Known to his critics as an adversary of Russia's independent press, Lesin was President Vladimir Putin's press minister from 1999-2004 and ran the state-controlled Gazprom-Media from 2013-2014. [Reuters]
EARLY AND OFTEN
Republicans Hold Substantive and/or Scary Debate
The GOP candidates were pretty pleased with themselves for toning things down at what's likely to be their last primary debate. Their opinions on Nazi-esque salutes and violence at Trump rallies were actually pretty troubling, but they expressed them at a normal volume.

It's Easy to Forgive and Forget When You're Forgotten
Ben Carson, the retired neurosurgeon turned GOP presidential candidate who captured the right-wing imagination for 15 minutes before his campaign fizzled last week, has endorsed Donald Trump, his former rival who once compared him to a child molester on TV. Fortunately for Trump, Carson is reportedly upset not at the man who said on national television that Carson was incurably prone to violence, but rather at Ted Cruz, whose campaign had spread a rumor that he had already dropped out of the race before the Iowa caucus.
It's an Honor Not to Be Nominated
Speaker of the House Paul Ryan is having none of this talk about drafting him to run for president, and has sent a cease-and-desist letter to the Committee to Draft Speaker Ryan, a super-pac formed for that purpose, declaring that he is not running for president, no way, no how, and warning that the group's fundraising activities are possibly illegal. The group has taken down the "donate" button from its website, but is still hoping to get one million signatures.
What About Condi?
The Republican donor class, despairing of the presumptive nomination of Donald Trump and desperately scrambling for an alternative (see above), is now apparently turning to former Secretary of State Condoleezza Rice as their next potential savior. A group of Republican donors and strategists has been trying to talk Rice into mounting an independent bid for the presidency. Currently, they say, she is "reluctant," but the group's polling finds she is the only potential candidate who could stand a chance in a three-way race against Trump and Hillary Clinton. [Politico]
THE STREET, THE VALLEY
Apple, Justice Department Trade Shade
Apple's dispute with the Justice Department over whether it can be forced to help the FBI access data from an iPhone that belonged to one of the San Bernardino shooters got a bit nastier on Thursday. In a legal filing, the department accused Apple of using "false" rhetoric that was "corrosive of the very institutions that are best able to safeguard our liberty and our rights." Apple's general counsel Bruce Sewell hit back, calling the brief a "cheap shot" that "reads like an indictment" and sought to "smear [Apple] with false accusations and innuendo." [CNET]
McDonald's Franchise Obligations Go on Trial
A trial began on Thursday before a National Labor Relations Board administrative judge in New York that will decide whether the McDonald's corporation can be held liable for labor-law violations by the franchisees who operate 90 percent of its U.S. restaurants. The NLRB contends that its new standard for joint employment applies to franchises and makes the corporate parent responsible for these violations. The case is based on complaints McDonald's employees started filing in 2012, alleging that their employers threatened, punished, and fired them for participating in protests to demand higher wages and union rights. McDonald's says it has no say in its franchisees' employment decisions. [Reuters]
Amazon Air
In pursuit of its quest for total control in the realm of logistics, Amazon has leased 20 Boeing 767 freighter aircrafts, which it intends to use to support the growth of its Prime subscription service, which offers fast, free shipping, and other benefits for $99 a year. The planes will transport purchases from Amazon's fulfillment centers to "sortation centers" closer to customers, where they will be handed off to last-mile couriers. Leasing its own planes for this task rather than relying on outside shipping services will in theory cut Amazon's costs and improve its efficiency. [Wired]
MEDIA BUBBLE
Publishers Call for Lifting Book Embargo on Cuba
Dozens of major figures in the U.S. book-publishing industry are putting pressure on the White House and legislators to end the embargo on exports of books and educational materials to Cuba. In a petition set to run on the cover of the March 14 edition of Publishers Weekly, signatories representing various publishers and trade associations demand that the embargo, which "runs counter to American ideals of free expression," be lifted. The publishing giants Penguin Random House, Hachette, and Simon & Schuster are all supporting the petition. [WSJ]
¡Mierda de Toro!
Univision has launched the country's first Spanish-language fact-checking service. Operated by the network's new data unit, Detector de Mentiras (Lie Detector) was supposed to provide live fact-checking at Wednesday night's Democratic debate, but the proposal to use the new system was nixed at some point during negotiations between Univision and the DNC. The data unit, staffed by five investigative journalists, will be fact-checking the presidential candidates through the rest of the campaign, with an ambition to expand its focus to other politicians, business leaders, and all sorts of liars. [Poynter]
PHOTO OP
Today Japan commemorates the fifth anniversary of the Tohoku earthquake and tsunami, which killed over 15,000 people and destroyed the Fukushima nuclear plant, which is still leaking radioactive water.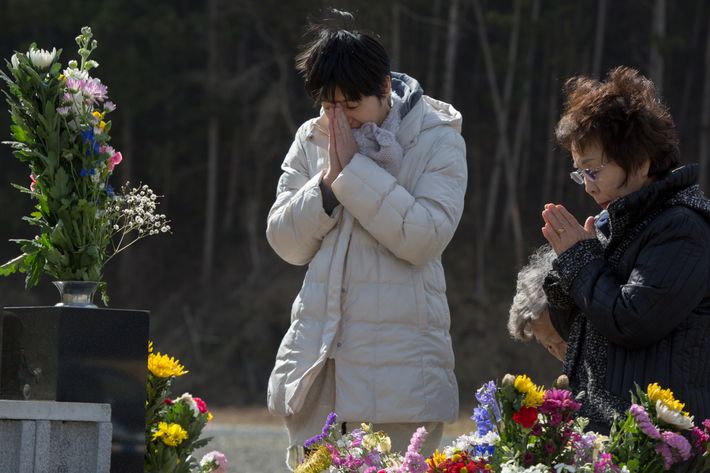 MORNING MEME
Forget Canada: Let's move to Vienna if Trump becomes president.
OTHER LOCAL NEWS
Virginia Jail Cracks Down on Drug-Soaked Photos
Inmates at the Western Virginia Regional Jail are no longer allowed to receive personal photos, after guards discovered that they were being used to sneak drugs into the facility. Pictures intercepted by officials at the jail had been soaked in a solution of Suboxone, a drug used to treat narcotic dependence. Recipients could chew the paper and get high. The jail had already banned inmates from receiving any nonwhite paper, drawings, or paintings for the same reason. [Roanoke Times]
Cougar Fingered in Slaying of L.A. Bear
A koala bear found mauled to death at the Los Angeles Zoo last week was probably done in by P-22, a local celebrity mountain lion who lives in the city's sprawling Griffith Park, zookeepers now believe. Although the zoo's surveillance cameras did not capture the attack on video, footage and photos place P-22 on the zoo's grounds on the night Killarney, an elderly female koala of 14 years, met her grisly end. Zoo officials are still not sure how the mountain lion is getting in and out of the park, but are taking extra precautions to make sure no other small animals suffer Killarney's gruesome fate. [LAT]
HAPPENING TODAY
Nancy Reagan to Be Laid to Rest
Nancy Reagan's funeral will be held this afternoon at the Ronald Reagan Presidential Library in Simi Valley, California. The former First Lady, who passed away of congestive heart failure at the age of 94 on Sunday, lay in repose at the library Wednesday and Thursday for the public to pay their respects; Friday's funeral and burial will be a private affair. First Lady Michelle Obama will attend, as will Democratic presidential candidate Hillary Clinton. [The Desert Sun]
Obama Speaks at SXSW
President Barack Obama will become the first sitting president to visit the South by Southwest interactive media conference today, delivering the keynote speech at the event in Austin, Texas. The White House's chief digital officer Jason Goldman says the speech will focus on ways the tech industry can partner with government. First Lady Michelle Obama is also scheduled to speak at SXSW next Wednesday about her Let Girls Learn initiative, which aims to give more girls around the world access to education. [Inc.]