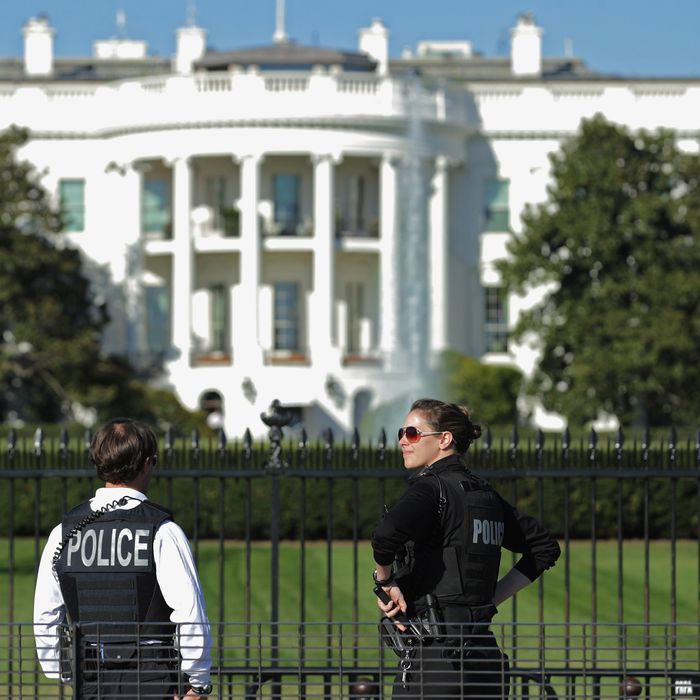 Secret Service agents guard the White House.
Photo: Chip Somodevilla / Staff/2015 Getty Images
Good morning and welcome to Fresh Intelligence, our roundup of the stories, ideas, and memes you'll be talking about today. In this edition, the man who wounded an Idaho pastor is apprehended at the White House, Bernie scores an upset, and Amazon wants to be QVC. Here's the rundown for Wednesday, March 9.

WEATHER
The South's torrential rains and flooding are expected to get even worse today. Texas is still on high alert for tornadoes and other extreme weather after golf-ball-sized hail stones pelted central Texas last night. Meanwhile in New York, temperatures today should climb into the mid-70s — yes, you read that right. [Weather.com]
FRONT PAGE
Shooter Apprehended at White House
Kyle Odom, the disturbed former Marine who repeatedly shot a prominent Idaho pastor in the parking lot of his church over the weekend, was apprehended outside of the White House. Secret Service sources say he was throwing suspicious objects over the White House fence onto the South Lawn. Odom has a history of mental illness. The pastor, Tim Remington, is expected to make a full recovery. [USA Today]
EARLY AND OFTEN
Michigan Feels the Bern
Tuesday's primaries proved to be surprisingly eventful, with Bernie Sanders taking Michigan in a huge upset that's likely to prolong the Democratic race. On the Republican side, Donald Trump won Michigan, Mississippi, and Hawaii, and Ted Cruz managed to nab Idaho.

Presidency Does Obama's Body Wonders
Being the president is famously brutal on your body. Most presidents go in standing tall, full of vigor, and leave looking like pears left on the counter too long, power hair replaced by white mold. Not Obama. Though he may look a bit worse for the wear, the president's health has actually improved in the last two years. Both his body-mass index and his cholesterol are down, and he is now totally tobacco free. Being the president is expensive as diets go, but effective. [USA Today]

Bernie Goes for Untapped Child Vote
Bernie Sanders sued Ohio secretary of State Jon A. Husted on Tuesday, claiming he intentionally targeted black and Latino voters by not allowing 17-year-olds who will be old enough to vote by the general election to take part in the state primary. The suit says the move is discriminatory because young voters disproportionately consist of minorities. The Ohio primary is next Tuesday.

Bernie Sanders Closes in on Hillary
A new national poll shows Hillary Clinton with only a single-digit lead over Bernie Sanders. The new NBC News/Wall Street Journal poll has Hillary with the support of 53 percent of Democratic voters, and Sanders with 44 percent. [Politico]
THE STREET, THE VALLEY
Space Bezos
Amazon founder Jeff Bezos's space company (and winner of the worst-named space-company award) Blue Origin might have paying passengers in the air by 2018. Flights with test pilots are slated to begin next year, with paying "astronauts" to follow soon after. [Reuters]

Fly the Ineffective Skies
Big shake-ups took place yesterday at United when two investment funds, both holding lots of United shares, tried to overhaul the board with a new raft of directors including the airline-whisperer Gordon Bethune. Representatives from the funds described the United board as "underqualified" and "ineffective." Wait, are the counter-attendants board members? Because that's spot on. [Bloomberg]

Gambling Broker Gets Five Years, Difference From Other Brokers Unclear
Michael Oppenheim, a former broker at JPMorgan Chase, is going to jail for five years after losing millions of dollars of his client's money on unwise gambles. We know what you're thinking: Isn't that a JPMorgan broker's job? Unfortunately, Oppenheim bet on sports, not the markets like a good capitalist. [Time]

You Know What This Means: Pirate Drones
Shipping giant Maersk announced yesterday that it has successfully made a drone delivery to an undocked ship. The drone, launched from a tug boat just off the coast of Denmark, managed to drop a package from 15-feet above a freighter. Seeing as those things can be more than a thousand-feet long, we're not really seeing what the big deal is. [The Verge]
MEDIA BUBBLE
Bungled Holtzclaw Story Will Not Go Away
Former SB Nation longform editor Glenn Stout has requested a correction or retraction from Deadspin after the website ran a story partially blaming Stout for SB Nation's disastrous and oddly sympathetic portrait of serial rapist Daniel Holtzclaw. [WaPo]

Amazon Launches Live-Shopping Network, Will Soon Render It Obsolete
For its first ever live show, Amazon is dipping a toe into the fetid waters of home-shopping television. So actors are just going to tell people to go buy things on Amazon? Actually, that's not a terrible idea. [Engadget]
PHOTO OP
Trump Raises the Steaks
This tweet out-Americas even Jeb Bush's notorious gun tweet. Donald Trump wheeled out this raw meat at a press conference to show his much-ridiculed "Trump Steaks" venture was not a failure. America, as usual, is certain to vote with its stomach.
MORNING MEME
In celebration of yesterday's International Women's Day, let's hear from Björk, speaking about gender double standards in this '90s interview dug up by our friends at the Cut.
OTHER LOCAL NEWS
A Picture's Worth 1,000 Rage Screams
Future victim of fratricide James Stocklas is also the subject of one of our favorite pictures ever. You see, James and his brother purchased two Powerball tickets while on vacation in Florida; James won $291 million and his brother Bob won a whopping $7. And, in what must be just a dick move for a dick move's sake, Powerball decided to print up two giant novelty checks. Check out that picture and that incredible caption. This family is ruined. [Newser]
Best Cockfighting Name Ever
Authorities in Paige, Texas, busted a major cockfighting ring over the weekend. They issued citations to 40 spectators, seized 130 roosters — which they then killed!? — and arrested the ringleader. You should check out the ringleader's name. It is amazing. We don't even want to ruin it for you. [My SA]
HAPPENING TODAY
California Train Keeps Chugging Along
The train that dramatically derailed into a creek in Northern California yesterday is back on the rails today. Authorities are saying the derailment, in which no one was killed, was caused by a mudslide that pulled a downed tree across the tracks. [ABC]
Valeant Straw Grasping Commences
Flailing drug company Valeant Pharmaceuticals International will appoint three new directors as soon as today. Keep an eye out for the announcement, but it's hard to see how Valeant could turn things around now. [Reuters]

GOP Candidates Totally Inescapable
Just in case you want to see more of the GOP candidates before their debate tomorrow, Fox has got you covered. The news channel will run hourlong interviews with each of the candidates over the course of the day. Which is nearly an hour more than Kasich has spoken in each of his debate appearances combined. [Deadline]