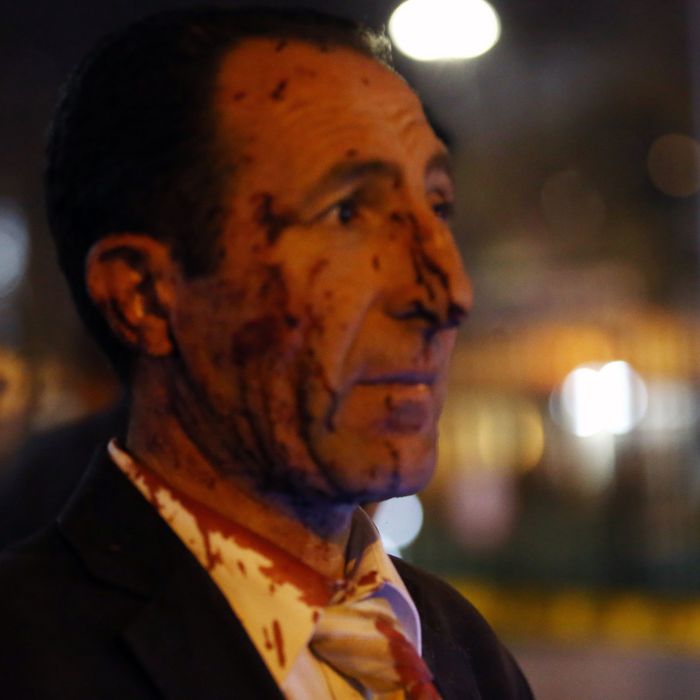 A survivor of the Ankara bombing.
Photo: ADEM ALTAN / Stringer
Good morning and welcome to Fresh Intelligence, our roundup of the stories, ideas, and memes you'll be talking about today. In this edition, Turkey responds to another terrorist bombing in Ankara, the Democratic candidates weigh in on Trump campaign violence, and Google's computer is finally beaten. Here's the rundown for Monday, March 14.
WEATHER
After experiencing record-breaking floods the South may now have tornadoes to contend with, as well as thunderstorms and even more rain. A storm system is also building in the middle of the country, while increasingly dangerous storms lash Northern California. New York should see rain today with temperatures hovering in the mid-40s. [Weather.com]

FRONT PAGE
Terrorist Bomb Kills at Least 34, Turkey Hits Kurdish Rebels 
A car bomb went off in a crowded square in Ankara on Sunday night, killing more than 34 people and wounding scores more. The explosion comes just three weeks after another bomb in the capital killed 28 people when it went off near a military convoy; the Turkish government blamed that attack on a Syrian Kurdish militia, which is supported by the United States. On Monday morning, Turkey's state-run news agency reported that the military has conducted airstrikes against Kurdish rebel targets in northern Iraq. [NYT, AP]
EARLY AND OFTEN
Clinton, Sanders Appear at Town-Hall Event, No One Punched
The two Democratic contenders took the stage at a town-hall-style event hosted by CNN and TV One in Ohio last night. Like Marco Rubio and John Kasich, the Democrats condemned Donald Trump for the recent violence at his rallies. Sanders denied Trump's accusation that his campaign is directing supporters to disrupt his events, and called the mogul a "pathological liar."

Former Quitter Endorses Future Loser
One-time political entity John Boehner has endorsed nice-guy-by-comparison John Kasich, saying he already voted for the fellow Ohioan and that they have been friends for years. That's a nice sentiment, but we're not sure outing someone as a longtime friend of John Boehner is the best thing you can do for their political career. [NYT]
Romney Helps Out Another Non-Trump Candidate
Mitt Romney will step up his anti-Trump crusade on Monday when he hits the campaign trail with John Kasich in Ohio. Last week, Romney recorded robocalls for Kasich and Marco Rubio, but he refuses to pick a favorite among the candidates who are not staging a hostile takeover of the GOP.

Former State Department Staffer Is No Snitch
John Bentel, a former manager of IT security at the State Department will not answer questions from the Senate Judiciary and Homeland Security committees about his old boss Hillary Clinton's use of a personal email server. Another Clinton staffer, Bryan Pagliano, also refused to answer similar questions last year. [Politico]
THE STREET, THE VALLEY
Humans Score Rare Victory in Robot War
Korean Go champion Lee Sedol has beaten Google's AlphaGo computer. Let's put aside for the moment that AlphaGo won the previous three games — Lee's win shows that Google still has a ways to go before perfecting the AI technology that will one day inevitably enslave us all. [Recode]

VW's Very Bad Year Continues
In the midst of the ongoing controversy surrounding its misreporting of emissions, there's more bad news for Volkswagen: A former employee is suing the automotive giant, claiming he was fired after trying to stop the illegal deletion of data at the company last year. [Reuters]

SXSW Harassment Summit Doesn't Go Great
It looks like South by Southwest, the Texas megafestival of music and blogging or something, is still struggling with putting together an effective summit on online harassment after last year's was dogged by threats and tech problems. This year's summit was poorly attended and participants are upset over the choice of venue, miles away from the epicenter of the festival in downtown Austin. [The Verge]

Watch After Breakfast
A video released over the weekend apparently shows a worker at Kellogg's Memphis plant peeing onto a conveyor belt of puffed rice, read: Rice Krispies. The video — which has much fewer snap, crackle, and pop sounds than we were hoping — was filmed in 2014, meaning all of that cereal has most likely been eaten already. Enjoy your day. [Newscrawl]
MEDIA BUBBLE
New York Times Lures Atlantic Editor
Sources close to the New York Times say the paper is in talks with one-time reporter and current editor of The Atlantic James Bennet, begging him to return to the paper and most likely work some of that Atlantic magic on the Gray Lady's ballooning online presence. [Politico]

Art Imitates Life: Kevin Spacey's Backroom Negotiations Fall Through
Kevin Spacey has announced that he will not take on the job of running Relativity Studios, the film company that has just come through an arduous bankruptcy filing. Spacey confirmed what almost everyone expected, that the very busy actor does not have the time or expertise to save the complicated and struggling business. [Hollywood Reporter]

Non-Journalist Accused of Shoddy Journalism
Kate del Castillo, the actress whose text communications with Mexican drug lord Joaquin "El Chapo" Guzman helped authorities locate and arrest him, has spoken out in an article in The New Yorker, saying Sean Penn — the actor and Hunter S. Thompson complex sufferer — fabricated parts of his interview with Guzman and did not warn her he was writing an article. Penn denies her accusations entirely. [New Yorker]
PHOTO OP
Rorschach Test, Politics Edition
Here's proof that our political leaders can get past their differences and treat each other like human beings, or evidence that our entire political system is a corrupt oligarchy.

MORNING MEME
This very nice man helped give Marco Rubio's ego a welcome boost at a campaign event yesterday.
OTHER LOCAL NEWS
Florida Literally Bat Shit
Ken Lawson, the secretary of the Department of Business and Professional Regulation in Tallahassee, Florida, will be away from his desk for a while after inspectors found ten pounds of bat guano in the ceiling directly above his desk. Oddly, no mention is made of the actual bats; where are the bats?! [AP]

This Week's Least Newsy News
Jordan Alexander joined the ranks of disappointed people at Disney World in Orlando, Florida, when her husband refused to go on Splash Mountain — her favorite ride — with her at the last minute. Her husband subsequently posted a copy of the ride's souvenir picture, showing his wife upset and alone to imgur, where it was viewed more than 2 million times. [UPI]
HAPPENING TODAY
When Moving to Canada Just Isn't Far Enough
Two robotic spacecrafts are being launched today, the first phase in the ExoMars mission: a partnership between the European Space Agency and the Russian Federal Space Agency. Ultimately probes will be sent to the surface of Mars to check if the planet can sustain life. And yes, you can watch the launch live on the internet. [The Verge]

On 5th Anniversary of War, Syrian Peace Talks Begin Again
Another round of Syrian peace talks will get underway today in Geneva on the fifth anniversary of what has become a catastrophic conflict. The talks are being approached with a rare modicum of hope after a two-week long cease-fire has against all odds effectively, if briefly, reduced violence. [Irish Times]

ISIS Genocide Vote Expected to Pass
The House of Representatives will vote today on a resolution saying ISIS is guilty of committing genocide against Christians, Yazidis, and other minorities. The resolution is intended to pressure on President Obama to make a similar declaration before Thursday. [Politico]