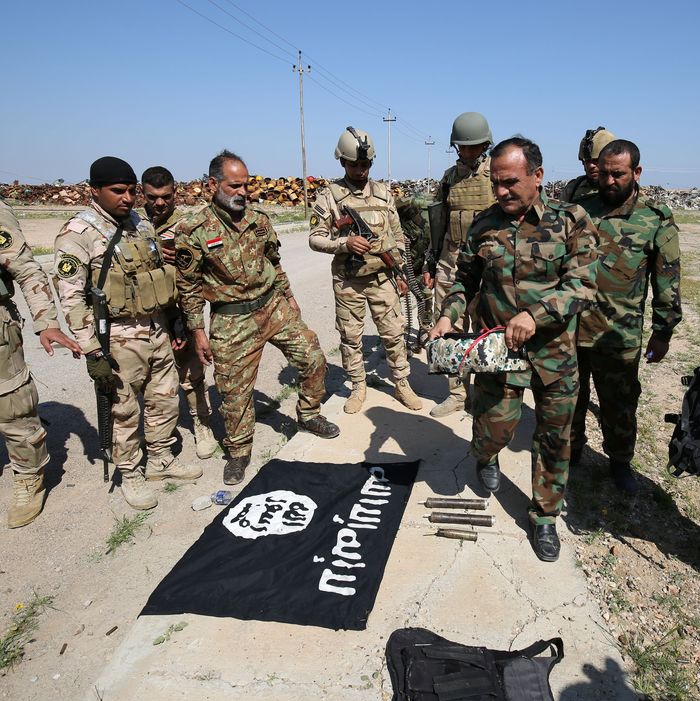 Iraqi soldiers put an Islamic State flag on the ground in the Abu Ghraib area west of Baghdad on February 29, 2016.
Photo: AHMAD AL-RUBAYE
Good morning and welcome to Fresh Intelligence, our roundup of the stories, ideas, and memes you'll be talking about today. In this edition, the U.S. faces new issues surrounding ISIS detainees, Super Tuesday holds few surprises, and Ben Carson wants everyone to be nicer. Here's the rundown for Wednesday, March 2.
WEATHER
The Northeast will stay cold and get snowier today with snowfall expected in northern New England, the Great Lakes, upstate New York, and parts of the Appalachians. Rain is headed for the Bay Area, and in New York, expect a pretty nice day, if a little cloudy. [Weather.com]
FRONT PAGE
New Twist in U.S. Fight Against ISIS
American special forces have captured a "significant" ISIS operative in Iraq and plan to hold and interrogate him. The operative is just the first in what could prove to be a sizable group of ISIS fighters the U.S. intends to capture, hold, and interrogate — which could raise new questions about how the U.S. handles detainees. He is being held in a facility near Erbil in Kurdish-controlled Iraq, and U.S. officials were quick to note that there is no plan to hold the fighter indefinitely, and that he would be eventually turned over to Iraqi or Kurdish forces. [NYT]
EARLY AND OFTEN
Super Tuesday Super Predictable
Super Tuesday went the way most pundits predicted it would, which doesn't mean it wasn't super disturbing. Trump swept all of the states except for Texas, Alaska, and Oklahoma, which went to Cruz, and Minnesota, which went to Rubio. On the Democratic side, Sanders took Colorado, Oklahoma, Minnesota, and Vermont, and Hillary took every other state.

Bigots' Show of Solidarity
It looks like Trump has scored a positive word from an influential black public figure. You already guessed, didn't you? Yep, it's Louis Farrakhan. The divisive Nation of Islam leader said in his weekly sermon that Trump "is the only member who has stood in front of the Jewish community and said 'I don't want your money.'" Farrakhan said he was not endorsing Trump but "I like what I'm looking at."

Bill Clinton Caught Bending Law, Shock Is Muted
Can you believe that Bill Clinton was caught behaving shadily, but is not in legal trouble because of a technicality? The former president was seen shaking hands with voters inside of a Boston polling place. Campaigning is banned in polling places in Massachusetts, but according to election officials just shaking hands doesn't count as campaigning. He's just a friendly guy, okay? [CNN]

Carson Fundamentally Misunderstands What's Going On
Accusations that Ben Carson is campaigning without a plan aren't totally fair. Carson does have a plan. He plans on getting all of the candidates in a room and begging them to be nicer. If we were them, we wouldn't eat anything served at that meeting. [CBS]
THE STREET, THE VALLEY
Apple Encryption Case: Feds Admit What Everyone Expected
Yesterday, in the ongoing congressional hearing about whether the government can compel Apple to access data on a locked iPhone, FBI director James Comey admitted a ruling in the government's favor would be "potentially precedential" — government speak for a slippery slope. The announcement represented something of a departure for Comey and is what Apple has been warning everyone about all along. [Reuters]

Rare Good News Out of Wall Street
Traders rejoiced yesterday after Wall Street boasted its best day in a month. After the release of surprisingly strong U.S. factory and construction data, the Dow Jones industrial average jumped 2.11 percent, the S&P 500 rose by 46.12 points, and the Nasdaq Composite followed suit with a 2.89 percent gain. [Bloomberg]

Brazil Does What the U.S. Government Wishes It Could
If you think the fight between Apple and the government is getting intense, just look at what's happening in Brazil. Diego Dzodan, Facebook's vice-president for Latin America, was detained by police in São Paulo for questioning yesterday after Facebook failed to comply with a court order asking the company to provide data from WhatsApp as part of a drug-trafficking investigation. Dzodan is still in custody. [CNN]
Americans Hate Progress, Value Their Lives
A recently released survey from AAA has found that a full 75 percent of drivers said they wouldn't feel safe riding in a self-driving car. In typical American fashion, 60 percent did say they still wanted self-driving features in their next car. The news comes just a day after Google admitted one of its self-driving SUVs sideswiped a bus on Valentine's Day. [Fox]
MEDIA BUBBLE
Tidal Has Yet to Completely Change World, Revolutionize Art
Jay-Z's bizarre, propagandistic music-streaming service Tidal continues to have a rough year. Two more executives — the CFO and COO — from the company's Oslo offices have been fired as their departments are being relocated to New York. Despite exclusive rights to Beyoncé's "Formation" single and Kanye West's new album, The Life of Pablo, Tidal has not proved popular with consumers. [The Verge]

Silvia Killingsworth Leaves The New Yorker for the Awl
Silvia Killingsworth, the managing editor of The New Yorker, will be joining the Awl in April as its new editor-in-chief. She will also be in charge of relaunching the Hairpin, the Awl's sister site for women. [The Awl]

50,000 Suckers Fooled
A fake website purporting to be the New York Times, which ran a story wrongly saying that Elizabeth Warren endorsed Bernie Sanders, was taken down yesterday. The site was put up Monday afternoon and within half a day the article was viewed 50,000 times and shared on Facebook 15,000 times. Wait, Warren hasn't endorsed Sanders? Why? [NYT]
PHOTO OP
Scott Kelly Returns to Earth
The NASA astronaut landed in a Kazakhstan desert along with two Russian cosmonauts late on Tuesday night, after spending 340 days in space. He said the mission was lonely, but physically he feels great. NASA will now compare Scott Kelly's health to that of his twin brother, astronaut Mark Kelly, who's been on Earth for the past year.
MORNING MEME
Chris Christie may have lost the 2016 GOP primary, but he won the award for best Super Tuesday meme by appearing in a hostage video with captor Donald Trump.
OTHER LOCAL NEWS
Racist Jerk Horse Parks in Handicap Spot
Ugh. Apparently a horse wearing a confederate-flag-bedecked bridle, but notably no handicapped sticker, parked itself in a handicap parking space in Jacksonville, Florida. We don't think we like this horse very much. [UPI]

Now Hawk Is Running in a Giant Steel Sphere in the Sky
Lee Reherman — you probably know him as Hawk on the beloved '90s television show American Gladiators — died yesterday at home in Manhattan Beach, California. He was 49. Reherman was still a working actor appearing in episodes of The First Family, K.C. Undercover, and Jane the Virgin. The cause of death is unknown. [Hollywood Reporter]
HAPPENING TODAY
Supreme Court Hears Landmark Abortion Case
The Supreme Court will hear arguments in Whole Woman's Health vs. Hellerstedt, one of the most vital abortion-rights cases in recent memory. At stake is a Texas law, which would force 34 of the state's 40 clinics to close because they don't meet the same standards at surgical practices. [Women's Health]

Child-Abusing Priest to Be Sentenced
Pennsylvania priest Rev. Joseph D. Maurizio Jr. will be sentenced today after being found guilty in September of abusing boys at an orphanage he ran in Honduras, laundering money, and possessing child pornography. [NYT]

The U.N. Votes on North Korea Sanctions
Unless it is delayed — but that doesn't sound like the U.N. does it? — the United Nations is set to vote on a new raft of sanctions on North Korea today. The vote was supposed to take place yesterday at noon but Russia pushed it to this morning. The vote comes after North Korea engaged in missile and nuclear-weapons tests, angering the international community. [Reuters]