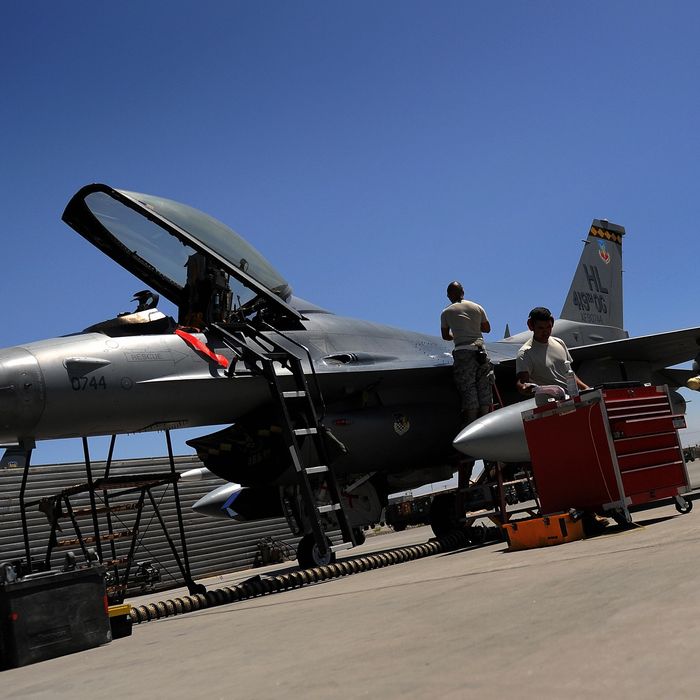 What's the opposite of soft power?
Photo: MANAN VATSYAYANA / Stringer/2009 AFP
Good morning and welcome to Fresh Intelligence, our roundup of the stories, ideas, and memes you'll be talking about today. In this edition, U.S. air strikes kill dozens of militants, the Western primaries are split, and Nick Denton blogs for justice. Here's the rundown for Wednesday, March 23.
WEATHER
With blizzards in the Rockies and heavy snows from Nebraska through Michigan, New Yorkers should feel lucky to only have a wet morning and temperatures pushing 70 to deal with — warmer even than San Francisco, by the way. [Weather.com]
FRONT PAGE
U.S. Air Strike Kills Scores of Militants
An American air strike in Yemen yesterday killed more than 70 fighters from Al Qaeda in the Arabian Peninsula, according to U.S. military officials. The attack speaks to a notable uptick in strikes against overseas militants and comes just two weeks after at least 150 fighters were killed in a similar action in Somalia. Officials believe that Al Qaeda in the Arabian Peninsula may pose a greater threat to the United States than ISIS. [NYT]
EARLY AND OFTEN
Clinton, Trump Lengthen Their Leads in Arizona
Both Hillary Clinton and Donald Trump dominated the Arizona primaries last night — Trump won by more points than both of his opponents combined. Ted Cruz and Bernie Sanders did their best to even things out with commanding wins in Utah, but the momentum at this point belongs to Hillary and Donald.
Candidates Respond to Terror Attack With Calls for Unity (in Parallel Universe)
Presidential candidates did not disappoint in their response to Tuesday's terror attacks in Brussels. Ted Cruz suggested locking down Muslim neighborhoods in the United States and Donald Trump vowed to encourage torture under his presidency. That should defeat extremism. [Gawker]

Trump to Surround Self With Best, Most Confusing Advisers
Donald Trump finally released his list of policy advisers and it left people in the know scratching their heads, which we guess is better than running for their bomb shelters. The list even boasts one obvious overachiever, whose résumé includes his time at Model U.N.[NYT]

Obama Teases Cubans With Freedom Talk
In a speech televised all over Cuba, President Obama scolded the Cuban government for its human-rights abuses and called on Cuba to embrace democracy. In a sharp break with past presidents, Obama acknowledged that some people may not agree with him. [Reuters]
THE STREET, THE VALLEY
Oceans 14 Bangladesh: A Very Boring Heist
Bangladesh is denouncing the U.S. Federal Reserve after $101 million went missing from its account at the New York Fed. The hacker-thieves tried to steal a further $850 million but misspelled one of the names of the recipients. The Unites States and cybersecurity experts are in agreement that the whole thing is really Bangladesh's fault. [Bloomberg]

Justice Is Blind, Lenient, and Loves Rich People
One-time Goldman Sachs employee Rohit Bansal, who illegally used confidential documents provided by a friend at the Federal Reserve Bank of New York, managed to get off with only a $5,000 fine. While the judge described Bansal's behavior as "significantly disturbing," it apparently wasn't disturbing enough to warrant a punishment. [Reuters]

Back to the Future Laces Exposed As Desperate Ploy
Despite a nifty pair of shoelaces that went viral, Nike isn't doing so well. The athletic shoe and active-wear company missed estimates for both its sales and earnings yesterday, sending stocks tumbling by 6.8 percent. [Bloomberg]
Nintendo Mobile Game Rallies Stocks: Japan Inscrutable
Nintendo stock jumped 8.2 percent yesterday thanks to Mitomo, a profoundly strange mobile game that has proven a huge hit in Japan — we're talking a-million-downloads-in-three-days huge. If you're curious, Mitomo is like a cartoon chat room where you can buy things with real money; it should become popular here in a year or two. [The Verge]
MEDIA BUBBLE
As Usual, Open Letter Fixes Everything
Gawker founder Nick Denton published an open letter yesterday saying that the recent Hulk Hogan sex-tape trial was a scam, that the company would win in appeals, and that the whole thing was basically a cover to hide other parts of the tape in which Hulk Hogan uses racial slurs. [Gawker]

Streaming Music a Big Deal, Except for Tidal
The Recording Industry Association of America released their numbers for 2015 this week. They showed that, despite near constant whining, the music industry is actually becoming more profitable, and that for the first time ever, money from music-streaming makes up the largest portion of the industry's revenues. [Musically]

Harper's Names New Editor
Harper's has named James Marcus as its new editor. Marcus served as the magazine's deputy editor for three years and then its executive editor for another three, so the promotion comes as a total shock. His predecessor, Christopher Cox, was fired in February for trying to redesign the magazine's cover; good luck, James! [Ad Week]
PHOTO OP
R.I.P., Rob Ford, Who Briefly Made Toronto Interesting
One-time Toronto mayor, struggling substance abuser, and talk-show darling Rob Ford died yesterday in Toronto. None of the things everyone thought would kill him ever did, but cancer got him in the end. Here a mourner signs a book of remembrances.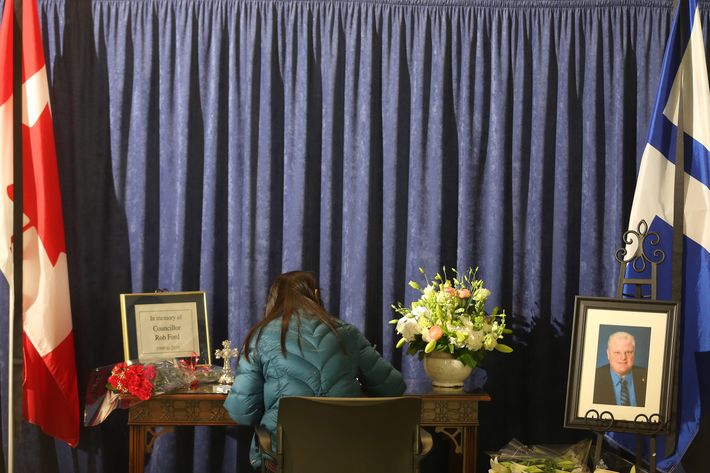 MORNING MEME
These days every tragedy must be followed by a social-media design scheme; here is one we can actually get behind.
OTHER LOCAL NEWS
Historic Victory for Hovercraft Moose Hunting
We swear we're not making this up. An Alaska man scored a victory against the federal government yesterday when the Supreme Court upheld his right to ride his hovercraft through a national park on a remote moose hunt. America is still the best. [Raw Story]
High-Speed Chase No Match for Small-Town Charm
A car chase in Avon, New York, yesterday ended like everything ends in Avon: with a ham raffle. Police were in pursuit of a drug-addled John Palermo before he tried to elude them by ducking into a ham raffle and was apprehended. No mention is made of who won the ham. [AP]
HAPPENING TODAY
Another Eclipse? What Is Happening?
Now it's the moon's turn. If you got up just before dawn today and happened to check out the moon, you may have noticed it is slightly darker than usual. That's because you just witnessed a pretty lame kind of eclipse called a penumbral eclipse. Congratulations. [USA Today]

Obama: Pill-Pusher-in-Chief
The Supreme Court is in session and the justices are set to hear a case today with potentially wide-ranging repercussions. In Geneva College's lawsuit against the federal government, the court will decide if the Obama administration can require religious nonprofits to offer contraceptive coverage to their employees. [WaPo]

U.S. and Russia Hold Syria Meeting, Should Go Smoothly
Spokespeople from the United States and Russia are set to meet today in hopes of speeding along the very slow-moving Syrian peace process. The talks come a week after Putin surprised everyone by removing his military from the region. [NYT]