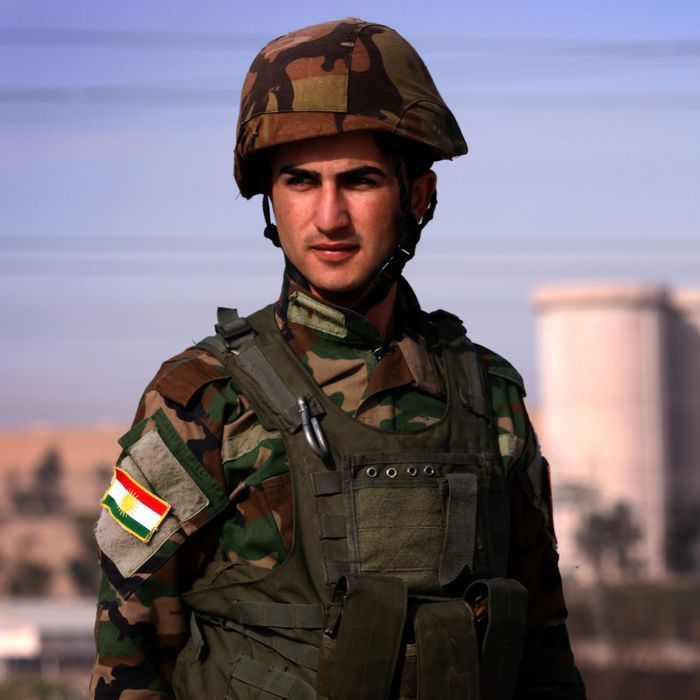 An Iraqi Kurdish Peshmerga soldier standing guard in Iraq.
Photo: Safin Hamed/AFP/Getty Images
Good morning and welcome to Fresh Intelligence, our roundup of the stories, ideas, and memes you'll be talking about today. In this edition, an American fighting for ISIS has second thoughts, Trump bullies Christie, and Hulk Hogan's sex-tape trial gets even stranger. Here's the rundown for Tuesday, March 15.
WEATHER
Historic flooding continues in Texas, severe thunderstorms are moving into the Midwest, and New York will — as is usual this winter — dodge the worse of it with overcast skies and temperatures in the high 50s. [Weather.com]
FRONT PAGE
American Turned ISIS Fighter Surrenders
Early Monday morning, a man claiming to be an American from Virginia and a fighter for ISIS surrendered to Kurdish troops in northern Iraq. American officials were not aware the man, Mohamad Jamal Khweis, was in Iraq and are still confirming if in fact he was fighting with ISIS. If so, he will be the first American member of ISIS to surrender on the battlefield though, dozens of Americans are thought to have traveled abroad to join the militant terrorist organization. [NYT] 
EARLY AND OFTEN
Trump Makes Us Feel Sorry for Chris Christie
Apparently it takes more than sacrificing your credibility, dignity, and entire political career to get Donald Trump to leave you alone. Despite endorsing Trump, and maybe even selling him his soul, Chris Christie is still getting something of a cold shoulder from the Donald. Trump took every opportunity to belittle the New Jersey governor on the campaign trail yesterday. At one event, sharing a stage with Christie and speaking directly to him, Trump said had he not been a better debater he "would have been like the other people — out!" We wonder who he's talking about …

Ben Carson: A Most Unlikely Realist
Ben Carson, the science-suspicious neurosurgeon turned failed presidential candidate who has a painting of himself palling around with Jesus Christ, tried his hand at realpolitik yesterday saying if Trump — who Carson endorsed last week — wins the presidency the worst that could happen would be four bad years. Carson also readily admitted he endorsed Trump in exchange for a role in his administration. Dude, Carson, you're not supposed to say that part.

Group of Angry White Men Comes Out Against Trump
The hacker collective Anonymous declared war against Donald Trump in a video posted to YouTube yesterday. In the video, Anonymous tells Trump he has "shocked the entire planet with your appalling actions and ideas," and calls on hackers to sabotage his campaign. Seeing as Anonymous has previously declared war on ISIS and Kanye West, we're not sure Trump has too much to worry about. [WHDH]

House Labels ISIS Atrocities Genocide
The House of Representatives unanimously voted to pass a resolution calling ISIS's targeting of Christians, Yazidis, and other minorities a genocide. The vote is intended to put pressure on the State Department which has until the 17th to decide if atrocities perpetrated by ISIS should be legally considered genocide — a deadline they will almost certainly miss. [CNN]
THE STREET, THE VALLEY
Oil Surge Short-Lived
Oil fell 3 percent yesterday after a nearly month and a half rise. Fingers were quick to point at the usual suspects: America which has more domestic oil than it knows what to do with, Iran which is so excited to be allowed to sell oil again it doesn't care what the price is, and global demand, which is lower than expected, thanks to hippies probably. [Reuters]

GE Exec's Annual Earnings Disturbingly High
General Electric CEO Jeffrey Immelt is having a very good year. GE announced yesterday that Immelt made $33 million in 2015. Immelt is widely-praised for changing the focus of the company to manufacturing and data analytics and shepherding it through its most successful year to date. He will report $10 million of his earnings to the IRS — sounds about right. [Bloomberg]
England Joins Rest of World in Stealing American Jobs
Iconic cosmetics manufacturer Avon is pulling up stakes, cutting 2,500 jobs, and moving its headquarters to the United Kingdom. The company has already sold the bulk of its North American business to the amicable sounding Cerberus Capital. It will continue to trade on the New York Stock Exchange. [Reuters]
Minecraft Will Be Used to Train AI Systems; Why Actual Humans Like It Still Unclear
The Swedish-designed game Minecraft, now owned by Microsoft, will be used as a kind of testing ground for artificial intelligence and a venue to teach computer systems how to "do things" — things like moving around blocks and making us very bored and confused we're guessing. [CNet]
MEDIA BUBBLE
Gawker–Hulk Hogan Sex-Tape Trial Gets Even Better
The trial America deserves hit a new high-low point yesterday with former Gawker editor A.J. Daulerio explaining that he was only joking when he said he would only draw a line at publishing sex tapes of children younger than four. Daulerio then admitted that Hogan's penis "wasn't newsworthy." [Hollywood Reporter]

Breitbart Implosion Becomes Explosion
The exodus of employees at the right-wing Breitbart News Network took a bizarre and public turn when a column appeared on the site mocking departing editor Ben Shapiro. It was written under the pseudonym his father often used when writing for the site. Shapiro is one of a handful of staffers who quit following the site's support of Donald Trump and its failure to support ex-reporter Michelle Fields after Trump's campaign manager accosted her at a rally last week [NYT]

Sony Buys Millions of Song Rights from Jackson Estate
Sony will pay the estate of the late King of Pop $750 million for the singer's 50 percent stake in Sony/ATV Music, giving the company control of a catalog of nearly 4 million songs. Sony is hoping those songs prove profitable in the new streaming-service-dominated market — because music is such a cash cow these days. [Bloomberg]
PHOTO OP
President Plays Hype Man to Lin-Manuel Miranda Freestyle
Remember when Bill Clinton played the saxophone on Arsenio Hall and everyone thought he would be the coolest president of all time?
MORNING MEME
This anti–Donald Trump ad, consisting entirely of women reading things Trump has said about women in the past, has become something of a sensation. It is dark.
OTHER LOCAL NEWS
USDA Borrows from Mexican Drug-Cartel Playbook
Dutch Gap, Virginia, has been overrun with vultures for decades and now the U.S. Department of Agriculture is getting brutal, hanging vulture corpses from street lights, poles, and power lines in a desperate and disturbing effort to discourage live ones from roosting. The USDA did put up signs explaining the gutted and strung up predators but a mischievous vandal removed them all leaving townsfolk seriously creeped out. [CBS]
Anatomy of a Very Bad Day
A Lake County, Florida, resident was pulled over for speeding. He claimed he just badly needed to go to the bathroom, but police say they smelled marijuana in the car. After the suspect fled the scene, officers followed him to his home where they tasered him, arrested him, and put him in the back of their car — where he promptly soiled himself. And now his face is on the internet. [HuffPo]
HAPPENING TODAY
Make or Break Tuesday
The media has decided to call today Mega Tuesday thanks to primaries in Florida, Ohio, Illinois, Missouri, and North Carolina, making today arguably the most important day in the nomination process. [Real Clear Politics]

Mother Teresa to Become a Saint
Pope Francis is expected to sign an edict today canonizing Mother Teresa, the nun who famously dedicated her life to India's poor. She will be made a saint along with four other people. Congratulations saints of the class of 2016. [USA Today]

Obama May Announce Court Pick Today. Surely Everyone Will Get Behind Them
People in the know are saying President Obama is close to choosing a Supreme Court nominee and may announce his decision as early as today. Republicans have said they will oppose the nomination no matter who it is because they don't like Obama very much, and they are not very mature. [NYT]