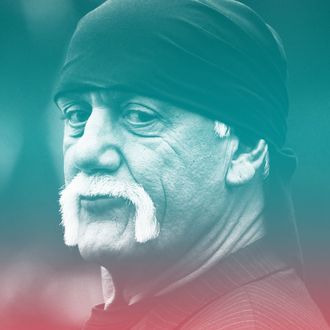 Photo: Following/Steve Nesius/AP
After six hours of deliberation, a Florida jury awarded wrestler Hulk Hogan, whose real name is Terry Bollea, $115 million in compensatory damages in his lawsuit against Gawker Media over a 2012 post that featured a 90-second excerpt from a sex tape Bollea had recorded with Heather Clem, the wife of his friend Bubba the Love Sponge. Gawker has long expected to lose the jury trial — Florida juries tend not to be hugely sympathetic to New York gossipmongers — but the enormous judgment represents a worst-case scenario, and the company will be required to post a $50 million bond as it appeals the verdict.
In its ruling — read as Hogan cried in the courtroom — the jury found that Gawker (and co-defendants Nick Denton, its founder, and A.J. Daulerio, its former editor-in-chief) intended to cause Hogan severe emotional distress (or acted with reckless disregard), that the company publicly disclosed private facts, and that Hogan had an expectation of privacy in the bedroom where the video was recorded. Of the $115 million, $55 million was awarded for economic damages, and $60 million for emotional distress.
In a statement, Denton expressed confidence that the verdict would be overturned on appeal. Nonetheless, the company will be put in an awkward financial position as the dispute makes its way through the appeals process. Earlier this year, it took on an investment from Columbus Nova Technology Partners — in part to hedge against exactly this possibility. 
Denton's probably right about the company's chances. Before the verdict, the most dramatic part of Friday's proceedings occurred after the jury had already gone off to deliberate, when the court unsealed documents that the jury was not privy to, many of which would likely have bolstered Gawker's case against the pro wrestler.
Gawker had continually pointed out during the trial that testimony from Bubba the Love Sponge Clem, as well as other evidence, would support its claim that Hogan's lawsuit was motivated by a desire to bury the tapes, which contained racist comments. Excerpts from the new documents would seem to support that claim.
Other documents show that Hogan claimed to know that he was being recorded, contradicting a key portion of Hogan's team's argument for seeking damages on invasion of privacy grounds.
During closing arguments, the plaintiff's side leaned hard on the jury's moral sensibilities, emphasizing the emotional distress that Hogan was caused by the tape's release. Of Gawker, attorney Kenneth Turkel said, "They're just not [decent], and they're proud of it." He also repeatedly emphasized that Gawker is based in New York City, not that there's anything wrong with that.
Turkel's main contention, however, was that Gawker had profited hugely off of the post, experiencing sustained and directly attributable rises in site traffic, leading to more ad revenue. Gawker disputes this, pointing out that no advertisements were displayed on the post itself, and that there's no way to tell if the spike in traffic translated to real growth. And, as Gawker's attorney later pointed out, the post actually experienced its greatest stretches of attention when Hogan himself called attention to it by filing his lawsuit.
Turkel then made a very weird request.
(Gentle reminder: Hulk Hogan is a professional-wrestling performer whose job hinges on his ability to convey feeling pain at will.)
Gawker, in its closing, laid out the case that Hogan had mostly followed the marketing playbook of other celebrities involved with sex tapes, appearing on "Howard Stern" and going through TMZ. "Who among us thinks it's a good idea to send a serious message through TMZ?" attorney Michael Sullivan asked at one point.
Sullivan also leaned hard on the power dynamics at play here. While the plaintiffs emphasize Hogan as one man against a media machine, Sullivan cast the legal battle as one between a publication acting in the public interest and a celebrity using the courts to muzzle it. If the jury found for Hogan, Sullivan said, "celebrities will use our courts to punish people for saying things that they frankly do not like."