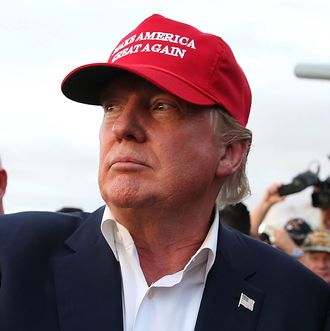 Putting commandments on hats only works if you're Trump.
Photo: Justin Sullivan/Getty Images
A Goldman Sachs employee who hoped to make the transition from the lucrative world of finance to the lucrative world of Donald Trump swag only succeeded in landing himself on administrative leave. The Times reports that Luke Thorburn, the only person at the company to contribute to Donald Trump's campaign, was put on paid leave last week after the paper revealed that he'd trademarked the phrase "Make Christianity Great Again," and erected a website to sell Trump-esque hats for $19.99.
Thorburn, a financial adviser in the bank's wealth-management division, failed to clear his business plan with Goldman before launching the site. He donated $534.58 to Trump in September, which Trump spokesperson Hope Hicks said was probably "the result of him purchasing campaign merchandise, which is characterized as a campaign contribution by the F.E.C."
We were not aware that, like America, Christianity doesn't win anymore, but that would explain a few things about Trump's recent feud with Pope Francis. According to Make Christianity Great Again's website, "Evil can be extinguished by the blood of Christ through your proud faith, and future generations depend on us to reclaim this world for our savior, Jesus Christ." Or rather, the world could have been reclaimed for Jesus Christ through the donning of tacky hats, but Wall Street got in the way. Expect this great injustice to appear in Bernie Sanders's stump speech any day now.