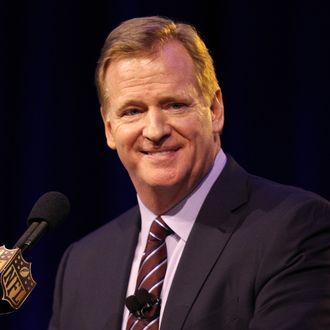 Even Roger Goodell admits the NFL needs a new system to discipline players.
Photo: Mike Lawrie/Getty Images
NFL commissioner Roger Goodell wields tremendous power to discipline NFL players, both doling out punishment and overseeing potential appeals. But he's also been criticized harshly for the way he's handled some of the league's recent high-profile cases, and has said himself that the league needs a "better discipline system." Such a system could be on the way: The Wall Street Journal reports that the NFL and the NFL Players Association are making progress toward an agreement that would strip Goodell of his power to punish players for off-the-field incidents.
The paper notes that no deal has been reached yet and that obstacles remain, but NFLPA executive director DeMaurice Smith says he's optimistic a deal will get done. The Journal reports that one replacement system being discussed would involve a panel of three neutral arbitrators — made up of lawyers or former judges with some background in football — that would serve as hearing officers.
"We've been talking about changes to the personal conduct policy since October and have traded proposals," Smith told the paper. "We looked at the league's proposal for neutral arbitration. There is a common ground for us to get something done."
Goodell — whose decisions in the cases of Ray Rice, Adrian Peterson, and Tom Brady were all overturned either in court or by an arbitrator — said last September that he was open to changing his role in the process. "It's become extremely time-consuming, and I have to be focused on other issues," he told ESPN Radio. Goodell said at the time that any change would involve the way an initial decision is reached, and not the way appeals are handled.
Smith said that any agreement would have to settle ongoing appeals of decisions reached under the current system. "It's a player decision with what they want to do, but I can't imagine there is any appetite to agree with any proposal that doesn't wrap up all the litigation," he said. "We can either continue to litigate or reach a collectively bargained conclusion."
In a statement, an NFL spokesperson said that "This is an important area that deserves to be addressed thoughtfully and with full consideration for everyone's interests — players, clubs and fans. We are addressing the subject in a serious way and will continue to discuss this directly with the union and not in the media."