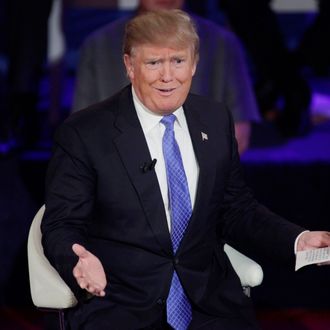 Don't treat me unfairly. You wouldn't like me when I've been treated unfairly.
Photo: Darren Hauck/Getty Images
After Donald Trump started making noise about a potential third-party run last summer, the Republican National Committee scrambled to neutralize the threat. They drafted a "loyalty pledge" binding all GOP candidates to support the party's eventual nominee and cajoled Trump into signing his name. In retrospect, the idea that you could solve a problem like the Donald with a little contract probably has Reince Priebus laughing until he cries.
Trump has always had some trouble with commitment. The moment he took the party's loyalty oath he offered himself a loophole: He would support the nominee so long as the GOP treated him "fairly."
On Tuesday night, CNN's Anderson Cooper asked Trump if he still planned to abide by the pledge at a town hall in Milwaukee. "No, I don't anymore," Trump said. "I have been treated very unfairly."
Among the front-runner's grievances was the fact that Ted Cruz had secured more delegates in Louisiana, even though Trump had won the state. Trump's loyalty pledge committed him to the rules of the party's nominating process, and Cruz's seduction of unbound delegates is very much within those rules. But Trump argued that the party's law comes second to the people's will: Fairness means the person with the most votes wins.
This has profound implications for the process going forward. Barring the oft-predicted but never realized collapse of Trump's popularity, he will go into the convention with more pledged delegates and votes than any other individual candidate. But if he has not secured a majority of all delegates, the convention's rules would allow the GOP to nominate someone who isn't reviled by three out of four American women. Trump has already suggested that such a move would be illegitimate — so illegitimate, it would provoke riots from his hordes of aggrieved supporters. Now he seems to have made that stance official.
But Trump wasn't the only one to renege on the RNC's contract Tuesday night. While Ted Cruz and John Kasich were not as blunt in their renunciations, both refused to renew their commitment.
"I'm not in the habit of supporting someone who attacks my wife and attacks my family," Cruz said, when Cooper asked him about the pledge. Last week, Trump threatened to "spill the beans" about Cruz's wife over Twitter, then retweeted an image that suggested Mrs. Cruz is physically unattractive. Meanwhile, the Donald's fans used the platform to ridicule Heidi Cruz for her history of depression. It's understandable, then, that Cruz would have trouble saying the words "I promise to support Donald Trump" right now.
Kasich's newfound reluctance is more baffling.
"I got to see what happens," the Ohio governor told CNN. "If the nominee is somebody that I think is really hurting the country, and dividing the country, I can't stand behind them."
What's odd about Kasich's remarks is that his campaign was likening Trump to Hitler way back in November. At the final Republican debates, Kasich and Trump's other rivals painted the front-runner as a secret liberal con man who doesn't respect the Constitution. And yet all were willing to undermine their own arguments by pledging to support him.
One reason Kasich may have shifted is that third-party challenges aren't just for anti-Establishment insurgents anymore. Over the past month, various #NeverTrump conservatives have discussed the possibility of launching a third-party challenge if Trump gets the Republican nod, just to offer "principled conservatives" a place to register their protest. Kasich's path to the GOP nomination is unclear, but he'd make a decent standard-bearer for Republicans who feel humiliated by Trump's rise.
One oft-touted obstacle to any Republican going third-party is that 12 states have filing deadlines before the Republican National Convention. Thus, pundits have speculated that a GOP candidate would have to jump ship before his prospects for winning the party nod had been reduced to zero. But that assumes that Trump, Cruz, or Kasich would be deluded enough to think they actually had a chance to win an American election running outside the two-party system. The point of a third-party bid for any of these candidates wouldn't be to win the election, but to unilaterally deny the party's nominee any hope of securing the Oval Office. The point is disloyalty — to use your political power to thwart the party's treacherous turn. And, at least in the case of Trump, getting on the ballot in a handful of states would probably be sufficient to achieve that end.
Who knows if any of these candidates mean what they say. It's in all of their interests to raise questions about their loyalty at this juncture. Trump's comments will make the party pooh-bahs sweat a little more when they're deciding how many arms they can twist in Cleveland. The campaigns of Cruz and Kasich depend on propagating the idea that Trump is incapable of unifying the party. One tell-all from an ex-Trump staffer this week suggested that the mogul had too much faith in the American people to think he'd actually win when he first launched his campaign. Maybe the Donald just wants to maximize his leverage, extract a contract to cover the White House in gaudy gold-plating, and rename it Trump Tower D.C. The truth is, no one knows how all of this will play out. Someone get Reince Priebus a Klonopin.