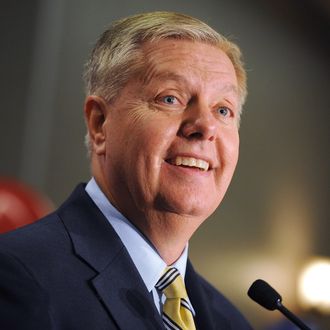 Things are getting way to real in the GOP.
Photo: Rainier Ehrhardt/AP
One unexpected side effect of a tough-talking political outsider taking over the GOP: Everyone's abandoning the politician speak and getting brutally honest about their political maneuvering. After endorsing Donald Trump last week, Ben Carson admitted that he doesn't care for the front-runner all that much, and on Thursday, former presidential candidate Lindsey Graham threw his support behind top foe Ted Cruz.
Like Carson, Graham said there are other candidates he likes better, but he doesn't think they can win. "I prefer John Kasich; Cruz is not my first pick by any choice," the South Carolina senator explained. "But I don't see how John Kasich can mount the opposition that Ted Cruz can to stop Donald Trump from getting 1,237" (the number of delegates needed to secure the nomination).
Unlike Carson, Graham has made it abundantly clear that he really doesn't like Cruz at all. In January, he said Cruz has "exhibited behavior in his time in the Senate that make it impossible for me to believe that he could bring this country together," adding that choosing between him and Trump is "like being shot or poisoned — what does it really matter?" Last month, he joked about Cruz's general unpopularity among his colleagues, saying, "If you killed Ted Cruz on the floor of the Senate, and the trial was in the Senate, nobody would convict you."
Nevertheless, Graham says he'll "help Ted in every way I can," as he hates Donald Trump even more. CNN reports that Graham will host a Cruz fundraiser on Monday, and he even managed to say something nice about him, calling him a "great friend of Israel and the Jewish people."
A Cruz spokesperson said they're "thrilled" about the endorsement, but Graham's assessment of Cruz's reaction was more blunt. "He certainly welcomes my effort to raise money, and in the pro-Israel community, I think I have some resonance," he said. "I've sort of dedicated my public life to national security. I'm seen as a strong supporter of Israel, I'm proud of that fact, and Ted has been great on Israel."
MTV should lock all the former GOP candidates in a house and start filming, because this is already more entertaining than watching boozed-up 20-year-olds whine about their fake jobs.