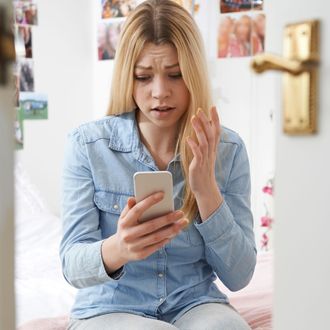 Photo: Highway Starz/Getty Images
A new Australian study has concluded that harassing women online could become "an established norm in our digital society" if online behavior continues in its current mode. Almost half of 1,000 respondents said that they had been harassed online. That number rose to 76 percent when considering only women under 30.
One in seven respondents had been threatened with physical violence, though harassment ran the gamut from "unwanted contact, trolling, and cyberbullying to sexual harassment and threats of rape and death." Women received, according to the data, "twice as many death threats and threats of sexual violence as men."
The form that harassment came in was weighted heavily toward social media, where two-thirds of harassment originated. Email and text messaging accounted for 22 and 17 percent, respectively.
Calls for social-media companies to introduce better protections against harassment have gotten louder over the last year or so, as more terrible people (mostly men) sign up for accounts. At South by Southwest next week, a summit on online harassment will convene to discuss the issue.