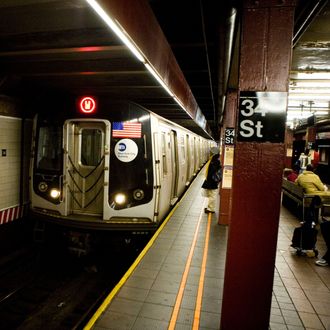 Investigators believe a cut sewer line near the station is responsible for the smell.
Photo: Ramin Talaie/Corbis
Earlier this month, the MTA revealed that the sewage smell at the Myrtle-Wyckoff L train stop was indeed caused by a sewage leak in a tunnel leading to the station. And now another foul-smelling underground mystery has been solved, as city investigators believe they have identified the source of the awful stench at the Herald Square subway station. As luck would have it, this one is sewage, too.
Inspectors Wednesday found a sewer line that had been cut near Sixth Avenue and 31st Street, and the city's Department of Environmental Protection ordered the owner of the property at 876 Sixth Avenue to repair it. Such service lines, according to an agency spokesperson, connect to the city's sewer pipes, but property owners are responsible for maintaining and repairing them.
The Wall Street Journal reports that for weeks riders have complained of smelling rotten eggs or sulfur, and health experts say that the smell of rotten eggs is likely a sign of hydrogen sulfide gas, a by-product of sewage. But the MTA has said there were no leaks at the station. Instead, the agency suggested that trains appeared to be drawing the odor into the station.
It's still unclear why the sewer line had been cut, but the building's owner told the Journal that he suggested a utility company or other contractor had sawed into the sewer line without his knowledge. He also said he'd be meeting with officials and contractors on Thursday so they could proceed with repairs.