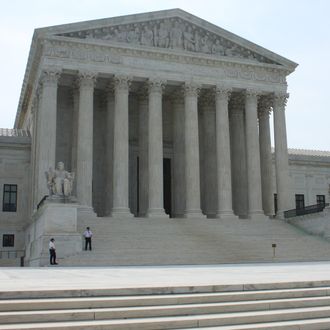 The Court.
Photo: Evan Golub / Demotix/Corbis
President Obama is going to pick a nominee to fill Justice Antonin Scalia's empty Supreme Court seat, even if the Republican-controlled Senate will probably refuse to confirm a potential replacement until after the November election. Despite that stalemate, according to a recent report by NPR, Obama has already started meeting with potential jurists.
They are: 
Chief Judge Merrick Garland of the U.S. Court of Appeals for the District of Columbia; Judge Sri Srinivasan, of the same court; Judge Paul Watford, of the 9th Circuit Court of Appeals based in San Francisco; Judge Jane Kelly, of the 8th Circuit Court of Appeals based in St. Louis; and U.S. District Judge Ketanji Brown Jackson, who serves in Washington, D.C.
Garland, Srinivasan, and Watford are reportedly Obama's top picks right now. Garland, whom Obama had considered for the job in 2010 before going with Elena Kagan, is considered a centrist — meaning there's a (small) chance he will be palatable to some Republican senators. Garland was appointed to the D.C. circuit in 1995 by President Bill Clinton but wasn't confirmed until 1997. (The delay, according to SCOTUSblog, had less to do with Garland's ideology than the GOP's general reluctance to fill that seat.) SCOTUSblog is also reporting that Republican senator Orrin Hatch had called Garland, at the time of his confirmation, "not only a fine nominee, but as good as Republicans can expect" from the Clinton administration. My, how times have changed. But Garland has his downsides, too: He's a white dude, and he's 63, which means he wouldn't have the 35-year tenure most presidents hope for.
Srinivasan, who is Indian-American, was confirmed to the D.C. circuit in 2013 by a near-unanimous vote, and Watford, who is African-American, got Senate confirmation to his post in 2012 with nine Republican votes. The nomination of Srinivasan or Watford could give the Obama administration a little leverage, as Tom Goldstein at SCOTUSblog says, "to argue publicly that Republicans, by refusing to process the nomination, are blocking someone who is recognized to be qualified." 
Two women round out the list. Judge Jane Kelly, a former public defender before being named an appeals-court judge in 2013, also had bipartisan support, including that of her home state's GOP senator Chuck Grassley, who also happens to be the chair of the Judiciary Committee that should be holding hearings on Supreme Court nominees. Democrats are hoping that a Kelly nomination might make Grassley — and in turn, his fellow GOP colleagues — more flexible on the no-hearings-whatsoever position.
Ketanji Brown Jackson, the last potential nominee, has a tougher path to the nomination as a district judge, all other political antics aside. But if she somehow got through Republican obstruction and was appointed to the Supreme Court, she'd be the first black woman to ever serve as justice. According to the AP, it would also be the first time in history four women (joined by Kagan, Sotomayor, and RGB) would sit on the Court at one time. Attorney General Loretta Lynch, who had also reportedly been on the short list, announced on Tuesday that she didn't want to be considered to fill Scalia's empty seat. 
But no matter whom Obama vets and picks, he's still up against a Republican blockade. Senate Minority Leader Harry Reid criticized the GOP again this week, saying that its senators are falling in line with Trump, perhaps hoping that if he says the name of the Establishment's most-feared candidate enough maybe they'll budge. At least Republicans now seem to be open to talking about talking about a nominee: Senator Grassley said the Senate Judiciary Committee will debate Thursday about whether it should have those hearings — though it's unclear if the battle lines have actually shifted. Last week, Obama invited the Republican and Democratic Senate leadership to the White House to talk about maybe cooling it with the obstructionism, but they ended up talking about basketball and got pretty much nowhere.