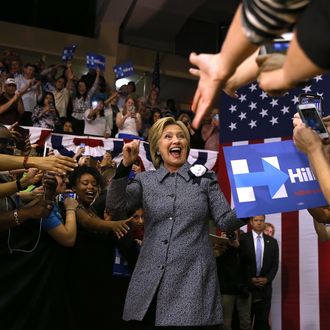 Photo: Justin Sullivan/2016 Getty Images
Clinton won her first of five consecutive victories Tuesday night at 8 p.m. EST when the Associated Press declared her the winner of Florida's Democratic primary. Clinton held a substantial lead over Sanders from the outset, and the Upshot's final tally shows she finished a full 31 points ahead of Sanders, winning 65 percent of precincts to his 33 percent. Naturally Clinton's campaign called the win "big," thanked Florida voters, and tweeted a photo of Clinton at a Florida rally. 
Clinton also won by a wide margin in North Carolina, finishing a full 14 points ahead of Sanders. According to CNN, she won 55 percent of precincts while Sanders won only 41.
At an event held shortly after winning Florida, North Carolina, and Ohio, Clinton congratulated Sanders for the "vigorous campaign" he's running but called March 15 "another super Tuesday" for her campaign. "Tonight it's clearer than ever that this may be one of the most consequential campaigns of our lifetimes," she said before calling out Donald Trump for "dividing the country between 'us' and 'them.'" She went on, "We can't lose what made America great in the first place."