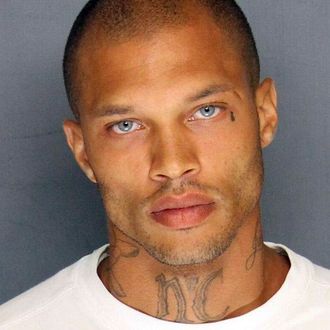 Get your bodies ready: Jeremy Meeks, a.k.a. Hot Convict, is being released from prison today.
The felon first went viral in 2014 for managing to be both sexually attractive and guilty of carrying a loaded firearm at the same time. The meme was born when the Stockton, California, police department uploaded his mugshot to their Facebook page (criminal justice in the age of social media is both punitive and engaging!), and the horny people of the 'net took notice. Meeks briefly popped up in the news again in 2015, when Santa Monica agency Blaze Modelz offered him a $30,000 modeling contract, but for the most part he's kept a low profile during his two-year sentence.
Meeks says he's mostly excited to spend time with his kids and get back into aqua-sports (literal same), but when you think about it, this guy went into jail a career criminal and is walking out a suburban California model with an inbox full of nudes. He's living the dream.