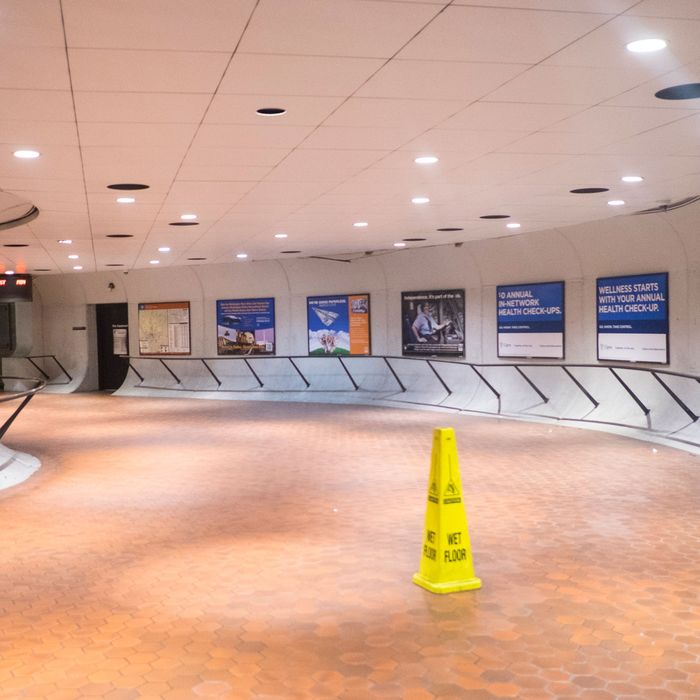 Ye shall not pass.
Photo: Pete Marovich/Getty Images
Washington, D.C.'s Metro closed at midnight Tuesday and will be completely shut down for at least 29 hours for inspections of more than 600 "jumper" cables that help power trains. Officials said they made the decision after one of those cables sparked a fire Monday, causing severe delays across three of the system's lines. Authorities say they didn't want to risk piecemeal inspections and opted for a full emergency closure. (Last year, one woman died and more than 80 people had to go to the hospital when one of those jumper cables caught fire and filled a Metro tunnel with smoke.) The system will reopen Thursday morning — unless inspectors spot any pressing problems, in which case the shutdown could linger.
Excluding instances involving bad weather, this system-wide stoppage is a first. Officials also made the announcement Tuesday afternoon, leaving D.C. commuters without much time to prepare, mentally or physically, for the hellish commute that surely awaited them Wednesday morning. So hellish, in fact, that it almost makes you feel warm toward the MTA. (Almost.) 
D.C. has the country's second-busiest rail system, meaning that hundreds of thousands of people had to seek alternate transit options. (Schools and the federal government were open.) And boy, it was bad, though perhaps not as apocalyptic as everyone had imagined. The Washington Post documented many of this morning's snags. Capital Bikeshare (D.C.'s version of Citi Bike) offered free 24-hour shares — but some riders couldn't find an open dock in busy commuter hubs. At least three D.C. circulators (those are buses that run on a specific loop) broke down. More than a few people discovered that ignorance is not bliss when they showed up at the Metro station Wednesday to realize the train was arriving tomorrow. As for traffic on the roads — well, does it even count as traffic if nobody moves? 
As of 5 p.m. Wednesday, the WMATA had inspected "jumper" cables in 19 of 22 zones, or about 90 percent of the Metro system. Crews found 26 defective cables out of 600 and have so far repaired 18. Right now, officials plan to open the Metro for morning service at 5 a.m. Thursday, but they cautioned that some lines might run on a single track or rely on buses between certain stations — which sounds like some people are better off taking the bus again, anyway. 
Still, as a commuter told CBS, the shutdown was still "better that than, like, a fiery inferno." Lots of commuters agreed, even as they cursed and complained and couldn't resist making at least one politics reference (#makeamericalateagain). Remember, this is just the morning commute; people have to make it home this evening. But as one Washingtonian who got to the airport Tuesday night to make sure she didn't miss her flight the next morning told ABC, "God grant me the serenity to accept the things I cannot change." 
This post has been updated throughout.