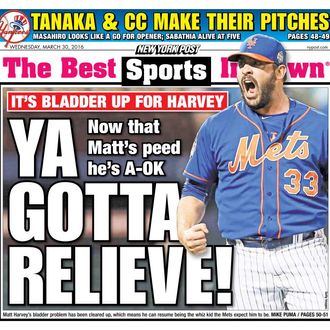 The revelation that Matt Harvey's previously undisclosed medical issue was a bladder infection and not something more serious was good news to Mets fans. But it was great news to the New York Post, which sprung into action and thought up more pee-joke punny headlines than its editors could possibly fit onto Wednesday's paper. They ultimately used two on the back page: "YA GOTTA RELIEVE!" as the main headline, with "IT'S BLADDER UP FOR HARVEY" in smaller type above it. But so as not to let the runners-up go down the drain, the Post also ran mock-ups of six more back pages inside the paper.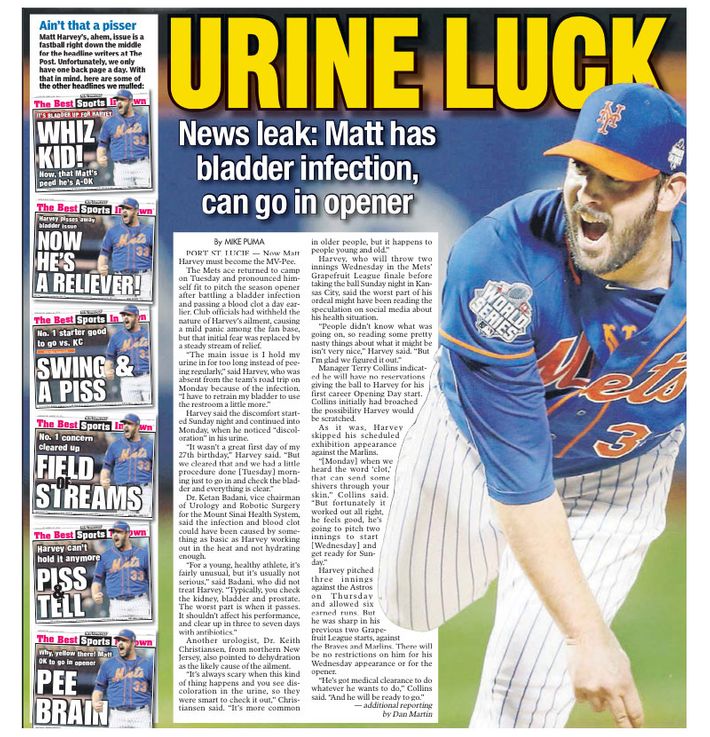 Those headlines, in case you can't read the small print?
WHIZ KID!
Now that Matt's peed he's A-OK

NOW HE'S A RELIEVER!
Harvey pisses away bladder issue

SWING & A PISS
No. 1 starter good to go vs. KC

FIELD OF STREAMS
No. 1 concern cleared up

PISS & TELL
Harvey can't hold it anymore

PEE BRAIN
Why, yellow there! Matt OK to go in opener
Feel free to try and top those in the comments below.