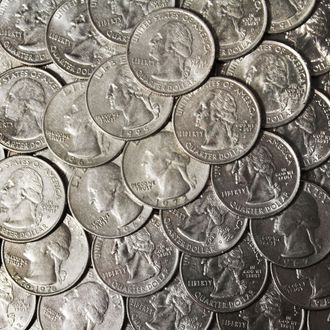 The goods.
Photo: Cudger/Getty Images
An inventive and presumably muscular employee of Brink's — the armored-car company — has been charged with stealing almost $200,000 worth of quarters that the company was storing for the Federal Reserve. An FBI investigation found that Stephen Dennis, a money-processing manager in Alabama, swapped bags of quarters for similar bags he'd filled with beads disguised with a thin layer of coins, and hauled out $196,000 — nearly five tons' worth — over a couple of months in early 2014. Dennis pleaded guilty to the charges and pledged to repay Brink's, which has already reimbursed the Federal Reserve Bank of Atlanta.
In a heist so improbable, the authorities couldn't resist making a few jokes. "What Mr. Dennis may have thought was a nickel and dime theft was, in the end, the equivalent of a major bank heist," FBI special agent Roger C. Stanton said in a news release. U.S. Attorney Joyce White Vance, speaking in a similar vein, said, "This defendant may have thought he had quite a haul when he took nearly $200,000 in quarters from the Federal Reserve's coin storage at Brink's, but now he carries a heavier load. He must repay the money and face a federal sentence." According to the Centers for Disease Control, this is the first case of Pac-Man Fever reported since the mid-1980s.