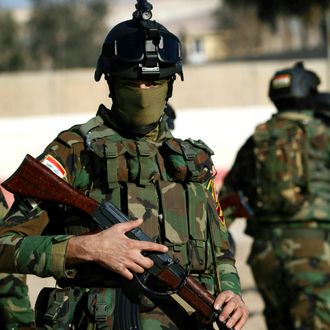 Iraqi soldiers are coming for Mosul.
Photo: SAFIN HAMED/AFP/Getty Images
The Iraqi Army has launched the first phase of an operation to take back Mosul from Islamic State control. In what is being called the Conquest Operation, thousands of Iraqi troops have begun an advance from the south toward the country's second-largest city over the past few weeks. ISIS took over the city of 2 million people in June 2014, its biggest stronghold in either Iraq or Syria. The first stage of the offensive seeks to liberate Nineveh Province, in which Mosul lies, and set up an army base there. The country's armed forces are being bolstered by air strikes from the U.S.-led coalition and Kurdish peshmerga troops. Iraqi officials have said they will be able to emancipate Mosul by the end of the year. 
In Syria, the army is closing in on another ISIS stronghold. Palmyra, the ancient city where jihadi militants have destroyed a number of ancient ruins, is teetering toward liberation as the Syrian army has launched an aggressive offensive from the surrounding hills. State media have released footage of Syrian forces within sight of the town, a UNESCO World Heritage site taken by the Islamic State in May, and Syrian officials have said they could retake the village in days or even hours. Islamic State fighters have reportedly urged civilians to leave the town, saying they have planted explosives around the outskirts to block pro-government forces.