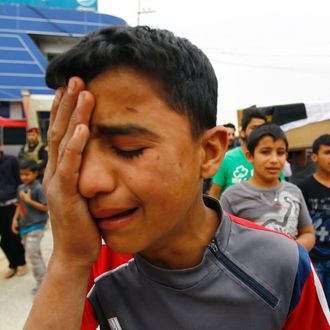 A young Iraqi mourns during a funeral for some of the bombing victims on Saturday.
Photo: Haidar Hamdani/AFP/Getty Images
At least 41 people were killed and 105 wounded when a teenage ISIS suicide bomber blew himself up at a small soccer stadium in the Iraqi city of Iskanderiyah, less than 30 miles south of Baghdad. The attack targeted the crowd watching an amateur soccer match on Friday evening in the mixed Sunni and Shiite town, and the city's mayor, who was presenting awards to the soccer players at the time of the bombing, was among those killed. The BBC also reports that 17 of the dead were boys between the ages of 10 and 16. ISIS later claimed responsibility for the attack using its social media channels, according to the SITE extremist monitoring group. Amateur video captured the moment of the blast:
The Associated Press notes that analysts and members of the US-led anti-ISIS coalition believe attacks of this type may proliferate, both inside Iraq and abroad, as the militant group continues to lose ground to Iraqi forces in the country's North and West. Iraqi ground troops are also planning to try and retake the largest ISIS-held city, Mosul.