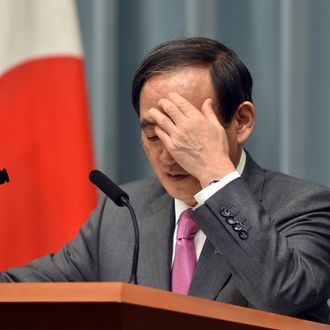 Japan's Yoshihide Suga just doesn't
get
The Donald.
Photo: YOSHIKAZU TSUNO
Yesterday, Secretary of State John Kerry said that the world leaders he's spoken to are "shocked" by some of the rhetoric in the 2016 presidential campaign, and it seems Donald Trump's foreign-policy proposals, which he outlined at length to the New York Times, did nothing to reassure them. In his interview with the Times, Trump said America's alliances with countries like Japan and South Korea are too expensive. Instead of relying on American troops, which costs the U.S. money, Trump suggested these countries build up their own nuclear arsenals.
Evidently, Trump did not run this idea by Japanese and South Korean leaders before proposing it. According to the Washington Post, officials and newspapers from both countries responded to Trump's remarks with confusion at best and derision at worst. "We are dumbfounded at such myopic views of a leading candidate in the U.S. presidential race who tries to approach such critical issues only from the perspective of expenses," JoongAng Ilbo, one of South Korea's biggest newspapers, wrote in an editorial.
Another paper, Hankyoreh, urged the South Korean government to "express its firm opposition to Trump's foreign policy plan, which constitutes a threat to security on the Korean Peninsula." Meanwhile, the spokesperson for South Korea's defense ministry told the Post that there would be no change in diplomatic relations with the U.S.
Tokyo's chief cabinet secretary, Yoshihide Suga, assured the Post that "whoever becomes president of the United States, the Japan-U.S. alliance, based on a bilateral security agreement, will remain the core of Japan's diplomacy." He went on, "We will adhere to our three principles that prohibit Japan from owning, developing and transporting a nuclear arsenal."
Saudi Arabia has yet to respond to Trump's "take the oil" proposal, and there's no word from China regarding Trump's plan to cut off Chinese access to American markets. At this rate, by the time the Republican National Convention rolls around, the United States won't have any allies left.