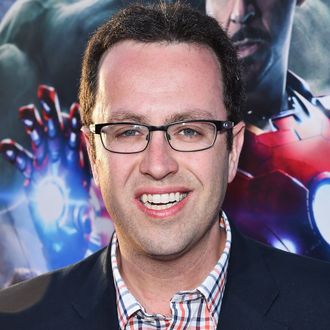 Face before fight.
Photo: Alberto E. Rodriguez/Getty Images
Jared Fogle, the onetime Subway spokesperson who's doing 15 years for possessing child porn and hiring underage prostitutes, got roughed up in the Englewood federal prison in Colorado on January 29. TMZ reports that a prisoner named Steven Nigg tackled Fogle in the yard and got off a flurry of punches to his face before Nigg was sent off to solitary confinement. Fogle, whose huge weight loss made him a celebrity, left the prison rec yard with a swollen face, scratched neck, and bloodied nose after the one-sided fight. 
Nigg has been on track to be released in 2024, according to the Daily News, after he does his time for firearms possession related to an Arizona crime spree from 1976. His family told TMZ that he was upset that he was surrounded by so many sex offenders.
Also serving time in Englewood — and possibly watching all this unfold? — is former Illinois governor Rod Blagojevich. He's serving 14 years for corruption, including an attempt to sell Barack Obama's Senate seat after it was left open in 2008.