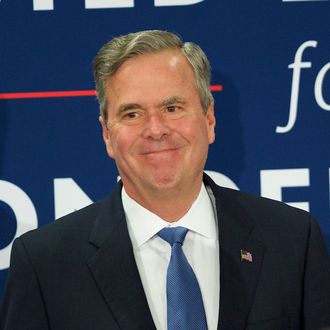 Jeb! is always there for himself.
Photo: Mark Makela/2016 Getty Images
Jeb Bush finally put himself out of his misery last month, but not before making a last-ditch financial effort that's about as cringe-inducing as the rest of his campaign. According to the ex-candidate's latest Federal Election Commission filing, Bush loaned his own faltering campaign a quarter-million dollars in its last month of life. He also flat-out contributed $157,000, which means, as Politico points out, that he was responsible for a full third of his campaign's $1.2 million haul in February — just before he dropped out. His campaign ended on February 20 with $465,000 left in the bank, which was just enough to cover its $452,000 in debt. That's a lot of plastic turtles.
Meanwhile Marco Rubio's campaign reported a similar pattern — according to the Associated Press, more than 40 percent of the $58 million donated to the Conservative Solutions super-pac on Rubio's behalf was raised in the final month of his campaign. Much of that money came from backers whose preferred candidates had dropped out of the race.
For instance, Ronald Cameron, the wealthy chairman of an agricultural processing company in Maryland, contributed $5 million; he'd previously given $3 million to a group backing Mike Huckabee. And insurance executive Hank Greenberg, who'd previously donated $10 million to a group backing Bush, gave Conservative Solutions $5 million.
A separate group of conservative donors, fittingly called "Our Principles," reportedly dedicated millions of dollars to taking down Donald Trump. Three billionaires donated more than more than 80 percent of the group's total funds last month, with the family that owns the Chicago Cubs contributing $2 million, a New York hedge-fund owner giving $1 million, and an Arkansas investment banker giving another $1 million. So far, the group has spent $16 million against Trump. In other words, they've flushed $16 million down the drain.
On the Democratic side, Bernie Sanders out-raised Hillary Clinton for the second month in a row, raking in $43.5 million to her $30.1 million, the Washington Post reports. But the Vermont senator also outspent his rival by a wide margin. He doled out $40.9 million in February in an attempt to catch up to her delegate lead, leaving him with $17.2 million in the bank at the beginning of March. (Clinton reportedly spent $34.3 million and was left with $30.8 million.)
Sanders also has twice the number of individual donors as Clinton — since the beginning of his campaign, 2 million people have donated $141 million to his campaign, whereas Clinton reached her one millionth donor this month. Whether Sanders's huge number of backers will be enough to snag him the nomination remains to be seen.