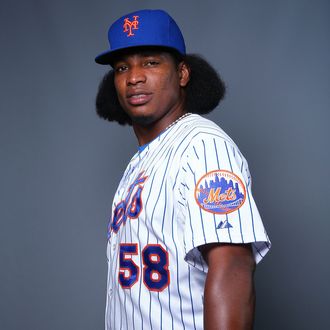 Mejia was banned for life after failing his third doping test.
Photo: Elsa/Getty Images
Last month, after failing his third test for performance-enhancing drugs, Mets pitcher Jenrry Mejia became the first player banned by Major League Baseball for life because of doping. But last week, he told the New York Times that he was only guilty of the first doping offense, and that he was the victim of a "conspiracy" — an allegation the league denies. Now today Mejia announced that he'll be appealing the lifetime ban and threatened to have it overturned through legal channels, while his lawyer accused the league of using "dirty cop tactics" against his client.
During a press conference earlier Friday, Mejia again said that he had not been using a banned substance when he failed his second or third test. Meanwhile, his lawyer, Vincent White, accused Major League Baseball of threatening his client with a lifetime ban if he didn't implicate another player the league was investigating. "Mr. Mejia was told by a league representative that if he did not provide testimony on a particular player they wanted to investigate they would go out of their way to find him positive a third time," said White. He added, "The league believes he has information he does not have."
White also said he'd heard from a witness that the league has hacked into players' social-media accounts. Via The Wall Street Journal:
"A witness has come forward to my client, a prior person of interest from a league investigation," White said. "This witness shared with Mr. Mejia that he was offered cash in return for testimony against the player. Other witnesses, not people off the street but people who have tangled with MLB's drug program before, have come forward to us and shared allegations that, among other things, the league has hacked player accounts, hiring third-party contractors to get into their social media."
It's unclear exactly how that would be relevant to Mejia's case. BuzzFeed's Lindsey Adler asked White if it meant the league was looking for players discussing PEDs in their direct messages, and was told that would be for the witness to reveal. According to the News, the league didn't immediately respond to a request for comment.
"The league needs to understand, they cannot run American's pastime like a bad '70s cop movie," said White.
Last week, during his interview with the Times, Mejia made similar accusations:
But Mejia, 26, said in an interview Thursday that he was guilty only of the first doping offense. After the second positive test, which Mejia said was inaccurate, he was pressured by Major League Baseball officials to share information about his doping connections, he said.

Mejia said that baseball officials told him that if he appealed the punishment for the second doping offense, "they will find a way to find a third positive," Mejia, who is from the Dominican Republic, said through an interpreter. "I felt there was a conspiracy against me. I feel that they were trying to find something to bring me down in my career."
To appeal, Mejia and his lawyers would need to enter into the arbitration process spelled out by the league's collective-bargaining agreement. Via the Daily News, it's unlikely a judge would hear a civil complaint before that process has run its course.