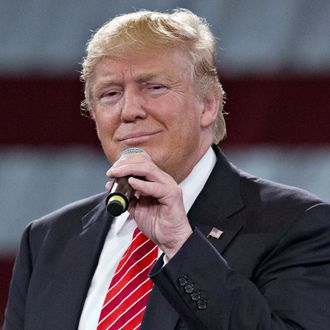 Many Jews are not big fans of his rhetoric.
Photo: Andrew Harrer/Bloomberg Finance LP/Getty Images
Donald Trump has repeatedly insisted that he's "Israel's biggest friend," and on Monday he'll get a chance to try to convince those in the Jewish community who refuse to take his word for it. The five presidential contenders (minus the lone Jewish candidate Bernie Sanders) will address the American Israel Public Affairs Committee's annual conference in Washington, and the focus will be on whether Trump can smooth over relations with Jewish voters.
Trump's claim that there is "nobody more pro-Israel than I am" is backed up by his strong support for Israeli prime minister Benjamin Netanyahu, his donations to Jewish groups over the years, and the fact that his daughter, son-in-law, and grandchildren are Jewish.
On the other hand, many are troubled by his promise to remain "neutral" while attempting to reach a peace deal between Israel and Palestine. In December, Trump made a remark that some believe promoted negative Jewish stereotypes, telling donors to the Republican Jewish Coalition, "I'm a negotiator like you folks, we are negotiators." But the more frequent anti-Trump argument from the Jewish community is that, as people well acquainted with the consequences of discriminatory speech, they must stand against his offensive remarks about ethnic and religious groups, even if they're not directed toward them.
Several Jewish groups announced last week that they've already heard enough from Trump and intend to protest his speech. Rabbis David Paskin and Jesse Olitzky started a campaign called Come Together Against Hate, which plans to show their objection to Trump's views by skipping his speech or silently walking out after he is introduced. As of Sunday night, the Facebook group had more than 1,700 members. "This is not about policies, this is not about parties, this is about one particular person, Donald Trump, who has encouraged and incited violence at his campaign rallies," Paskin told CNN. "We are against the hatred, the incitement of hatred, the ugliness that has engulfed this political season."
Rabbi Jeffrey Salkin has organized a separate protest involving at least 40 rabbis. "We are urging people not to disrupt the [speech] in any way … we are asking to absent themselves from the hall before he speaks … I recognize there are various styles of protest here. We wanted ours to be as respectful to other conference attendees as it could be," he told the Daily Beast. "We want our absence to be eloquent."
The Union for Reform Judaism released a statement condemning Trump for "sowing seeds of hatred and division," and the American Jewish Committee spoke out against "presidential campaign violence" in general. But the biggest anti-Trump statement so far came from the Anti-Defamation League, whose chief executive Jonathan Greenblatt announced on Sunday that the group will "redirect" the $56,000 Trump has donated to them in the past decade.
"Our history, our faith and our values teach us that we cannot sit idly by when others are singled out for derision and when intolerance is fed," Greenblatt said in an article published in Time. He went on to explain that "in light of how Trump has changed," the ADL's leaders have decided to redirect the money "into anti-bias education programs that address exactly the kind of stereotyping and scapegoating he has injected into this political season." He urged other groups to do the same.
Trump offered a brief preview of his speech in a Sunday interview with ABC News, saying negotiating a deal with the Palestinians "would be in Israel's interests." "I don't know one Jewish person that doesn't want to have a deal," he added. "If I win, I'm going to be giving that a very good shot."
"Trump has said a lot of things about Israel over the years, most of it favorable but some of it more ambiguous," Josh Block, the head of the Israel Project and a former AIPAC official, told the Associated Press. "This will be an opportunity to address the ambiguity before a serious foreign policy audience." Clearing up his ambiguous statements and seriously discussing foreign policy isn't Trump's forte, but we'll see what he says on Monday.