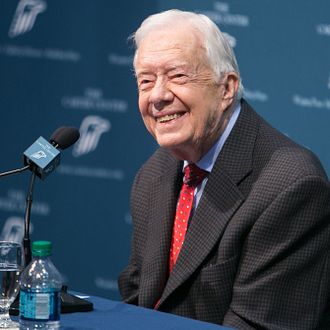 Carter announced his diagnosis at a press conference last August.
Photo: Jessica McGowan/Getty Images
Former President Jimmy Carter has shared some happy news on his health. Last August, doctors discovered melanoma lesions in Carter's brain, but thanks to radiation therapy and regular doses of a relatively new drug called Keytruda, Carter announced he was cancer-free in December. The 91-year-old was still undergoing treatment to keep his cancer at bay, but on Sunday, he told the congregation at Maranatha Baptist Church in Georgia that a two-hour MRI showed he "didn't need any more treatment, so I'm not going to have any more treatments." His announcement was met with an "audible sigh of relief," according to NBC. Doctors will continue to monitor Carter's condition, and if the cancer shows up again he'll resume treatment, but for now he'll continue his illustrious career as world's most popular Sunday school teacher.