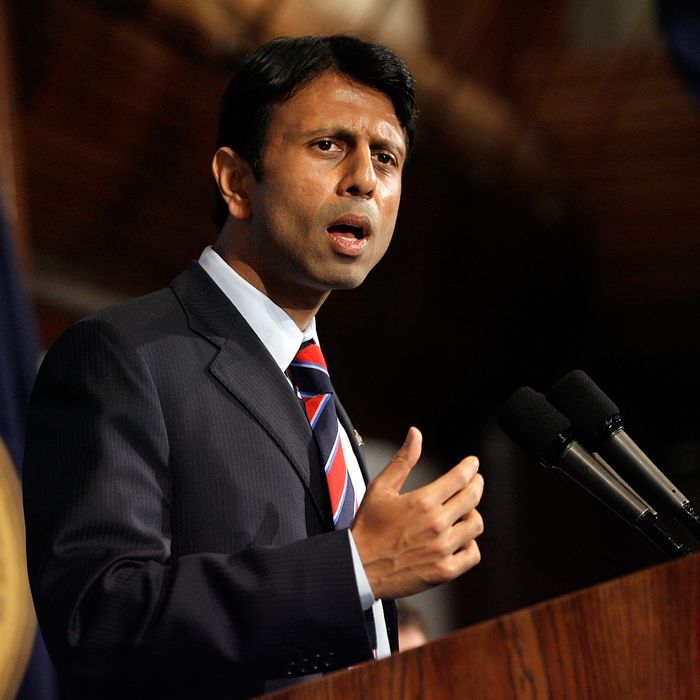 Bobby Jindal sees through your clever game, President Obama.
Photo: Chip Somodevilla/2008 Getty Images
Conservatives who loathe Donald Trump tend to link him with Barack Obama (an equation rarely made by those conservatives who like Trump). Various iterations of the Obama-begat-Trump theory can be found here, here, here, here, here, and here. The general line of reasoning holds that Obama caused the conservatives' nightmare to come to life because he's too weak, or perhaps too strong, or perhaps some of both. Former Louisiana governor and ex-presidential hopeful Bobby Jindal — fresh off leaving his state in such a disastrous condition that his own (Republican) former lieutenant governor calls his budget policy "mismanagement" and a "Ponzi scheme" — takes to The Wall Street Journal columns today to offer his own novel twist: Obama brought about Trump by being too darn calm and thoughtful.

"I believe that voters tend to act in open-seat presidential elections to correct for the perceived deficiencies of the incumbent," argues Jindal, "After seven years of the cool, weak and endlessly nuanced 'no drama Obama,' voters are looking for a strong leader who speaks in short, declarative sentences."
This is your fault, Democrats. If you had elected a red-faced, racist bullying lout as president, then Republicans would be reacting today by rallying around somebody who's intellectual, humble, and non-abusive, and we'd all be in fine shape. But nooooooo. You had to nominate a wonkish, emotionally controlled law professor, forcing Republicans to turn to an unhinged racist reality-television star in response.