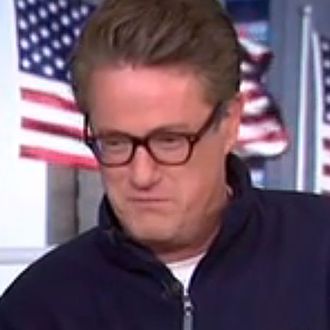 Joe Scarborough on "Morning Joe" today.
In the wake of Gabriel Sherman's report that Marco Rubio has lost the support of Fox News in the GOP race, Morning Joe host Joe Scarborough mocked his own network Friday for playing favorites in the Democratic primaries eight years ago. Said Scarborough: "You're seeing also New York Magazine writing stories about how Fox News has abandoned Marco Rubio, which is shocking because, my God, I've never seen a candidate treated better by any network — well, other than MSNBC bowing and scraping to Barack Obama in 2008."
To drive home his point, Scarborough broke out an impersonation of Keith Olbermann, the network's star at the time. Said Scarborough, channeling his former MSNBC colleague: "Every night, like, Hillary Clinton would win Kentucky, and it'd be like, 'Tonight, racism rises over Lexington.' I mean, every time Hillary won, it was like, 'The ghost of Jefferson Davis rises somewhere over a Confederate cemetery in Richmond, Virginia,' where Barack Obama was beaten.'"
Not bad, Joe, but Ben Affleck did it better.