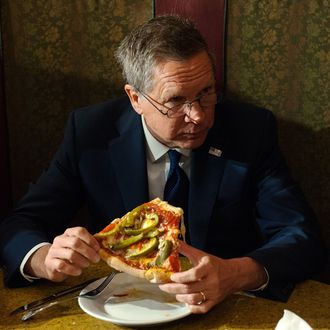 Photo: Bryan Thomas/Getty Images
"I love New York," GOP presidential candidate John Kasich said to a crowd of New Yorkers at a town hall at St. Helen's Roman Catholic Church in Howard Beach, Queens. "It's an incredible place. It's like having a transfusion."
"I'm not pandering either," he added later. "It's an incredible place. So is Columbus, Ohio. Come!"
"You know where you really want to come this summer? Cleveland." The room erupted into applause — though it was also just about time for a commercial break. Still, it was a kind of side-joke reference to Kasich's Hail Mary: That maybe if the guy running a distant third in the GOP race can stick this out until the convention this summer, John Kasich, the Ohio governor and maybe the closest thing to a Republican moderate, can somehow come away with his party's presidential nomination.

"He's the only grown-up in the room and at the debates," said Wendy Penner, a town-hall attendee, about Kasich. She and her husband, Larry, were hanging out in the foyer of the church, trying to get off the wait list and into the event. The Penners, who are from "the working-class part" of Great Neck, Long Island, wore matching shirts that read THE H IS SILENT IN BENGHAZI.

In the GOP primary, Larry explained, Kasich is the only choice between "a giant douche and a turd sandwich." The South Park reference, the Penners said, pretty much applies to the general, too. And with things looking as though New York's April 19 primary might, for once, actually matter, this Queens visit was Kasich's push to maybe win over some voters. So the gymnasium (home of the Hurricanes) at St. Helen's got the town-hall treatment: Basketball hoops cranked up to the ceiling, red-white-and-blue banners, MSNBC branding, and tiered seating for the local residents who heard — quite a few at the last minute — about the event.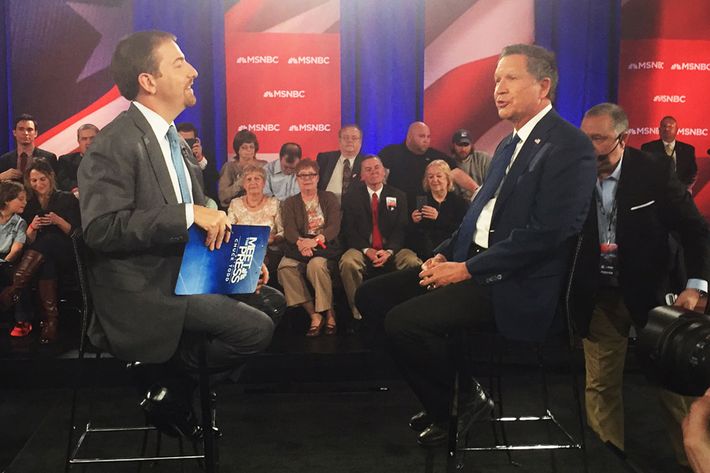 Kasich sat in the center of the room, a square of people around him, along with MSNBC moderator Chuck Todd. The conversation started with — what else? — Donald Trump. Kasich tied the charges against Trump's campaign manager to the candidate's angry and divisive campaign. "He's driven people farther into doom and gloom." He dodged the question about whether he'd support Trump as GOP nominee in November, saying, "I don't think he's going to be the nominee, and I'll tell you why. Because nobody's going to have enough delegates to go to the convention, and when we get to the convention, people are going to think about two things: Who can win in the fall — which he or Cruz can't — and who could actually be a good president. That's a crazy thing to talk about! Who could actually run the country."

A few attendees watched with the press in the overflow room, down in the cafeteria. Michael Prince, a retired New York City schoolteacher, lives in the neighborhood. He stressed that he's an undecided voter, except on one thing. "There is one person I'm not voting for, and that starts with a Trump." He says he's concerned about things like Medicare (he's approaching 65), and he's looking for a candidate who makes sense for his future and his family. He's been reading and reading about the campaigns, and now he wants to hear what Kasich has to say.
Many of the questions — and Kasich's responses — focused on New York. Kasich, as he's done before, knocked Trump's and Cruz's calls to spy on Muslims, and referred to Commissioner Bratton's position on the issue. "He's a smart guy," Kasich said. People from Howard Beach, a community hit hard by Hurricane Sandy, brought up the requirement of flood insurance. Another asked about the bickering over the Zadroga Act. Kasich offered a few quips for the locals, too. "Are you from New York?" he said, teasing one participant who sounded like everyone else from the city. "I thought you were from Maine."
Since Kasich was in New York — and Queens, no less — he had to grab a slice at Gino's Pizzeria, down on Cross Bay Boulevard. (Campaign stop of former presidential candidates Pataki and Giuliani, says the manager.) He and his posse grabbed a circular back booth and shared a pie: pepperoni, half with green peppers. (He did commit the same faux pas that New York's liberal mayor and the Republican front-runner have also been guilty of: eating some of his pizza with a fork.)
In the booth, he spoke and took pictures with two Latino kids. Marilu Sosa, a Howard Beach resident of Paraguayan background, whose sixth-grade daughter, Katherine, got a chance to slide in next to Kasich in the booth (she told him she wanted to be a celebrity, though she also wants to be a doctor), said she came down to the pizzeria to meet Kasich. Sosa says her husband was first a supporter of Marco Rubio, but she always liked Kasich, and now he's the only one left. She does not like anyone else in the Republican field. "I'd rather vote for Hillary Clinton." Sosa's other daughter, Briana, also in sixth grade, didn't speak to Kasich, but, as her mom said, "She just hates Donald Trump."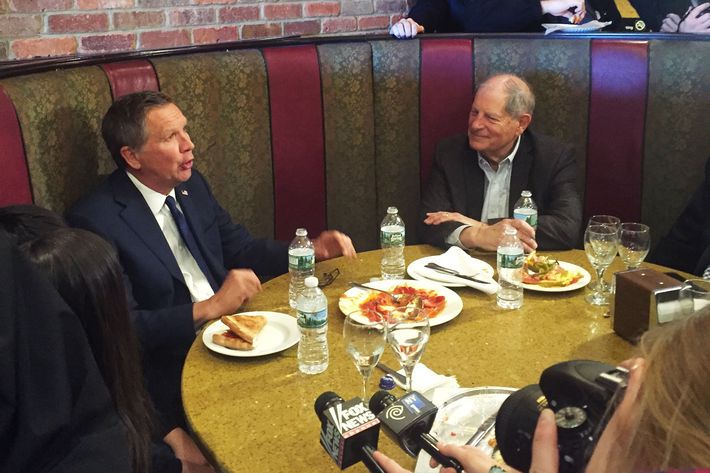 There were definitely Trump supporters hanging around — at least one woman at the town hall said, on camera, that she was on the "Trump train — but there was also plenty of frustration with the Donald here in his home borough.  Three women — two Democratic voters, one Republican — weren't necessarily Kasich supporters, but thought the GOP alternatives were much worse. "He's [Kasich] the only viable candidate," said one Howard Beach resident, who didn't want to give her name, as she gathered herself up to leave. Another chimed in, "I'm a Republican, and I feel that way."
*This post originally stated Gino's was on Cross Island Boulevard. We apologize for the error.