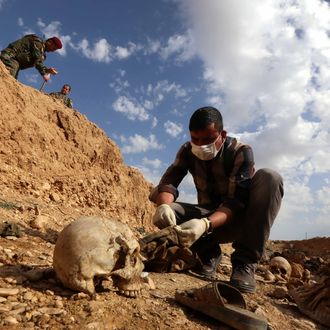 An Iraqi man inspects the remains of members of the Yazidi minority killed by ISIS on February 3, 2015.
Photo: Safin Hamed/AFP/Getty Images
ISIS is committing genocide against religious minorities in the parts of Syria and Iraq that it controls, Secretary of State John Kerry declared on Thursday. The militant group's "entire worldview is based on eliminating those who do not subscribe to its perverse ideology," the New York Times quoted Kerry as saying.
While Kerry's statement does not signal any shift in policy toward the organization — which the U.S. has been bombing for a year and a half — it was still significant, as the Obama administration had heretofore been reluctant to attach the "genocide" label to the well-documented crimes ISIS has committed against Christians, Yazidis, Shiite Muslims, and Kurds.
That reluctance provided fuel for the administration's critics on the right — as well as some on the left — and fed a long-standing narrative among conservative Christians who sought to depict President Obama as hostile to Christianity.
The House of Representatives unanimously voted on Monday to declare ISIS's actions genocide. Kerry's statement came in response to a deadline the president had set last year for the State Department to decide whether to do the same.
Numerous individuals and organizations, including United Nations human-rights investigators, the European Parliament, and the International Association of Genocide Scholars, have stated that some of ISIS's atrocities — including massacres, forced religious conversions, mass rape, and sexual slavery — rose to the level of genocide, particularly against Christians and Yazidis.
Although labeling these actions genocide has little practical effect, as ABC News notes, it does expand the potential for criminal cases against ISIS members at the International Criminal Court and in Iraqi or Kurdish courts, and could have some deterrent effect on ISIS's international recruitment.