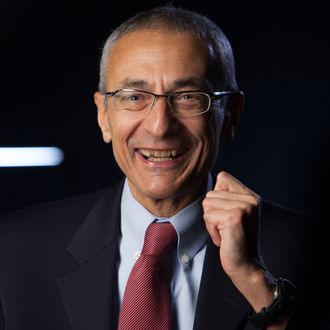 We can only assume Podesta is an "X-Files" fan.
Photo: David Hume Kennerly/Getty Images
Among the issues at the forefront of Hillary Clinton's campaign are things like health care, those damn emails, and, evidently, extraterrestrials. According to John Podesta, Clinton's campaign chairman, if Clinton takes office she'll make it a priority to declassify government files on UFOs. Speaking to KLAS-TV in Las Vegas, Podesta — who's long advocated for releasing government files to the public — said he's "talked to Hillary about that," and he thinks she'll see the expedience in telling the American public what the government knows. "I think I've convinced her that we need an effort to declassify as much as we can so people have their legitimate questions answered," he said. "More attention and more discussion about unexplained aerial phenomena can happen without people who are serious about this being ridiculed."
This isn't the first time the UFO question has come up in Clinton's campaign. At a campaign stop in New Hampshire, Clinton said she would "get to the bottom" of the UFO mystery, and back in 2007 she said that of all the Freedom of Information Act requests her husband received during his presidency, the vast majority had to do with UFOs. She also said she "thinks we may have been visited already," but neither she nor the shadowy government officials with whom she works is quite sure about that. And Bill Clinton, during his presidency, asked aides to find out whether there had ever been a government cover-up of alien contact.
But for Podesta, the issue is less about alien discovery and more about principle. "We ought to do it because it's right," he said. "We ought to do it because the American people, quite frankly, can handle the truth. And we ought to do it because it's the law." He went on, "I come in for my fair share of people raising questions about whether I'm off my rocker, but I've been a longtime advocate of declassification of records. People really want to know what the government knows."
When Podesta stepped down as an Obama adviser this time last year, he said his biggest regret was keeping the American people in the dark about UFOs. It seems he's determined not to make the same mistake under a hypothetical President Hillary Clinton.
This post has been updated to reflect that John Podesta is Hillary Clinton's campaign chairman.