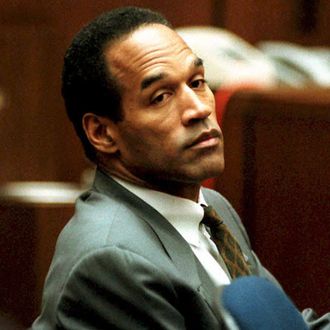 O.J. Simpson, at his murder trial.
Photo: Getty Images
Thanks to FX's miniseries about the O.J. Simpson murder trial, the events and characters that captivated the country more than 20 years ago have been back in the headlines. Today, TMZ is reporting a bizarre new development in the case that ended with Simpson's acquittal in 1995. Law-enforcement officials are telling the site that the LAPD is now in possession of a knife that was found buried at Simpson's former estate years after the trial ended.
A construction worker reportedly found the knife — a folding buck knife — some years back on the perimeter of Simpson's estate. (The site says it's heard different versions of the timeline, ranging from the knife being found "several years ago" to it being found in 1998, when the house was demolished.)
According to TMZ, the construction worker took the knife out to the street, where he found an off-duty cop from the traffic division who was working security on a nearby movie shoot. According to TMZ, the worker told him where he'd found the knife, and the cop took it home with him, and then kept it for years.
So how did the LAPD ultimately end up with the weapon, according to TMZ? From the report:
In late January of this year, after the cop retired from the LAPD, he contacted a friend who worked in LAPD's Robbery Homicide Division (RHD). The cop told the friend about the knife and said he was getting it framed to put on his wall. He wanted his friend to get the DR (Departmental Record) number for the Nicole Brown Simpson/Ronald Goldman murder case, which he planned on engraving in the frame.

We're told the friend was indignant, and told his superiors. The brass was outraged and demanded that the retired cop turn the knife over, which he did.
TMZ says the knife is currently being tested for hair and fingerprints, and will next be tested for DNA and other biological evidence. One source tells the site that "cops who eyeballed the knife think it could have blood residue on it, but it's hard to know without testing because it's extremely rusted and stained."
TMZ notes that Simpson, who is currently serving time for armed robbery and kidnapping in an unrelated case, can't be tried again for the murders of Nicole Brown Simpson and Ronald Goldman because of double-jeopardy protection.