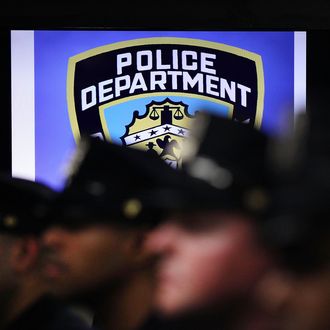 The lawsuit alleges that an answer key posted online resulted in unusually high pass rates.
Photo: Spencer Platt/Getty Images
Nine NYPD sergeants have filed a lawsuit that alleges widespread cheating on the lieutenants' exam last year, the Daily News reports. According to the suit, an answer key was posted to a message board popular with cops after the test but before a makeup exam, resulting in unusually high pass rates. The suit seeks class-action status and an order freezing promotions.
The lieutenants' test was initially administered to 2,400 sergeants in April of 2015. The lawsuit alleges that the system was ripe for cheating: Test-takers discussed answers during bathroom breaks, for instance, and their belongings weren't searched.
But the bigger concern is the makeup exam that was given two months later. On May 13 and 14, those who had taken the original test were invited to the headquarters of the Citywide Administrative Services Department, where they could compare their completed tests with a key containing the correct answers during a so-called protest session. The suit alleges that supervision was lax, however, and also on May 13, a photo of the answer key was posted to the message board Rising Star.
Five days later, another user on the message board, apparent Islanders fan Tavares91, wrote: "(If) you need the exact wording of a specific question, message me the question number and i will send it to you!"
And so when the makeup exam was given in June to 80 sergeants who couldn't attend the first test, nearly half got passing grades, even though, according to NY1, only 164 of 2,400 sergeants passed the initial exam.
Ed Mullins, president of the Sergeants Benevolent Association, emphasized that not all test-takers cheated, but called it "a broken system." The NYPD tells the Daily News that it's reviewing the situation.