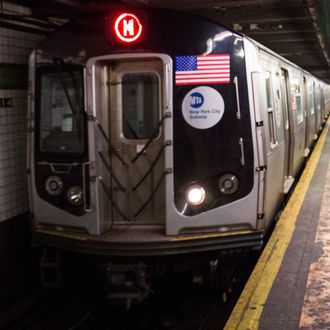 Photo: Andrew Burton/Getty Images
The Great L Train Freak-out began once the MTA introduced plans to completely shut down the busy commuter line to fix severe Hurricane Sandy damage to the tunnel that runs under the East River. The L carries about 300,000 commuters per day, so the MTA had predicted that nearby lines — mostly the J/M/Z — would carry most of those otherwise-stranded straphangers.
But it turns out that one of those alternative transit options also has a few outstanding problems that need to be addressed. The MTA now plans to close the M line between its Myrtle Avenue stop in Bushwick and the end of the line at Middle Village–Metropolitan Avenue to repair a bridge and a viaduct in anticipation of the L train closure.
Construction on the M will begin in summer 2017. In total, the repairs should take a little less than a year: two months to fix the bridge and another eight months to tear down and replace the viaduct. A shuttle will take riders back and forth between parts of the M line during the longer phase of the viaduct construction, but some stations — including Central Avenue and Knickerbocker Avenue — won't be served. The M train will temporarily run along the J/Z line out to Broadway Junction. 
"We want to get this work done and make sure the M has no issues of performance when the L work is going on," MTA chair Tom Prendergast told the Daily News. The M has far fewer riders than the L — about 60,000 per day — but this development might interrupt the hipster migration from Williamsburg to Ridgewood. If only we could just get it all over with in 24 hours.