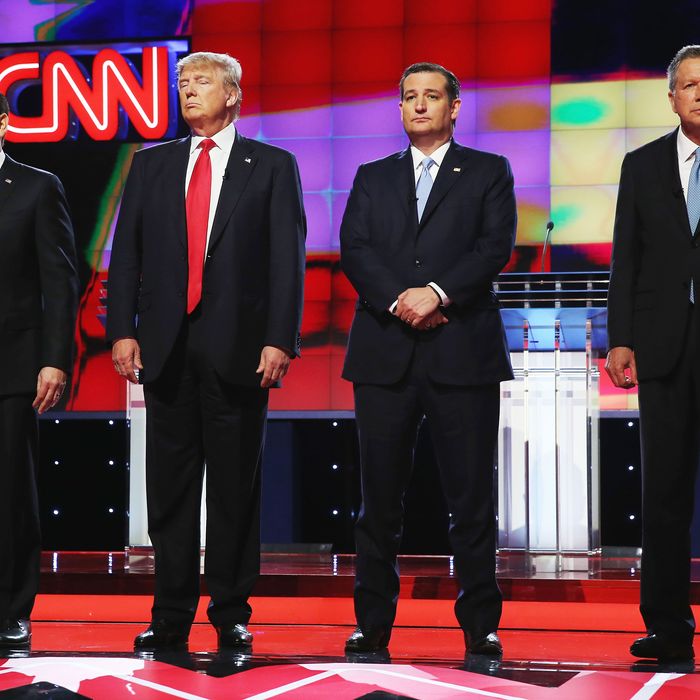 The winnowing of the GOP field could go down tomorrow.
Photo: Joe Raedle/Getty Images
We've finally arrived at March 15, the day when Marco Rubio and John Kasich face must-win primaries in their home states and Ted Cruz tries to position himself for a protracted one-on-one contest with Donald Trump. Alternately, it may be the day when the front-runner all but locks up the nomination with a boffo performance. Let's look at it state-by-state.
Florida: Marco Rubio's last stand.
Republican Establishment/media-darling Marco Rubio, and the long-time smart-money candidate for the nomination, is down to his final opportunity tomorrow and it's not looking good. Even though Cruz and Kasich are now giving Florida a wide berth, Trump seems to be widening his well-established lead in this winner-take-all state, even as the anti-Trump vote stubbornly fails to consolidate.
About the only way Rubio could pull an upset tomorrow is if late deciders previously for Cruz and Kasich flock to his column, and his strong early voter effort in southeast Florida leads to an even more impressive election-day turnout in his base area. Barring that small miracle, it's probably curtains for Marco. 
Ohio: A possible Kasich win, and then what?
In contrast to Rubio (who removed all doubt about his support for the division-of-labor anti-Trump strategy by publicly encouraging his Ohio fans to vote for Kasich), the Ohio governor seems to be on an upswing, having led in four polls and tied Trump in two others in the last few days.  Trump has countered by stepping up his personal campaigning in the Buckeye State. It's another winner-take-all state.
The consequences here are pretty big. If Trump wins Ohio and Florida, in addition to discarding two of his last three opponents, he'll probably be close enough to seizing a majority of delegates that key elements of the Republican Establishment will throw in the towel, or conclude that Trump is no worse than Cruz.
If Kasich wins while Rubio loses, there will be an intense public and private conversation among anti-Trump Republicans about what to do next. Cruz will argue that he's the only candidate in a position to wind up with more delegates than Trump, which is the only way to achieve a second-ballot nomination without repudiating "the people's choice."
Kasich, who could only be nominated at a "contested convention" where all bets are off, will probably argue he's the only active candidate who can beat Trump and win a general election. If Kasich wins Ohio, March 16 will instantly become a more pivotal day than March 15.
Illinois and Missouri: Backdoor winner-take-all fights between Trump and Cruz
These two states are not officially winner-take all states, but both could turn out to be so functionally.
Missouri, like South Carolina (and later in the calendar, California), awards a large majority of delegates to the winner of each congressional delegation, and the rest to the statewide winner. In Illinois, the district delegates are elected directly with a clear candidate preference on the ballot, which should create sweeps for each congressional-district winner.
There has been no recent polling in Missouri, but everything about the state, including prior results in neighboring Iowa and Kansas, indicates a Trump-Cruz battle. In Illinois, the complicating factor is an earlier robust Kasich effort that folded as the Ohioan focused on his home state. Trump's mostly been in the mid-30s, but the latest survey from CBS had Cruz within four points.
North Carolina: Mostly About bragging rights
Unlike winner-take-all Florida and Ohio, and winner-take-most Missouri and Illinois, North Carolina is a state where delegates are awarded proportionately without any minimum threshold: the same rules under which Democrats compete. Trump has led by double-digits in most recent polls, with Cruz slowly beginning to win over voters who once preferred other candidates. Trump seems to have a healthy but not disproportionate lead among early voters.
As in Illinois, down-ballot contests are also on tomorrow's agenda, though most of the statewide primaries are not terribly competitive. There is, however, a bond initiative being promoted by Republican governor Pat McCrory that could affect GOP turnout among both supporters and opponents. 
It could be a long night of counting votes and measuring consequences among Republican voters tomorrow. There might even be a few late-night phone conversations about who stays and who leaves in the nomination fight — and whether or not Republicans need to plan a longer stay in Cleveland this July.