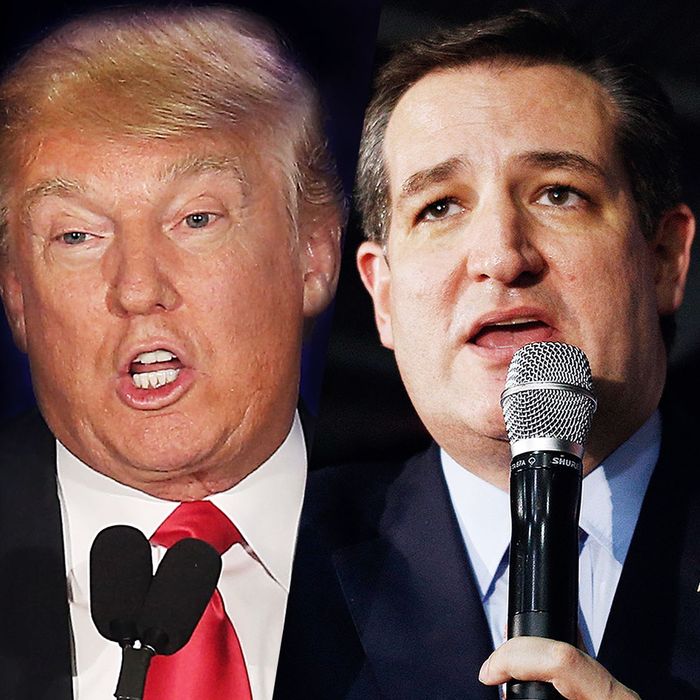 The race has likely narrowed to just Trump and Cruz.
Photo: Getty Images
This was supposed to be a pretty cut-and-dried primary/caucus day. It generally was so for Democrats, with Bernie Sanders winning two caucuses in states — Kansas and Nebraska — with small non-white voting populations, and Hillary Clinton winning another southern primary — Louisiana — in a state where African-Americans cast half or more of the Democratic vote. Sanders will almost certainly add another caucus win tomorrow in Maine.
The four Republican contests today were anything but cut-and-dried. Going into today the closed caucus in Kansas looked to be Ted Cruz's best chance for an upset win. He won with nearly half the total vote, more than doubling Trump's, and probably winning 24 of 40 delegates. While nobody had much of an advance handle on Maine's caucus, it was figured, like the rest of New England, to be Trump Country with John Kasich perhaps giving him a battle. Instead, Cruz won there, too, with 46 percent of the vote; Kasich finished a weak third behind Cruz and Trump and Marco Rubio managed to miss the relatively low 10 percent threshold for winning any delegates. In Kentucky, another closed caucus state expected to have very low turnout, Cruz again gave expected winner Trump a run for his money, falling short but not by much. Kasich had a decent showing in Kentucky counties bordering Ohio.
The networks have, however, called the Louisiana primary for Trump on the basis of a huge lead in early votes. But there it's clear late deciders are cutting sharply into his margin, perhaps because of what happened at Thursday night's raucous debate in Detroit. In contrast to earlier contests, however, late deciders are going overwhelmingly for Cruz rather than Rubio. In fact, it's looking like Rubio will likely miss still another state's minimum threshold (in this case 20 percent) for delegates. 
So there's not much question Ted Cruz at least temporarily reversed Donald Trump's momentum today, though his near misses in Kentucky and Louisiana have to be agonizing. It is certainly a bittersweet outcome for the Republican establishment. Aside from firming up Cruz's position as the candidate in second place and rising, it showed his reach: The white evangelical share of Maine's population is about 17 percent, and Louisiana's is only 20 percent. And you have to wonder if Cruz's original plan of building a coalition of Christian conservatives and libertarians might have finally found some pay dirt in Maine and in Rand Paul's Kentucky.
The silver lining for Donald Trump is that the two candidates the establishment is pining for had worse days than he did, and there are still plenty of reasons to doubt Cruz can pull off victories nationwide. (Not surprisingly, Trump in his victory speech called for Rubio to drop out of the race and expressed an eagerness for a "one on one" race with Cruz.) On top of that, neither Mitt Romney nor Paul Ryan — possible convention saviors for the establishment — got a single vote so far as we know. Marco Rubio will probably avoid a completely dreadful weekend with a win in Puerto Rico's primary tomorrow. But the way things have been going for him lately, anything could happen.