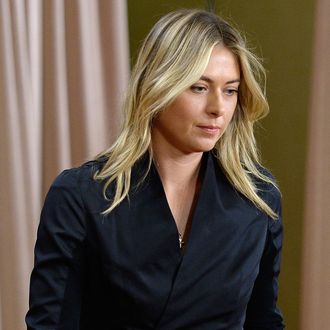 Maria Sharapova announced Monday that she failed a drug test in January.
Photo: Kevork Djansezian/Getty Images
Maria Sharapova announced Monday that she failed a drug test at this year's Australian Open, where she'd reached the quarterfinals before losing to Serena Williams. Sharapova said she received a letter from the International Tennis Federation on March 2 that said she'd tested positive for meldonium, a drug she says she's been taking since 2006. The drug, which is also known as mildronate, became illegal for pro tennis players on January 1, and Sharapova said that while she received an email from the World Anti-Doping Agency about changes to its tennis program, she did not look at it.
"I take great responsibility and professionalism in my career every day," Sharapova said. "I made a huge mistake. I let my fans down. I let my sport down."
News that Sharapova would be making a "major announcement" had fueled retirement rumors. (The 28-year-old has struggled with various injuries in recent years, and she's played in only four events in the last eight months.) Instead, she stunned the tennis world with the details of her failed test. At today's press conference, she explained why she'd been taking meldonium. Via ESPN:
Sharapova said she was taking the drug meldonium for 10 years to address a number of health issues. She said that she had been getting the flu every couple of months, had irregular EKGs, and had evidence of diabetes, which runs in her family.
According to ESPN, meldonium is manufactured in Latvia and is used in Lithuania and the Russian Federation. It is not approved by the United States' Food and Drug Administration.
Sharapova's punishment for the failed test was not immediately clear, but she said she'd serve it out and did not wish to retire. "I know with this that I face consequences," she said. "I don't want to end my career this way, and I really hope I'm given another chance to play this game."
Sharapova has won five Grand Slam singles titles, and has won each of the four majors at least once. The Times reports that she's been the world's highest-paid female athlete for 11 straight years.