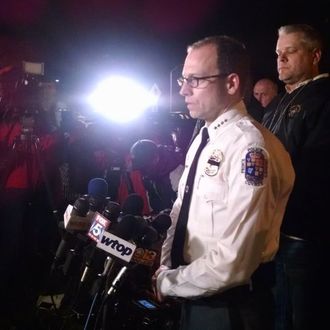 Police Chief Henry P. Stawinski addressed the media earlier this evening.
On Sunday evening, an unidentified man walked up to a police station in Prince George's County, Maryland, and opened fire. Officers rushed out of the building to respond to the attack, which was unprovoked, and one officer — 28-year-old Jacai Colson — was critically wounded. Colson was taken to Prince George's Hospital Center where he later died. According to the Washington Post, both the suspected shooter and a man officials described as the suspect's brother are in custody; the suspect was wounded and is in stable condition. Police have yet to determine a motive for the attack, which they say was "unprovoked." "He fired one shot, and then he started pacing back and forth, then fired another shot," Lascelles Grant, who witnessed the scene, told the Post. "Who would shoot a police station on Sunday evening? This is insane."
Following the shooting, the Prince George's County Police Department issued a "shelter in place" order for residents near the station, and major highways remained closed until well after the suspect had been taken into custody. At a press conference near the hospital, Police Chief Henry P. Stawinski said officers were "going about their business" when they were attacked. The suspect "opened fire on the first police officer he saw," he said. 
Colson was a narcotics officer who'd been with the department for four years. Prince George's FOP president, John Teletchea, said he was "always there for his fellow brothers and sisters" and was "a real cop's cop." An investigation into the shooting is ongoing.