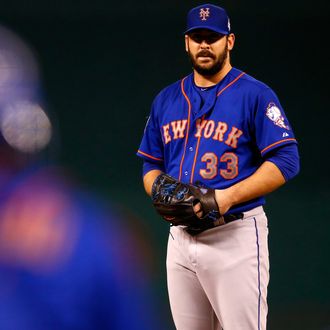 Matt Harvey will miss his final scheduled start of spring training.
Photo: Jamie Squire/Getty Images
We already knew that Matt Harvey's mystery, non-baseball medical issue had nothing to do with his shoulder or elbow — a relief considering his injury history and the attention paid to his innings limit last year. And now we know what the actual issue was: Harvey had been battling a bladder infection that caused a blood clot. The problem, Harvey explained, is that he too often tries to hold in his urine. Says Harvey: "I have to retrain my bladder to use the restroom a little more."
Harvey had already been scratched from what was to be his final spring start Tuesday after reporting an issue to the team's training staff Monday. General manager Sandy Alderson said yesterday that it was "premature" to discuss whether Harvey would be able to start the team's regular-season opener on Sunday, but Harvey now says he expects to throw multiple innings tomorrow, and then take the ball on Opening Night.
"It wasn't a great first day of my 27th birthday," Harvey told reporters. "But we cleared that and we had a little procedure done [Tuesday] morning just to go in and check the bladder and everything is clear."
Alderson was asked yesterday if there was any gravity to Harvey's medical issue, and he'd said it was too soon to know. "I think we need to wait for more medical information before we decide it's of concern, or great concern, or no concern." But that didn't stop people from speculating about his issue on social media, and yes, Harvey read that speculation. Said the pitcher: "People didn't know what was going on, so reading some pretty nasty things about what might it be isn't very nice. But I'm glad we figured it out."
This post has been updated with new information about Harvey's medical issue.