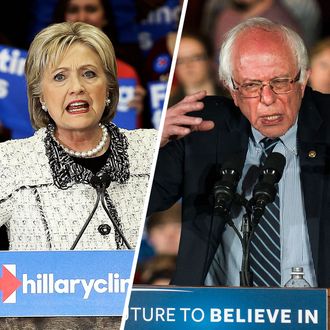 Sanders's Michigan win is causing Clinton heart-Bern in the Midwest.
Photo: Win McNamee/Getty Images; Stephen Maturen/Getty Images
Before the March 8 primary in Michigan, the five Democratic primaries being held tomorrow looked like a potential knockout punch for Hillary Clinton. At that point polls were mostly showing her far ahead of Bernie Sanders in Illinois and Ohio; Florida and North Carolina, with their large African-American voting populations, looked like a lock; and while nobody was polling Missouri, it just didn't seem all that hospitable a place for the Bern.
But after Sanders's historic upset win in Michigan, observers started noticing demographic and cultural similarities between that state and Ohio, and then a Missouri poll finally came in, and then all hell started breaking loose in Illinois. So here's where we are going into tomorrow's voting.
Florida: Nothing to see here, folks.
The single most important thing to know about Florida is that its primary is closed to participation by independents or Republicans, which means Hillary Clinton's almost invariable lead among self-identified Democrats is safe here from the usual crazy-high margin Sanders enjoys among independents. A second important thing to know is that in the Sunshine State no manner of campus outreach is going to elevate the under-30 vote (Sanders's base) above the over-65 vote (Clinton's). Indeed, a new PPP survey shows the over-65s roughly matching the under-45s among likely primary voters. Add in a reasonably large African-American vote (23 percent of the primary electorate) that seems to be behaving more like southern than midwestern black electorates (HRC is up 71-17 according to PPP), and it's no wonder she has a 30-point lead in the RealClearPolitics polling averages, with only one poll ever showing Bernie within 20 points. If Sanders wins here, we really do need to stop looking at polls for the foreseeable future. 
One finding worth noting given the limited data we have on Hispanic voting (other than the disputed Sanders edge in Nevada and Clinton's 71-29 showing in Texas) is that PPP has Clinton winning Florida Hispanics (a very diverse group accounting for 18 percent of expected primary voters) by a margin smaller (51-42) than her overall lead (57-32) in the state. But it should not matter a lot.
Illinois: How much damage is Rahm doing to Hillary?
As noted above, the Illinois primary is in turmoil. Just a week ago a Chicago Tribune poll had Hillary Clinton up by 42 points (67-25). But the last three public surveys have had the two candidates statistically tied. And some of the internal findings are shocking: An NBC/Wall Street Journal/Marist poll that shows Clinton up six in Illinois overall has Sanders leading by better than two-to-one among Hispanics, and Clinton's lead among black voters down to levels more like Michigan's than Florida's.
What seems to be happening in Illinois is that Sanders's shrewd decision to identify with enemies of Chicago mayor Rahm Emanuel is paying off. His last mayoral challenger, Chuy Garcia, has been in Bernie's camp from the beginning, and the Sanders campaign is running anti-Rahm ads reminding voters of the mayor's deep ties to the Clintons. Sanders may also be benefiting from a voter-mobilization effort associated with a primary challenge to Cook County prosecutor Anita Alvarez, who is being blamed for inadequate attention to police misconduct. Clinton could still wind up benefiting from a large African-American turnout in Chicago tomorrow, but it's all gotten very iffy. Illinois is an open primary state, too, which will attract into the Democratic primary some of the youngish, left-bent indies who have so strongly gone for Bernie elsewhere.
Missouri: A left-right pincers movement?
Missouri was a mystery state with no polling since the fall until this last weekend, when two surveys came out showing a close race. As I anticipated, Sanders is benefiting from a relatively small African-American vote (21 percent of the primary electorate, according to PPP) and from significant numbers of more conservative white Democrats who are voting for Sanders for uncertain reasons. PPP shows 20 percent of likely Democratic primary voters in the Show-Me State self-identifying as "somewhat" or "very" conservative, and Sanders is leading among them by nearly 20 points. Add in younger liberal white voters turning out strongly for Sanders and he has at least as much of a chance as he had in Oklahoma — which he won on March 1.  
Ohio: A leftward wind from Michigan.
Ohio's another state where Clinton's lead has declined from the 20-to-30-point range to single digits this month. What should be most frightening to the Clinton people is how much Ohio resembles Michigan demographically and politically. The African-American share of the primary electorate is actually a bit lower than in Michigan, but with polls showing Clinton having the same meh lead in that demographic (66-28, according to PPP). There are plenty of campuses for the Sanders campaign to organize. And the same combination of issues revolving around globalization have some impact there.  
This is another open primary state, and one variable that might hurt Sanders is the incentive indies might have to vote in the Republican primary to help their governor beat Donald Trump. But Bernie's kind of indies will probably show up on the Democratic side. 
North Carolina: Could get closer, but it's still Clinton country.
Clinton has had a steady lead in the Tar Heel State at or above 20 points. It has a relatively large (37 percent of the primary electorate) African-American vote. And in most of the polling, Clinton has led in every major category other than young voters — and even there Sanders doesn't seem to be winning as massively as he has in northern caucuses and primaries. North Carolina is also a big early-voting state, and according to PPP, Clinton's lead among the 30 percent who have already voted is better than two-to-one.
So we could see anything from a Clinton sweep (of states, not delegates, of course; all of these states will have delegates divided proportionately) to a 3-2 Sanders edge that makes him officially the King of the Rust Belt, with some white-liberal-dominated caucus states just ahead that should fatten his delegate count. After Michigan, no one should be taking anything for granted.