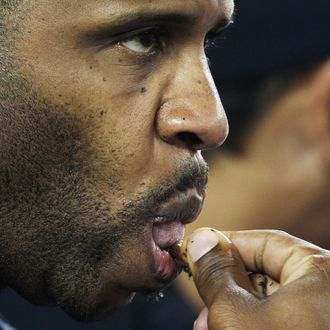 CC Sabathia chews tobacco during a game in 2012.
Photo: Tom Szczerbowski/Getty Images
New York's baseball dugouts have seen their last dip. This week, the City Council passed legislation banning smokeless tobacco from ticketed sporting events, as Los Angeles, San Francisco, and Boston already have. (Chicago, too, though it won't take effect till later this year.) Once Mayor de Blasio signs the bill, it'll be off limits at Yankee Stadium and Citi Field — a fact that's drawn mixed reactions from players.
Major League Baseball favors a ban on smokeless tobacco, and a Mets spokesperson says the organization supports the league's position. In the Yankees' own statement, a spokesperson says they "fully support the proposed local law." Yankees manager Joe Girardi said yesterday that "The players will be fine. You deal with it. There's other laws people pass we have to follow, right?"
But players don't necessarily agree with the law. Chase Headley, the Yankees third baseman, doesn't dip, but he told the Times he doesn't quite know what to think about the ban. On the one hand, he says, "The intentions behind it are probably the right thing." But on the other, he asked: "How is it legal around town, around wherever else, and just at the ballpark it's not?" Last week, before the legislation passed, an anonymous Met who uses smokeless tobacco told the Post, "I would like to see how they are going to enforce that. If somebody sees you chewing, will they reach over the railing and hand you a ticket when you are walking off the field?"
According to the Times, with so many bans going into place this season, the league sent a message to all of its teams reminding them to comply with local laws. And the paper reports that Corey Johnson, the New York councilmember who sponsored the law, said that "the teams have agreed that they're not going to allow it to happen." And the veteran Yankee Carlos Beltran offered some advice to his teammates: "Major League Baseball has cameras all over the place, so you've got to make sure that if you do it, make sure you do it somewhere where there are no cameras around."
According to ESPN, the penalty in New York is expected to match the fine for smoking where it is prohibited, which is roughly $100. The minimum salary for a Major League ballplayer this year is $507,500.
Not affected by the ban, at least for his home games, is Juan Uribe, who during his stint with the Mets "mixed his smokeless tobacco with honey and Kahlua, kept it in a large plastic bag and shared it with other players." Uribe signed last month with Cleveland, where dippers run free.